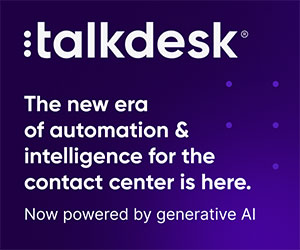 Celia Cerdeira at Talkdesk outlines seven ways contact centre AI provides better customer experiences.
Artificial intelligence helps contact centres in ways that make the lives of both agents and customers easier.
Contact centre AI can transform your call centre's daily operations and interactions by curating a better experience for both customers and agents. Typically thought of as a replacement for agents, AI is actually an enabler that helps call centre agents perform better and more efficiently.
What is Contact Centre AI?
With the help of contact centre AI, you can truly listen to your customers and make them feel more connected to your brand. It complements the efforts of human agents by providing them with the right information at the right time so that calls go more smoothly and issues are handled swiftly.
Your contact centre can increase retention and grow revenue by using personalized services when interacting with customers.
What Can Contact Centre AI Do?
Contact centre AI empowers agents to provide the best solutions and services to customers. It also makes alternate modes of communication available for solving inquiries.
For instance, contact centre AI might collect call analytics, then compile the common issues, and provide step-by-step workflows for solving them. AI could also power a self-service, making it easier for customers to solve issues on their own, quickly and without requiring a live agent for assistance.
Let's take the health insurance industry as an example of how contact centre AI works. According to a Talkdesk Research™survey, 78% of respondents called their recent experiences with health insurers "less than seamless."
Even more concerning, 28% reported that interactions with their health plans were "very frustrating." Respondents reported that their frustrations came from long resolution times, difficulty navigating customer support, and support agents failing to meet the customer's needs.
These issues come up because the majority of health insurance companies are relying on resource-intensive human understanding to resolve issues. Without AI, it takes much longer for agents to collect the right amount of context from the customer, leading to all three of these issues.
How Contact Centre AI Helps Businesses.
Contact centre AI is suitable for any industry by providing agent assistance and enabling self-service channels, among many other features. Here are ten ways that artificial intelligence can help businesses:
Transforms the Customer Journey.
A contact centre AI platform empowers agents to answer customer inquiries with instantaneous context. AI makes it possible for customers to provide minimal context at the beginning of their interactions with a brand.
Then, it enhances this information with other intelligent insights and brings the customer's context to each subsequent touchpoint.
For example, a customer might start their conversation with a business by sending messages to a chatbot. And as the customer runs into issues that go beyond the scope of a chatbot, an agent can be brought in to help answer their questions.
As the live agent joins the call, an AI solution can deliver context about the beginning of the conversation to them. This way, the customer will not need to repeat any information that has already been gathered, saving frustration as well as time.
Captures and Analyzes Customer Interactions.
Artificial intelligence also captures and analyzes customer interactions to make your business smarter. Contact centre AI identifies key conversation moments, topics, and sentiment during customer interactions, leading to a better understanding of customer intent.
These AI-derived insights uncover trends in your business, allowing for actionable takeaways. By discovering common issues with AI, your business is empowered to eliminate friction points in the customer journey.
Provides an Automated Self-Service Experience.
Today's customers are in search of self-service resources, such as an automated voice channel or a chatbot. By indexing FAQs during customer interactions, artificial intelligence provides direction to populate and expand these channels.
When self-service channels are robust customers can find more answers on their own, leading to more convenient and satisfying customer experiences. When they do choose to interact to a live agent, AI can parse through information and empower live agents to provide help as quickly as possible.
It simultaneously frees up agents to focus on customers who actually need human assistance to answer more complicated inquiries.
Empowers Agents.
Once a live agent is engaged, AI provides automated assistance, monitoring the conversation and providing helpful shortcuts, such as contextual recommendations, proprietary information, or next best actions.
In addition, contact centre AI can support both live calls and digital chat interactions with automated assistance, enhancing your business's digital transformation strategy.
Artificial intelligence facilitates better CX by evaluating agent interactions, identifying key areas of improvement, and providing agents with actionable feedback. It enhances the quality management process by helping agents improve their customer service skills.
Improves Agent Management.
At a higher level, contact centre AI makes management capabilities to optimize staffing decisions, manage employee scheduling preferences, and reduce overall administrative effort.
AI can even enable your team to anticipate customer demand and plan more effectively, with forecasts based on historical and real-time data.
An organized work environment leads to happier agents and better customer service. Plus with data-driven forecasts, you will minimize the risk of being understaffed on a peak day.
In addition, AI can be used to manage your remote contact centre, giving you visibility and mitigating risks. With contact centre AI, you can oversee WFH agents with confidence, enforce policies and procedures, and understand which areas of your distributed workforce need improvement.
Keeps Humans In-the-Loop.
AI shouldn't be thought of as a "black box." Humans should stay in the loop when you are implementing a contact centre AI. Experienced members of your staff have the opportunity to include their knowledge within the contact centre's processes.
By combining machine learning and the expertise of your agents, an artificial intelligence platform can learn the patterns of your business over time and provide your team with smarter, data-driven insights.
This combination of human and machine-driven knowledge improves the level of accuracy and confidence in your business's automations.
Assists with Fraud Prevention.
Artificial intelligence can also enable contact centres to prevent fraud with voice biometrics and risk scoring. AI uses self-service, real-time authentication to quickly route customers to agents and prevent risks caused by fraudsters.
This blog post has been re-published by kind permission of Talkdesk – View the
Original Article
For more information about Talkdesk - visit the
Talkdesk Website