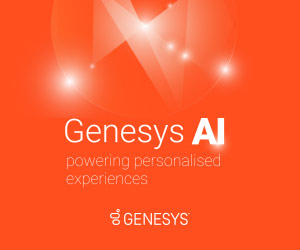 Automation, driven by generative AI and conversational AI-powered solutions like virtual agents, voicebots and chatbots, and new advanced agent-assist capabilities, is playing an increasingly important role in improving customer service and transforming customer experience (CX).
Combining generative AI, a type of artificial intelligence that can generate a more intelligent and human-like set of responses, with an enterprise conversational AI platform that provides orchestration, context and connectivity, creates the potential to enhance customer service in many new ways.
While generative AI and conversational AI are somewhat similar, they also have significant differences. By leveraging their combined capabilities, this dynamic duo is poised to deliver new, transformative customer experiences at scale. Let's take a deeper look at these two distinct types of AI — starting with conversational AI.
Conversational AI uses artificial intelligence to understand human language and the intent behind it, i.e., what a customer wants to do.
That combined with the ability to integrate with backend systems and orchestrate service processes means that a virtual agent assisting a customer calling from home or texting on iMessage, has nearly the same power to solve problems as an agent in a contact centre.
For example, by understanding the customer needs a refund for a cancelled flight, it can gather the required information (customer name, date of birth, flight number etc.) and then use that to access multiple systems like a CRM, reservation and accounting solutions to seamlessly carry out this process via self-service.
Customers feel empowered and that their time and effort are respected. Agents are relieved of repetitive, low-complexity and high-volume tasks.
Generative AI uses deep learning algorithms (large language models) trained on huge data sets to generate informed outputs from its analysis of inquiry-specific data and context.
The outputs can take various forms, including text, images, audio, and other types of media. This makes generative AI a valuable tool for a wide range of applications, including content creation, product design and development, and customer service.
For customer service and contact centre applications, we believe that generative AI — combined with conversational AI via the integration to an enterprise conversational AI platform — can:
Enhance the user experience through advanced AI-powered conversations tailored to the individual customer's context and preferences as well as an enterprise's specific data set
Improve agent performance by providing significant "agent-assist" capabilities, including language, identity, sentiment, knowledge and conversation summarisation for wrap-up
Streamline the development and deployment of truly conversational virtual agents and voicebots and chatbots to increase efficiency
It's also important to note that without the integration to and combination with an enterprise conversational AI platform, generative AI has limited enterprise utility because it:
Doesn't know company-specific information or use cases
Can't do anything transactional as it's not connected to an enterprise's backend systems
Can't communicate with an enterprise's customers as it's not connected with an enterprise's front-end voice and digital communication systems
Can't collaborate with an enterprise's agents as it's not capable of effecting the handover of a human-to-machine conversation to a human-to-human conversation
The AI Effect for Improving CX and Agent Experiences
Generative and conversational AI-based automation will significantly benefit most contact centres because it eliminates repetitive and time-consuming transactional tasks. This ultimately frees up agents to focus on more complex and creative tasks.
AI-based automation will also facilitate the execution of large volumes of customer interactions during peak periods (machines don't need time off) while providing rapid, personalised and accurate responses to customer inquiries. This significantly reduces the need for agent involvement in many customer interactions.
Transforming Customer and Agent Experiences with AI
We believe that having the right blend of generative AI and conversational AI in a contact centre has the potential to completely transform how automated solutions are delivered in the customer experience.
The adoption of generative AI will transform customer service and contact centres by creating advanced conversational experiences and driving efficiency. Several use cases include:
Dynamic "on-demand" personalisation of responses based on individual context
Improved entity extraction and slot filling
Auto-summarisation and note generation for After Call Work
Contextual and individually tailored suggested responses for Agents
Sentiment analysis
Automatic generation of conversation flows, intents examples and lexicons
This article was written by Hardy Myers, SVP of Business Development and Strategy at Cognigy, a Genesys AppFoundry Partner.
This blog post has been re-published by kind permission of Genesys – View the
Original Article
For more information about Genesys - visit the
Genesys Website