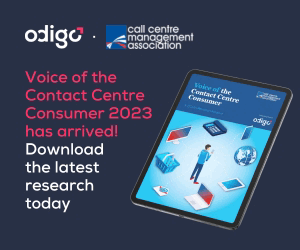 Customer experience is a key differentiator in driving brand loyalty, but what is the driver differentiating customer experience?
Artificial intelligence, especially conversational intelligence, makes a pivotal difference in contact centre AI because of its ability to deploy the right conversational experience at the right time for the right customer. Raffaele Ferrara at Odigo explains.
There has been a lot of emphasis lately on the need for human-centric values in customer service, especially the idea of treating a brand's customers, as well as the agents who serve them, as individuals.
In order for that idea to diffuse throughout the customer service industry, strategies to deliver these human-centric values to customer experience (CX) and agent experience (AX) in equal measure need to be identified.
CX is one of the major differentiators for any brand, as it plays an outsized role in driving brand loyalty. If good CX brings in traffic, then it's worth looking at the drivers behind this determining factor.
From a technological standpoint, successfully deploying contact centre artificial intelligence (AI) solutions, if done in a practical and human way, play a large role in the CX your brand provides.
How Does AI Work for Contact Centres?
There are certainly multiple ways that AI can work for contact centres. For example, AI-powered real-time agent assist tools use natural language understanding (NLU) technologies to help agents take notes and enter data.
These tools also analyse ongoing conversations to retrieve knowledge for agents during interactions with customers in order to determine the best course forward. With respect to the back office, AI powers data visualisation software that helps create context around KPIs.
It assists contact centre managers and directors in making decisions about how to deploy agents according to need and skillset to meet surges and maintain efficiency.
However, the most prominent customer-facing technology within the array of currently-available contact centre AI tools, and the main focus for this blog post, is conversational bots. These bots are the most mature domain of AI technology.
They automate the handling of routine and mundane interactions, leaving more important and nuanced issues to be seen to by contact centre agents who can use their understanding, empathy and interpersonal skills to deliver satisfying outcomes for customers.
Conversational Intelligence Helps Brands and Customers Communicate
Conversational intelligence (also called conversational AI) is what sets bots apart from other features, as it aims to deliver the right conversational experiences at the right time. Solutions equipped with AI-powered conversational intelligence can help promote human-centric values thanks to three features:
1. Industry-Specific Language
Tools employing conversational intelligence work best when they understand the parlance of your particular industry. Vernaculars vary across industries; the everyday language of finance will not be the same as that used in healthcare, or in retail for that matter.
When customer service is automated, the level of personalisation must remain high. Conversational intelligence powered by NLU can be based not only on pre-built intents and conversation flows for speedy deployment, but it learns increasingly by being fed input from real-life usage as well as pre-recorded content.
Maximising sources of relevant industry language means contact centre AI bots can stay up-to-date with your industry's evolving vocabulary in a way that your customers can understand.
2. Language-Specific Nuances
It's about more than words. Conversational AI for contact centres helps boost automated customer service by learning to understand the vocabulary of specific industries, but it's also technology that gets granular with language.
Slang, vernacular structure, filler speech — these are all important and inconsistent across languages. What passes for filler in one language contains semantic content that conveys certain intents or emotions in another that can be confusing to process if not understood.
Bots need to be able to understand and make use of the finer points of each operating language, which can also be achieved by feeding them content. Whether training bots for industry lingo or casual talk, Summa Linguae points out that the goal is to collect natural, unscripted dialogue between two parties.
Understanding the voice of your customer is key to understanding your customer, and that's where the difference lies.
3. Ease of Deployment
As alluded to earlier, conversational intelligence tools are designed with ease of deployment in mind. They contain pre-built conversations and intents that can be put to use right away.
Moreover, conversational AI platforms employ a no-code philosophy that allows non-IT personnel to assemble conversation flows and intents via graphical interfaces.
As such, even business minds can get their hands dirty with constructing the flows they predict will deliver the results they desire and readjust accordingly. Implementing that conversational element into your contact centre AI is a way of extending the human touch to customers, agents, and the management sector alike.
If the thought of painful upgrade processes has dissuaded you from implementing AI for your contact centre, the ease of deployment for AI-based conversational intelligence will help you get to work faster.
Conversational AI Promotes Humanity, Commitment and Openness
Because of its design, features and potential to enhance customer service, conversational intelligence supported by AI is a key differentiator poised to help weave human-centric values into the fabric of CX.
This blog post has been re-published by kind permission of Odigo – View the
Original Article
For more information about Odigo - visit the
Odigo Website