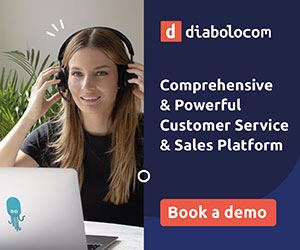 For our first site visit in France, we visited Cordon Electronics' contact centre near Bordeaux.
Cordon Electronics specialises in the maintenance, refurbishment and the repair of electronic devices.
On an average day, they repair around 30,000 set-top boxes and 2,000 mobile phones, while heavily investing in customer service and new technology.
1. Embrace Multichannel Communication
In addition to investing in a multichannel contact centre solution, they have also designed their own CRM and knowledge base systems.
Click-to-Call Technology
Click-to-Call technology has been around for many years but, surprisingly, very few contact centres are actually deploying it. However, this technology makes it very easy for a customer to contact the contact centre from a web page.
Cordon Electronics use Click-to-Call on their website to good effect, which is a lot more user-friendly than simply putting a phone number on a web page.
2. SMS Is the Best Way to Reach Busy People
Cordon Electronics Fact File
Contact volume – per month
30,000 – 40,000
Channels
Voice – Inbound and Outbound

SMS

Email

Advisors
50 FTE Total

15 Bordeaux (France), 15 Dinan (France), 20 Bucharest (Romania)

Technology
Channels
Diabolocom
Click-to-Call 
Diabolocom
Call Recording
Diabolocom
CRM 
Sugar CRM, Horizon ( in-house Cordon Electronics built system)
Forecasting and Scheduling
Spreadsheets
Knowledge Base 
In-house built "Tool Box" Cordon system (Wiki based)
Headsets
Sennheiser Binaural (Wireless and Corded)
Cordon Electronics try to phone their customers using outbound dialling. But increasingly live connection rates are falling.
To solve this problem they contact more and more of their customers by using outbound text messages (SMS). In fact, the company now send more than 5,000 SMS messages every month.
Cordon Electronics have found this to be a popular option amongst the younger generation, who are generally more comfortable with text-based communication than picking up calls from an unknown number.
3. Make Customer Support Proactive
Most of the contacts in Cordon Electronics concern customers having a problem on their smartphone. Often, though, when a handset is sent in for repair, the technician cannot find any fault and declares it as "No Fault Found". This situation often causes a customer satisfaction issue and is not easy to explain.
To anticipate such dissatisfaction, Cordon Electronics call the customer back to explain the situation. They can then give the customer technical support on how they can use their phone to get around the problems that they were having. Cordon Electronics cover 4,000 calls per month for this activity and have managed to increase satisfaction by doing so.
4. Set Service Level Targets Relevant to the Size of Your Organisation
Many contact centres set an "industry standard" service level target of 80% of calls handled in 20 seconds. But while this may suit a large contact centre, it would not be appropriate for a smaller contact centre having fewer calls and longer call durations of 7 or 8 minutes. This would likely result in low service levels, beyond the control of the advisors.
Instead, Cordon Electronics set a more realistic target of 80% of calls answered within 60 seconds, which they deem more appropriate for longer call durations.
While some would worry that a longer queue time would cause a large increase in abandons, Cordon Electronics alleviate these fears by also offering call-backs.
5. Dealing with Seasonal Volume
There are marked seasonal peaks in demand with any business that is related to mobile phone handsets, and Cordon Electronics is no exception to this. Christmas and the "Back to School" period are particularly busy.
To deal with this, opening days have been extended (the contact centre is closed on Christmas Day but is open again on Boxing Day). Temporary staff are also brought in to cope with the peak demand.
For more on dealing with seasonal contact volumes, read our article: The Fundamentals of Contact Centre Peak Management
6. Extended Induction Training and Well-Being at Work!
In an environment where advisors are often given little training, it is encouraging to see a comprehensive advisor induction programme over four weeks.
As a standard, theory is the first step to contact centre training – getting familiar with Cordon Electronics' key account customers' process and products, of course.
After this stage, the trainee will start listening to their colleagues' calls (double listening), before handling their first calls under the supervision of a trainer.
Additional steps such as complementary training, dedicated accompaniment by one of Cordon Electronics' technical experts, ending in a "diploma" will complete the training.
While four weeks may seem quite a long time, Cordon Electronics believe this time is necessary for advisors to develop a passion for service.
Quality of Work Is More Important Than Quantity
When you take good care of your new recruits, you can lower your attrition rates. Cordon Electronics have a low advisor turnover, with many of the team having worked there for a number of years.  There are of course other reasons for this low turnover:
Quality of work is more important than quantity. There is no focus on quantity-based targets like handling a given number of calls every day.  Instead, the focus is on delivering a good-quality customer experience.
The advisor is well regarded in the team and in the company
The teams are small so people can work in a friendly environment.
"Ultimately, it is all about creating the right environment to do a good job.  Management is essential," says Peggy Hennebois, Contact Centre Business Developer at Cordon Electronics.
Digitalisation Will Not Replace Humans in Customer Services
Eric Cordon, Group Sales Manager of Cordon Electronics, believes that in the near future customer expectations will demand faster service and faster resolution of problems.
Eric says: "Services will be more and more digitalised, but digitalisation will not replace humans in the services."
"Hotlines will still be one of the keys to accompany our customers in the future, as long as we keep improving and developing our skills and tools."
Thank you to Cordon Electronics for facilitating our visit to their Bordeaux contact centre.
But what about you? Do you fancy showing off your contact centre?
If so, you can contact: newsdesk@callcentrehelper.com and maybe we will see you soon!