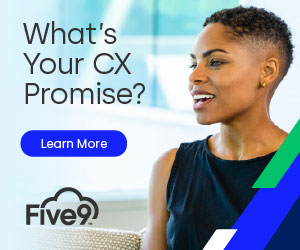 Allison Wilson at Five9 explores what CX leaders are saying about returning to the office in 2022.
It's hard to believe that working from home was still a novel idea two years ago – a perk reserved for only the most progressive companies. Now it is a proven operating strategy and, for many, the silver lining of a crisis that challenged and changed so many industries.
At Five9, we witnessed how this new reality drove rapid and dramatic changes in the customer service industry.
Given our cloud-first approach, we were able to help businesses with large brick-and-mortar customer contact centres around the world transition to having hundreds and sometimes thousands of their agents working remotely.
They were able to do this almost overnight, just as the demand for customer service was surging.
In those early months of our collective new normal, we surveyed our customers and found that 75% of them planned to keep at least half of their staff working from home in a post-COVID world.
Even our largest customer, a company with several thousand agents, said they expected around 80% of their employees to continue working from home.
It seems like a dozen "new normals" have come and gone since then. So we took another poll, and here's what we found:
Just under half of respondents (49%) say that they are not planning to move their contact centre staff back to the office post pandemic. Another 12% said they would, but not for another six to 12 months.
Only 16% currently have their agents back in the office full-time.
One in five stated that their teams will remain 100% remote permanently.
When asked about the biggest challenge in moving to a WFH model, the largest portion of respondents flagged connectivity (38%).
The biggest challenge in moving back to the office, according to respondents, is flexible work options. This was also listed by 38%.
The fifth finding points to the changing dynamics of work and employee expectations. There's no one-size-fits all solution to this challenge. But continuing to embrace autonomy and asynchronous work will be key to keeping employees happy in 2022.
Rather than trying to replicate pre-pandemic, in-person office environments, contact centre leaders can model behaviors and scheduling policies that allow employees to live balanced lives and maximize the benefits of flexible work. This requires leaders to advocate for self-directed work and manager trust.
Without the pressure of logging face time at their desks all day, agents can focus on the things that truly matter. And with the freedom that comes from that assurance of manager trust, they might just figure out new and innovative ways to solve customers' problems.
New research by Metrigy finds that when contact center agent turnover rates are less than 15% per year, customer satisfaction increases by 26%.
Many of the applications that are part of contact centre workforce optimization (WFO) address customer service agent performance and engagement. WFO suites comprise applications for measuring quality and performance management, as well as a variety of different types of analytics.
Globally, Metrigy finds that 35% of organizations use WFO suites, with another 29% planning to use them in 2022. At the same time, tools in the Workforce Engagement Management (WEM) space provide for gamification (which often translates to bonuses), as well as interactive training.
This blog post has been re-published by kind permission of Five9 – View the
Original Article
For more information about Five9 - visit the
Five9 Website