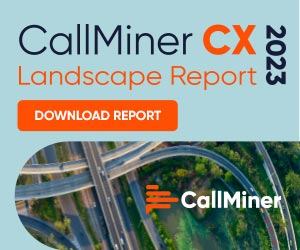 The customer service department is often on the front lines of customer interactions. Even so, the insights from these conversations can be used to drive business improvements that span the entire organization.
Simple customer satisfaction surveys and benchmarks may have been effective in the past, but data from actual customer conversations can inform how well your team operates.
In 2022, voice of the customer (VoC) programs promise to get more sophisticated and change the way many departments do business. In sales, customer experience (CX) and product development, in particular, customer insights can provide a wealth of information that could change how you think about your role – permanently.
Driving Sales With Conversation Analytics
The typical enterprise sales cycle is anything but simple. The art of closing deals and increasing average order value (AOV) is often mastered through years of experience and on-the-job training. However, the process of training new reps and shortening sales cycles can be simplified by analyzing conversations with prospects. Often the secrets lie in what they're already telling you.
This was true for Slimware Utilities, a leading media and internet company revolutionizing the way users and businesses clean, update and optimize personal computers. The company had a wealth of data collected across 25,000 subscribers and 6,000 support calls per month.
Using conversation analytics, the team was able to drill down to learn more about customer emotions (e.g. discontent, indifference, etc.). In addition, they discovered keywords for decision milestones when it came to upgrading or purchasing products and services.
This data helped the sales team establish a lack of value delivery during sales calls, and even gaps in language fluency. While understanding a pattern is helpful, taking action is even more critical. The Slimware team shortened the scripts that agents were using, and included more value-driven language. In addition, supervisors provided longer training cycles before agents got on the phone.
As a result, the team experienced a 4% increase in AOV, and agents became much more efficient and empowered to handle more calls.
Improving the Customer Experience by Listening
As the customer journey increasingly transitions to digital channels, the CX department needs to be more data-driven than ever. Healthcare, in particular, has been impacted by this transition during the pandemic.
The organizations like Kelsey-Seybold Clinic that can adapt to these changes and provide a superior patient experience have the power to impact their patients' lives for better.
Kelsey-Seybold Clinic provides access to skilled and compassionate healthcare through 26 multi-specialty care centres and a specialized sleep centre.
The clinic receives 22 different types of calls that vary in complexity, ranging from making patient appointments to triaging patient symptoms and routing them to the appropriate next level of care. In some cases, understanding what to do in the moment could be a matter of directing patients toward life-saving care.
Using conversation analytics, the clinic evaluated post-interaction analytics and provided guidance to agents interacting with patients in real time. Post-interaction analytics helped the team more effectively identify specific keywords or trigger words that drive escalations.
These reports offered deeper insights into what needed to be addressed as a result of those keywords or phrases.
In addition, real-time feedback gave agents the opportunity to take full control over the conversation. For example, if a patient is calling to schedule a regular appointment, but mentions having chest pain, the agent can be prompted to immediately and appropriately route the call to a nurse for the patient's safety.
Regardless of whether you're in healthcare or another industry, this level of insight and attention to detail can improve CX processes and drive long-term customer loyalty.
Refining Products and Tailoring Service Offerings With Data
What if customer feedback could change your product or services business, and improve your offerings? That's what RDI Corporation, a family-owned and operated business process outsourcer (BPO) asked as they analyzed data from customer interactions.
As a services business, RDI depends on providing sound recommendations to clients and tailoring its offerings based on each client or prospect's needs.
One banking prospect sent 1,200 hours (approximately 14,000 calls) of its more recent conversation recordings to RDI as a part of a new business pitch.  RDI used conversation analytics to analyze these calls and take a deeper dive into each contact driver in the hopes of finding additional insights.
The data showed calls with the longest duration mapped to just a few contact drivers – password reset, charge disputes, and account inquiries.
The RDI team found that password reset calls took 50% longer than the average call duration. Repeat call volume was driven most often by charge disputes, which required double the time of an average call. In addition, they showed that many calls were about basic account questions such as balance inquiries and deposit status. These calls were 35% longer than the average.
These insights changed the nature of the services RDI offered to the bank. The team recommended proactive updates to bank customers regarding the status of their dispute.
This had the potential to save up to 20 hours of inbound calls every day. They also recommended developing a more robust self-service capability through IVR to reduce call volume for basic questions to save the company another 20-25 hours each day.
As a result of showing the bank the value of conversation analytics insights, they signed on with RDI. The senior executives said that analytics capabilities factored heavily into their decision.
Many other teams across industries have used conversation analytics to inform product development pipelines, and make changes to existing products based on customer feedback.
This blog post has been re-published by kind permission of CallMiner – View the
Original Article
For more information about CallMiner - visit the
CallMiner Website