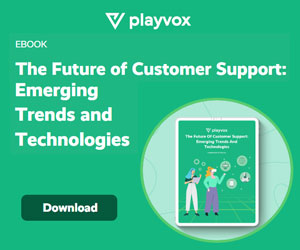 Given the growing popularity of chat and social customer service, some people may think that email isn't a channel to be overly concerned about any more.
However, there are many customers that still prefer the privacy and convenience of email. It's a one-on-one conversation that doesn't take a lot of effort on their part and can be read and answered at their convenience. No annoying interruptions in their day or waiting in a call queue to get a response.
Here are five things that are important to customers when interacting on email. Get these right and you can gain loyal customers for life!
1. Timely Response
With most email programs it's super-easy to have an auto-responder set up to let customers know that you have received their request. It's the first step in engaging with the customer and letting them know that they are important to your business. But this is not enough.
Research shows that 84% of customers receive an acknowledgement of their request within 10 minutes of sending – impressive. Yet their biggest bugbear was the lengthy delay in getting a response that provided a solution. In other words, it's not enough to simply acknowledge a request, it must also be promptly actioned.
If the request is being forwarded to a specific department consider adding in a second auto-responder as soon as this is done. For example: "Thank you for bringing this to our attention. Your query has been allocated to Alison in the refund department and she will respond within 24 hours." Without adding any effort to the person who is handling the query, the customer is reassured once again that their query is being actioned, and this saves them from having to follow up a second time. Of course if a 24-hour response is promised, it's important to keep that promise to retain a happy customer.
2. Personalise Communication
Customer service isn't a transaction, it's a conversation, so use technology that captures the customer's details and be sure to address them by their name when responding. Once again, this demonstrates that you're interested in who they are, and this translates into happier customers.
Customers also appreciate it when customer service advisors introduce themselves. It gives them a reference of who to contact should they have any follow-up queries and creates a friendly platform for conversation.
3. Be Knowledgeable
If customers could find the answers for themselves they wouldn't be sending an email query. Getting a knowledgeable response that resolves their query is what they are looking for. A lack of technical knowledge is cited as one of the major reasons for disgruntled customers.
When providing technical feedback here are two important tips: Firstly, explain technical details as though you were explaining it to a child. Keep things simple so that there can be no confusion, and avoid too much technical jargon. Secondly, don't send too much information as this can be overwhelming to sift through. Provide a simplified explanation with links to more complex information should the customer need it.
4. Demonstrate Reliability
If you are asking customers to provide their personal details when completing a customer query then you have a responsibility to use that information accurately and keep it secure. For example: If a customer gives their name as Michael, don't assume you can shorten it to Mike. While many customers prefer a casual tone, too much familiarity isn't always appreciated.
Often when customers use email as opposed to social media it's because they prefer privacy. When you keep a customer's information secure you're demonstrating that you value them and respect their privacy. This in turn helps to build trust with customers, which is more likely to turn them into loyal customers.
5. Make It Easy
Customers will often choose the channel that is most convenient for them to use. If they are then automatically directed to a self-help channel to search through a series of FAQs, this means more effort for them.
Proactive customer service advisors will rather respond to the query on email, giving a summary of the answer and including the link to FAQs should the customer need more detailed info. Providing a contact number and name should they have further queries is a great way to make the customer's life easier. Remember to avoid too much jargon or technical information and to keep responses simple and to the point.
When customers send an email query, it's an opportunity to fix a problem. Most customers don't even complain, they simply walk away. Thanking customers for taking the time to contact you will show them that you appreciate their business. Email is an easy-to-use and convenient customer service channel that, when used effectively, can help you win over more loyal customers.
Carolyn Blunt is Managing Director of Ember Real Results, a consultancy that works with contact centres to improve performance. 
Carolyn is especially renowned for identifying opportunities to improve customer experience and sales whilst creating efficiencies.  Carolyn is co-author (with Martin Hill-Wilson) of the book 'Delivering Effective Social Customer Service' published by Wiley.