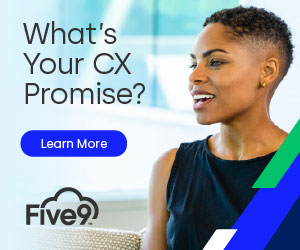 Five9 has announced that it has received the Metrigy MetriStar Top Provider award for Contact Centre as a Service Platform (CCaaS).
The MetriStar award is based on both customer ratings and quantitative metrics correlating the use of a vendor's products and services with measurable business success.
The Top Provider award recognizes vendors that have achieved above-average customer sentiment ratings and high business success for their customers.
"MetriStar awards are difficult to win because IT and CX leaders have high standards. They'll only rate their providers high if they go above and beyond, and business success is a quantitative metric that only happens when products perform above par," says Robin Gareiss, Metrigy CEO & Principal Analyst.
"Of the 27 CCaaS providers rated, Five9's is among the top. Of note is Five9's analytics score, which is the highest score of any CCaaS vendor for any category—a significant accomplishment given both the complexity and growing importance of analytics among CX leaders."
Metrigy surveyed 1,695 IT and CX Leaders from organizations and analyzed data and qualitative commentary from 13 countries in North America, EMEA and APAC on what they like most and least about their providers.
Research participants provided data on a variety of topics, including CX technology adoption plans, current and planned spending, applications in use and provider ratings.
They received above-average ratings in key areas of CCaaS, including rich feature sets, and received the highest analytics rating due to the focus on making data useful for customers.
Five9 continues to expand its feature set with a focus on providing the tools and data agents need to deliver personalized and fluid customer experiences.
Earlier this year, they launched AI Summaries, a new solution powered by OpenAI that summarizes customer call transcripts in seconds. This solution is part of their strategy to unlock a new class of features and products using large language models like GPT-3.
They also recently announced that its Workflow Automation solution is now included in each CCaaS deployment.
Five9 WFA helps companies seamlessly connect disparate systems, aggregate information, act on customer data and context in real time, and trigger cross-platform workflows. It also helps contact centers unlock previously siloed information, accelerate decision making and automate CX while reducing workload and cost.
"At Five9, we believe that empowering the workforce with AI, real-time customer data and business insights are key to delivering the best CX outcomes," said Genefa Murphy, Five9 CMO.
"We are honored to receive the Metristar Award and believe it underscores our commitment to helping our customers keep their 'CX Promise' to their customers."
This blog post has been re-published by kind permission of Five9 – View the
Original Article
For more information about Five9 - visit the
Five9 Website