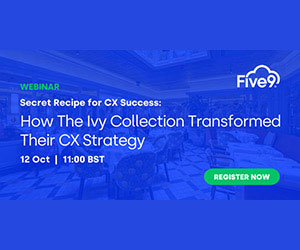 Five9 has announced that it has been named a Leader in the Aragon Research Globe for Conversational AI in the Intelligent Contact Centre, 2023.
Aragon Research analysts evaluated 14 providers that are including conversational AI technology within their intelligent contact centre offerings, or providing solutions focused exclusively for the ICC.
Providers were ranked based on Strategy, Performance and Reach, and Five9 earned top positioning on the Strategy scale for strengths, including its focus on intelligent virtual agents (IVAs), its no-code IVA development platform, full support for digital and voice channels and agent assist, and the ability to provide real-time information to help live agents handle calls.
"Five9 has continued to make AI, automation, and analytics part of its core product strategy and its march to be a global provider is seeing success," said Jim Lundy, Founder and CEO of Aragon Research.
"Five9's focus on its IVA platform, market expansion into Europe, and white glove implementation service are helping it continue to win new customers and retain existing ones."
This acknowledgement comes on the heels of Five9's announcement of a new European research and development hub in Porto, Portugal, which will continue to accelerate investments in artificial intelligence and cloud operations and further extend the company's expansion into Europe.
Five9 also recently announced new product capabilities, including rich media for self-service digital and voice channels, multi-modal engagement capabilities, real-time language translation, enhanced developer tools for Five9 IVA Studio users, and integrated analytics to optimize interactions.
"Five9 is honoured to be identified as a leader in providing conversational AI for the contact centre," said Callan Schebella, EVP, Product Management, Five9. "We believe this acknowledgement reflects the success of our vision to deliver solutions that make AI persistent throughout the customer and agent experience, along with tools that make it easier for contact centre teams to build, deploy, train and derive insights from the AI and the data that feeds it."
This blog post has been re-published by kind permission of Five9 – View the
Original Article
For more information about Five9 - visit the
Five9 Website