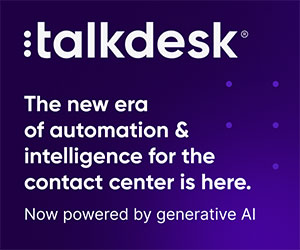 Talkdesk has announced it has been positioned by Aragon Research, Inc. in the leader section of the Aragon Research Globe for Intelligent Contact Centres (ICC), 2021. This marks the second consecutive year Talkdesk has been acknowledged as a leader in the report.
For this year's report, Aragon Research evaluated 15 vendors against specific dimensions tied to strategy, performance, and reach. Vendors were then categorized as leaders, contenders, innovators, or specialists. Three key criteria were required for inclusion in the report:
A minimum of $6 million in primary revenue for contact centre or a minimum of $8 million in revenue in a related market (voice, video conferencing, collaboration, team collaboration/messaging)
Announced and available products
Customer references from each hemisphere in which the vendor participates
"The race to the intelligent contact centre is on, and going forward, the base capabilities for ICC will be assumed.
"The challenge will be for automation and intelligence, both for human agents and, now increasingly, for the computer-based virtual agents," said Jim Lundy, founder, chief executive officer, and lead analyst, Aragon Research.
"The contact centre represents a strategic resource for many organizations in responding to today's customer needs, and predicting and preparing for tomorrow's expectations," said Tiago Paiva, founder and chief executive officer, Talkdesk.
"Through our artificial intelligence, automation, and even industry-specific solutions, Talkdesk continues to outdistance competitors in helping businesses drive better, more intelligent customer engagements.
"We believe this year's ICC Globe placement recognizes these efforts and further validates our approach."
Click here to: DOWNLOAD REPORT
For more information about Talkdesk - visit the
Talkdesk Website