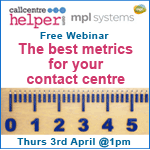 Are you measuring the right things in your contact centre?  What are the best metrics to use?
In this interactive webinar we looked at the best measurements to use in the contact centre.
Agenda
Jonty Pearce, Call Centre Helper
Carolyn Blunt, Real Results – The best metrics for your Contact Centre
Paul White, mplsystems – Balanced Metrics and Improving Metrics with Technology
Winning tip – "Don't forget to measure advisor satisfaction too." thanks to Fiona6.
Interactive Q&A – Live questions from the audience
All the tips from the audience have now been turned into an article 24 ways to improve your contact centre measurements and NetPromoter vs Customer Effort – Which is best?
Topics to be discussed
Average Handling Time
Customer Satisfaction
NetPromoter Scores
Customer Effort and NetEasy
Improving Service Levels
Measuring Productivity
Quality vs Quantity
Measuring Quality
Employee Satisfaction
Your chance to share your own ideas
Original Webinar date: April 2014
---