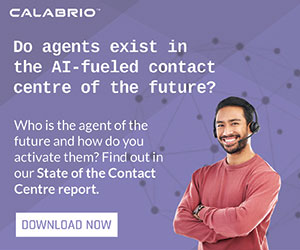 Tom Goodmanson, president and CEO at Calabrio, explores maximizing the goldmine of insights from a brand's first touchpoint and last line of defense with customers.
The impact customer experience (CX) has on brand loyalty and business performance has been well documented. But when it comes to creating exceptional experiences, many organizations miss the obvious fact that the humans behind the experience are critical to success.
They are the voice—and more often the face—of the brand, influencing not only personal customer perceptions but public customer actions such as social media conversations, advocacy and criticism.
For many companies, the heart and soul of human-centric CX lies within the customer service and support function, including contact centres.
It is where every customer has a direct connection to an agent, advisor, or representative who is there to navigate consumer needs and questions, all in an effort to nurture happy and satisfied customers.
60% of consumers say they switched brands due to a negative contact centre experience— most leaving after only two negative experiences, reports a Calabrio survey.
Despite this knowledge, there has been a year-over-year increase in companies that are perceived to treat CX as 'an expense rather than a growth opportunity' — missing the chance to wow customers or learn about their own business.
This gap between the importance of a positive CX and the attention and effort put into creating state-of-the-art contact centres (i.e., where the bulk of CX is occurring) was highlighted during the pandemic as it became painfully clear that some companies had invested in customer-first, human-centric CX, but many had not.
During this time of heightened stress and confusion, the contact centre became the most important point of contact between brands and customers. And consumer experiences differed greatly depending on the brand, agent and communication channel.
Still, contact centres are often treated as the bottom rung of the ladder in an enterprise's CX hierarchy. It is time for this to change.
Only when the contact centre is heralded as the brand guardian, will it improve and elevate the CX and introduce operational improvements and financial benefits that create long-term growth and brand loyalty.
The New CTA: Capture, Transform, Apply
There is an obvious need for brand leaders to make a shift, both in their own internal perceptions of the contact centre and in the tools and technologies leveraged within them.
Why? Because to truly satisfy and create positive interactions, leaders need to understand the customer journey and hear the signals that they are freely offering to the brand about their feelings and expectations.
It cannot stop there, though—data flows from customer interactions and actions need to be fully captured, busted out of their siloes and connected into a single source of truth to generate actionable insights.
This is the new CTA—a "capture," "transform," and "apply" approach to data that brands must embrace:
Capture
Capturing customer journey data requires organizations to remove data silos, streamline data entry points and implement an efficient, repeatable way of sharing information across departments to create a holistic view and understanding of the customer journey.
While the contact centre owns the majority of customer interactions, certain businesses have other relevant touchpoints to account for in the customer journey as well.
For example, a loan officer at a bank who captures notes in a CRM system after a client meeting is able to paint a more accurate picture of the client's needs and behaviors based on insights from their conversation.
This type of transaction is of high value and more relevant than someone who is simply ordering a new debit card, as other colleagues involved with the loan process will make decisions based off these shared insights.
With data accurately captured during all relevant touchpoints, teams can remove guesswork and friction from the process, enhance the customer journey and forge stronger relationships.
Because there are numerous points of entry within any one organization, adopting technology solutions that can automate data capture is key to
creating a single source of truth with quality data and
ensuring other teams and analysts aren't inundated with error-prone data that can be time- and resource-intensive to manually collect and mine through.
Transform
Now we turn data points into actionable insights that tell a story. Only 13% of CX leaders in a McKinsey survey expressed full confidence that their CX measurement system provides a representative view of their customer base, and it's time for this to change.
With the right systems in place, this step can be simplified; modern tech can pull raw, complex data from different departments and touchpoints, such as data from transcribed calls and digital interactions from the contact centre, then aggregate, integrate and analyze it so CX leaders gain true insights that can be shared across the organization.
It is not just the contact centre that benefits from this; transformation can be felt everywhere by using AI-driven and automated analytics applications to make sure every piece of data along the customer journey is taken into consideration.
Importantly, insights gleaned from this stage often fall into an operational or emotional bucket. Did customers receive a product that did not have all components included in the box?
That is an operational issue that can be easily addressed on a 1:1 basis or with the individuals impacted. Emotional issues are more challenging—are people upset by a brand's latest ad campaign?
Is it one or two people or a large group calling for a change in the ad? This can become a brand crisis if not addressed correctly and quickly.
Apply
Application of data requires applying insights gleaned from the "Capture" and "Transform" stages to enhance the customer experience.
This is when everyone in the organization can move on the information to create a positive impact on the business—from contact centre agents, to HR, to marketing; the entire business can take meaningful action to improve and grow with smarter and faster decisions backed by data.
An example of good data application is customers upset by brand advertisements. Handling this well takes swift collaboration among contact centre managers, marketing and communications leads, even HR leaders to course correct.
Notably, if an organization still has data silos, they cannot easily contextualize whether they're dealing with a big or small problem.
Yet if they all have the right information on hand and see only a couple people are annoyed, then pulling or revising the ads in a multi-million-dollar campaign becomes a moot point.
CTA in Action
Here is a real-life example of what can happen when the contact center is serving in its rightful role—safeguarding and elevating the brand—and when teams behind the contact center are upholding a CTA approach.
A nonprofit focused on helping people build financial health, GreenPath Financial Wellness, modernized its contact center to unearth hidden customer insights. The contact center team partnered with marketing to provide financial counseling to underserved citizens.
Using speech analytics that captured phrases during customer interactions tied to marketing campaigns such as "I saw your billboard" or "I saw you on TV," the team discovered that billboards, social media and radio were the most effective platforms, allowing marketing to focus resources on those channels.
This led to an ROI increase across marketing, a 150% increase in calls from the underserved population, and revealed a need for additional Spanish-speaking resources. What's more, reports showed measurable improvements in customers' overall financial wellbeing scores.
Embracing the contact centre as the first touchpoint and last line of defense for a brand—and making both technology and process improvements—undoubtedly has a positive impact on the business.
But brands need to acknowledge the elevated role contact centres, agents and support teams play in order to reap the benefits. It is time to leverage the goldmine of insights from customer interactions and act on them so everyone can benefit.
For more information about Calabrio - visit the
Calabrio Website