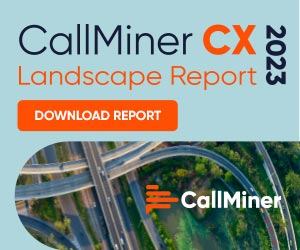 Frank Sherlock at CallMiner looks at how to meet the recent FCA Consumer Duty Requirements
The Rise of Vulnerability
Ninety one percent of UK households reported their cost of living had increased in July 2022, with costs reaching crisis levels for the poorest and most vulnerable – and there's still more to go with an 80% predicted increase on the energy cap in October 2022.
This, coupled with predictions that inflation will likely reach a 40 year high of 8.7% by the end of 2022, will only increase vulnerability across the UK and around the world.
Putting Customers First
With such stark statistics, it's essential for organisations to act – to not only remain resilient and compliant, but because it is the right thing to do. People don't forget the brands that stood by them and treated them with respect, dignity and understanding, especially when times were tough.
Following the recent announcement from the UK's Financial Conduct Authority (FCA), consumers have (hopefully) been put back in the driving seat.
The new requirements promise to fundamentally improve how organisations serve consumers, demanding a higher and clearer standard of consumer protection across financial services.
The introduction of the FCA's new Consumer Duty is one of the biggest shake-ups to retail financial services regulation in over 15 years and organisations have until 31st July 2023 to ensure they're meeting the mandate and putting customers' needs first.
What Does This Mean?
In short, the FCA has stated: "Our rules require firms to consider the needs, characteristics and objectives of their customers – including those with characteristics of vulnerability – and how they behave, at every stage of the customer journey.
As well as acting to deliver good customer outcomes, firms will need to understand and evidence whether those outcomes are being met."
With nearly 28 million people in the UK displaying one or more characteristics of vulnerability, organisations need to ensure they have the right tools and people in place to correctly identify and respond to those consumers.
How Can Technology Play a Role?
The number one priority is customer communication, and understanding behaviours, patterns and even sentiment triggers to identify vulnerability. This includes:
1. Listening on Every Channel:
The FCA's new Consumer Duty has outlined that "consumers should receive communications they can understand, products and services that meet their needs….and they get the customer support they need, when they need it."
For organisations to comply, they must look how best to communicate with their customers. Seeking an omnichannel approach can help identify those who would normally go under the radar and provide the right information at the right time, in the right way to potentially catch those at risk.
2. Better Equipping Agents with Knowledge:
Employee training and development plays a pivotal role in meeting the Consumer Duty, as contact centre agents are on the front line, engaging with customers daily.
Customer-facing employees need access to resources and tools that will help them identify vulnerable customers, and equip them with the right questions to ask, how to provide the best-next action and deliver guidance.
Organisations must also look within in terms of their own employee well-being, as they too might be showing signs of vulnerability.
3. Utilising the Right Tools:
Organisations collect a plethora of data. With the right technology, this data can be analysed to provide actionable insights to better understand customers and employees.
Unfortunately, many organisations' data is siloed, and with only a small percentage of calls often being monitored, is often incomplete.
Technology, like conversation intelligence, can help organisations gain valuable knowledge by looking at 100% of their customer conversations, whether it be online, via SMS, chatbot and calls.
Join me for a session on how technology can assist organisations to manage regulatory obligations at Credit Connect's Online Lending Technology Think Tank 2.2 on 6th September at 1pm BST.
Original Article
For more information about CallMiner - visit the
CallMiner Website