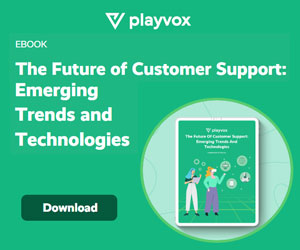 Every contact centre professional has a unique learning style. For every person who prefers to acquire new skills through reading, there are others who prefer doing, observing, or listening. We're announcing a new way to learn about customer service for people who love to listen: the Masters of Support podcast.
This new podcast showcases expert voices from around the CX industry sharing lessons learned, valuable truths, and extraordinary stories about becoming masters of support. It features members of the Playvox team among many other customer support leaders, all with one thing in common – the drive and desire to help you on your customer service journey.
What's the new podcast all about? Masters of Support covers a range of topics central to CX operations, delivery, performance, best practices, technology, training, and much more.
Your contact centre and customer service team are unique, facing challenges that it may seem none other has faced. In fact, you and your team are not on an island. Many of the obstacles, disruptions, and challenges you face have been addressed – and overcome — by others.
Masters of Support is designed to help you through your biggest challenges and turn them into even bigger opportunities. The podcast explores the art of what's possible, inspiring and encouraging you every step of the way.
Here's a preview of the upcoming topics Masters of Support will be covering:
The Great Reshuffle
Employee burnout
How to provide an effortless customer experience
How to build a Tagging Taxonomy
How to make every agent your best agent
These are the kinds of insights that each episode will bring to the forefront. Each podcast is a candid and compelling conversation with CX experts and with the industry as a whole. We're thrilled to be able to bring you the sharpest minds and smartest voices in CX with each episode.
Masters of Support is an ideal companion during your commute, while you're out on a walk, getting laundry done, on a road trip, or whenever you want professional insights and guidance.
No matter where you – or your contact centre – are on the journey, the Masters of Support podcast has your back.
Listen to these episodes now:
Support Ticket Tagging: How Automation Turns Data Into Action
Service Agent Retention: How Contact Centres Can Retain Their Agents
To view all episodes in the podcasts click here.
This blog post has been re-published by kind permission of Playvox – View the
Original Article
For more information about Playvox - visit the
Playvox Website