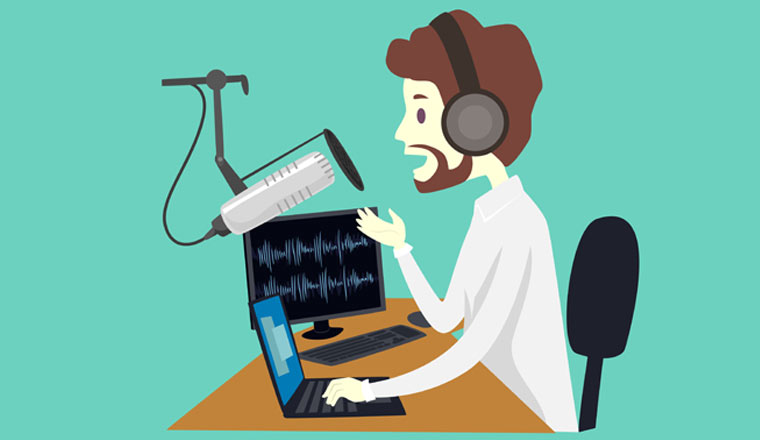 © Lorelyn Medina-Adobe Stock-311860476
Spearline introduce two episodes from the latest series of their podcast.
Improving Audio for Virtual Events and Conferences
In a recent podcast episode, Spearline Enterprise Sales Manager, Emmanuelle O'Donovan, spoke with Josh and Kees about the importance of audio for virtual events and conferences.
Emmanuelle shared her varied portfolio of experiences in the telecommunications, conferencing, and business development sectors throughout the interview.
She began the discussion, talking about how the conferencing sector has drastically changed over the years.
With new trends constantly emerging, she believes that while the industry has evolved considerably, it's been for the better.
The most drastic evolution was, particularly, in the past year, where everyone was forced to move to the home office.
"Originally, conferencing would have strictly just been in the business domain and it is now fully in the public domain," said Emmanuelle.
"Whether it be for socializing, classes, or just work, we have all found ourselves to be in the conferencing space."
As business requirements continued to evolve and develop over the years, as did conferencing. The audience grew wider, thanks to multiple participants simply logging into the conference through their own devices from different countries and continents.
The ability for any member to screen-share documents while presenting meant files that were sent from one region to the other could be updated in real time, proving to be highly beneficial at saving time for everyone involved.
The growing popularity of video was another important benefit as it allowed participants to replicate the face-to-face meeting experience.
For more insights regarding the future of video, take a listen to the follow podcast episode: Spearline Podcast | Season 2 Episode 8: How important is audio for virtual events and conferences?
The Importance of Regular Communication With Your Staff
Colm Condon, a Human Resources consultant of OD&C Advisory Services, joined Josh O'Farrell on an episode of the Spearline Podcast.
He spoke about the different ways that businesses have had to adapt in order to survive, such as providing the right tools for remote agents, and how important it is for managers and supervisors to have regular contact with their staff.
Highly experienced in the industry, Colm has worked for seven multinational corporations in a variety of different sectors over a period of 35 years.
Throughout the years, one of the most important pieces that Colm learned was how important communication was not only between customer and agent but also between managers and employees.
"It's all about communication and bringing people with you. It's about the very basic understanding of human behaviour and how that influences all of the outcomes in so many different ways," says Colm.
The conversation turned towards the discussion surrounding the impact COVID-19 has had on businesses across the globe, and how the workplace has evolved to adapt to events such as this. One of the key topics of interest was remote working.
While the "home office" was a first for many, Colm had actually been involved in this for a number of years.
He noted how many businesses had struggled with this concept as they believed that there would not be sufficient collaboration between remote employees.
Issues such as lack of mentoring and staff development also played a pivotal role in low levels of support for remote working.
Thankfully, this mindset has radically changed for the better, particularly over the past few years: "I think the biggest piece of that change is around technology. Technology has improved so much."
Supported through the use of technological breakthroughs such as cloud computing, cooperation, and enhanced communication tools, remote working has never been easier.
However, transformation and change management have still been difficult, Colm believes: "I think that companies are slow to respond. And in particular, the major corporations, they're slow to adapt to new models of working."
To listen to the rest of Colm's insights, be sure to check out the podcast episode Spearline Podcast Season 2 Episode 7: Colm Condon: Communicating with HR during a crisis.
How Important Is Audio for Virtual Events and Conferences?
In the latest episode of the Spearline Podcast, Josh O'Farrell and Kees Hendrickx are joined by Spearline Enterprise Sales Manager, Emmanuelle O'Donovan.
Emmanuelle has a background in event management and the online conferencing industry and was able to provide useful insight into her experiences, using some real-world examples.
In this episode, they discussed the vital role audio plays in managing virtual events and conferences online.
Online conferencing services are a beneficial audio-video conferencing solution that combines all services into one online conference solution, and they have never been more popular in light of the recent pandemic.
But how many of your guests suffer problems such as terrible audio quality like latency, jitter, packet loss echo, or just poor connectivity issues?
Thankfully, Spearline's proactive monitoring and testing tools are able to identify these issues before your guests and customers do.
Emmanuelle also shared the best tips for preparing large conference calls and events involving multiple participants, the need for good service availability, how vital it is to have excellent audio quality for everyone involved, as well as talking about her role here in Spearline.
Be sure to tune in now to catch up with all the latest Spearline news and developments!
To find out more about Spearline's contact centre solution and to subscribe to future episodes of the Spearline Podcast visit: www.spearline.com
---
---