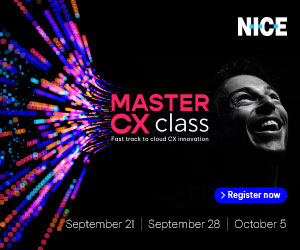 NICE have announced the launch of NEVA@home, helping organizations make it easy for their employees to provide continued service excellence even when working remotely.
Additionally, NICE has made available the NEVA Starter Kit, to help organizations get up and running with NEVA on every employee desktop and realize value within days.
The starter kit includes complimentary NEVA licences and preconfigured use cases for three months, upon purchase of professional services, so organizations can quickly experience the benefits of automation during this time of dynamic change.
As organizations adapt their plans to effectively address the challenges posed by the current situation, quickly deploying robotic automation via INEVA@home boosts employee engagement, driving exceptional, consistent service delivery from home.
The current pandemic has triggered multiple challenges and operational complexities for organizations, impacting business continuity, productivity, and serviceability.
They need to ensure employees rapidly adjust to working remotely and adapt to new obstacles these dynamic times bring. In addition, they must also enable employees to deliver efficient, consistent service experiences while handling a wider range and higher volume of customer requests.
Although there is an immediate need to address this new reality, there is also a universal realization that the workplace will be forever changed. As such, organizations acknowledge that they need to embrace a new work model for the foreseeable future and adapt it to longer-term plans.
NEVA@home addresses current operational challenges while helping ease the path to increasing the automation footprint as needed in the future.
NEVA@home is designed to support remote operational complexities from both the enterprise and employee perspectives in the following ways:
Real-time, contextual guidance for each employee on their desktop: Employees are empowered to handle customer requests consistently, stay in compliance, provide offers at relevant times and keep service levels up.
Rapid adaptation to new guidelines and policies: New automation and guidance flows can be quickly and intuitively created using NICE's Automation Design tool. These can also be pushed directly onto employees' desktops for fast communication of changing scripts and guidelines.
On-screen training: In this time when classroom training sessions are not a possibility, NEVA enables training on the areas employees need to improve upon via step-by-step guidance callouts directly on their screens.
Information compilation: Quickly gathering vital information and presenting on the screen for each call, NEVA saves employees a considerable amount of time otherwise wasted on navigating multiple applications.
Quick call wrap up activities: NEVA also automates call notes and after-call tasks, preventing back-office backlogs.
Barry Cooper, NICE Enterprise Group President, said, "While organizations are adapting to functioning in these dynamic times, they continue to be faced with deeper operational complexities."
"These include ensuring service consistency, helping provide relevant and timely answers to customers and engaging employees so they continue performing at their best from home."

"NEVA@home and the starter kit provide an effective way for organizations to gain rapid, immediate value from automation and to more broadly benefit their organization over the long term."