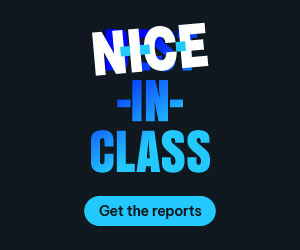 NICE has announced that NEVA Discover, its process analytics and task mining offering, has been recognized as a 'Leader' in Everest Group's Task Mining Products PEAK Matrix Assessment 2023 out of 19 task mining providers evaluated.
NEVA Discover utilizes its rich desktop data collection and desktop analytics to pinpoint areas for employee improvement and optimize performance.
Leaders were recognized for strong growth momentum in the task mining market and the ability to continue to differentiate by offering innovative features.
NEVA Discover offers a scientific approach to scaling task mining capabilities, allowing CX organizations to take employees' performances to a new level and ground business decisions on rich processes and interaction data.
Utilizing NEVA Discover's desktop analytics, organizations can drive employee performance improvements by developing and engaging employees with proactive, personalized coaching using actionable data.
The report noted that NEVA Discover "helps users to discover best practices by combining the captured data with additional metrics, such as interaction data, employee data, and interaction outcomes, leveraging the power of the CXone Platform."
The report also noted that clients appreciated NEVA Discover's ease of use as well as key areas of strength including the power of its task discovery and handling capabilities as well as quick adaptation to the product.
"NICE has reinforced its position as a Leader on Everest Group's Task Mining Products PEAK Matrix 2023, underpinned by its strong vision, depth and breadth of product functionalities, focus on product support, and integration with its automation capabilities," said Amardeep Modi, Vice President at Everest Group.
"Discovery capabilities, ease of maintenance, and data security are some of the key strengths indicated by its clients."
Barry Cooper, President, CX Division, NICE, said, "We are pleased to be recognized as a Leader in this assessment, demonstrating NICE's excellence in Task Mining.
As CX organizations continue to struggle with employee retention, NICE's NEVA Discover enables organizations to provide objective, targeted coaching to empower employees and make them even more effective.
With our ongoing investments in Enlighten AI, NICE will continue its momentum as a market leader in Task Mining."
This recognition adds to NICE's past accomplishments in this space. NICE was recognized as a 'Leader' in Everest Group's Task Mining Products PEAK Matrix Assessment 2022. NICE was also named a 'Leader' in Everest Group's Robotic Process Automation (RPA) PEAK Matrix Assessment 2022.
This blog post has been re-published by kind permission of NICE – View the
Original Article
For more information about NICE - visit the
NICE Website