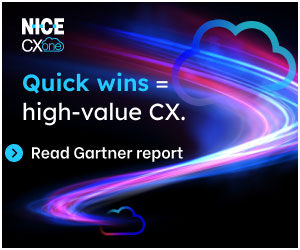 NICE announced that it has once again been named market share leader in contact centre workforce optimization (WFO) by DMG Consulting LLC for 2019.
NICE demonstrated a 37.3 percent share in contact centre WFO, reflecting 7.7 percent year-over-year growth.
A leading independent research and consulting firm, DMG also acknowledged NICE's leadership position in several other categories, including contact centre recording revenue, direct and indirect sales in WFO, non-contact centre recording, North America market share, service revenues, WFO and recording solutions and more.
In DMG's report entitled "Contact Center Workforce Optimization Market Share Report", NICE retained its leadership in the cloud hosted SaaS solutions domain with 38.6 percent market share, an increase of 6.1 percent over the previous year and 16.1 percentage points more than the nearest competitor.
NICE was also recognized as the market share leader based on total company GAAP revenue, with a 41 percent share of the market for 2019, signifying a 9 percent growth year-over-year.
In another segment, the analyst firm's report noted NICE's leadership in sales of voice recording solutions with a 48.7 percent market share, a sizeable increase from 28.3 percent in the previous year and led the closest competitor by 35.1 percentage points.
NICE is also the leader in WFO and recording with 37.3 percent market share, demonstrating growth of 6 percent in 2019 over the previous year.
Donna Fluss, President, DMG Consulting, said, "2019 was a strong year for contact centre investments. Historically, WFO solutions have performed well both in good and challenging economic times."
"In recent months, many contact centres demonstrated their agility by rapidly enabling employees to work from home."
"We hope that contact centre executives will make the necessary changes to their customer service operations to enable them to cost-effectively deliver an outstanding customer experience."
Barry Cooper, President, NICE Enterprise Group, said, "Customers are increasingly looking for technology solutions that help their business meet their CX agility needs. DMG's analysis once again reflects the increased customer adoption of NICE's innovative, flexible and agile WFO solutions."
"We believe this report testifies to NICE's role in ensuring continued customer experience excellence no matter which environment businesses operate in. We're pleased to have been named the contact centre WFO market share leader by DMG."