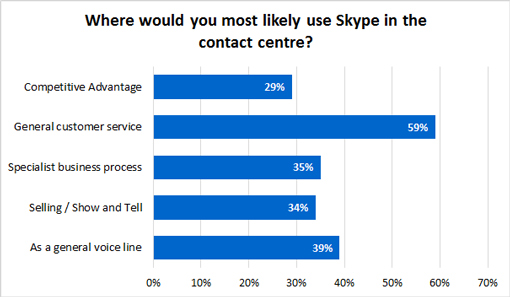 According to our poll, 35% of contact centres would  be likely to use the ability to interact face-to-face on Skype to help advisors demonstrate specialist business processes to customers.
Furthermore, 34% also suggested that they would use the capability foe selling / show and tell purposes.
Poll – "Where would you most likely use Skype in the contact centre?" answers
As a general voice line – 39%
Selling / Show and Tell – 34%
Specialist business process – 35%
General customer service – 59%
Competitive Advantage – 29%
(Multiple answers were allowed during this poll, so the total does not add up to 100%.)
Source: Call Centre Helper webinar: Skype and the Contact Centre     Sample size – 192     Date: March 2014
For more information about contact centre processes, read an Introduction to Contact Centre Processes and How to Better Introduce New Contact Centre Processes. 
---