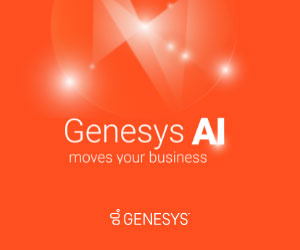 There were lots of great presentations at this year's G-Summit held in London, which helped us to form an idea of the contact centre of the future.
In one of these presentations, Mark Turner, Vice President of Genesys, highlighted three emerging contact centre technologies that will likely grow in popularity over the next few years.
Each of these three technologies are discussed further below, in terms of how they can be used and what makes them so "promising".
1. Asynchronous Messaging
A key new rule of customer service is that mobile is becoming the channel of choice and, over the past few years, we have seen companies do more to ensure that their websites are mobile friendly.
However, this trend is about more than just websites – it's also about communication preferences. Customers don't necessarily want to have an individual app for every company that they do business with, it takes up phone memory. However, it takes effort for the customer to go to the website and engage in a live chat conversation.
So, messaging apps, which have long overtaken SMS in terms of usage, are now becoming increasingly popular. They are also great for offering proactive customer service messages, while many contact centres are already using the channel for post call surveys.
Yet, contact centres then face the challenge of determing how best to support consumers who want the ease and convenience of communicating with brands in the same fashion they connect with friends and family. This is where asynchronous messaging comes in. Its increasing popularity has created an expectation on the part of consumers that they should be able to use asynchronous messaging to resolve issues fast and easily – whenever they have the time.
The challenge for businesses is to determine how best to support the wide array of native and third party  asynchronous messaging apps consumer now regularly use. The approach Genesys takes is to offer numerous API integrations for asynchronous messaging apps from major providers – called the Genesys Hub – to allow businesses to connect with consumers on this emerging channel. This means that customers can engage with the contact centre through a number of popular messaging apps on their timetable – and they can pick up the conversation anytime, right where they left off.
The blending of AI with messaging apps, Messenger in this example, is highlighted in greater detail in the video below.
2. Predictive Routing
Predictive routing means routing contacts using AI to analyse historical performance data to match customer and employee attributes to predict which advisor is best suited to handle the incoming enquiry and is the most likely to achieve targeted business goals. This is the most recent evolution of omnichannel routing.
Northumbrian Water aim to take their Net Promoter Score (NPS) scores from 45+ to 70+ in the near future and, according to their CIO Nigel Watson, predictive routing will take them "halfway there".
Predictive routing analyses all customer and advisor data to predict which advisors are the most likely to positively impact business results, such as a customer's NPS scores.
So, by assessing data – such as the customer's age, location and potential to buy – predictive routing is used to pass the call, chat, text, etc. to the most appropriate advisor. This makes it a great tool for boosting rapport, increasing sales through service and reducing repeat contacts.
While we have highlighted NPS in this example, the contact centre could choose the business outcome(s) that they want to optimise, including improved First Contact Resolution (FCR), higher Customer Satisfaction (CSat), increased employee efficiency or better collections and revenue.
Find out more about Genesys Predictive Routing by clicking here.
3. Hybrid Cloud
When contact centres look for a solution of any kind, they want it to be easy to integrate. This is not a new trend, and technology vendors will continue to look to integrate their solutions.
So, over the past 10 years many small to mid-sized contact centres have moved to the cloud – where they have access to workforce management (WFM), gamification and routing applications, for example – and can merge them all into one single system.
This single system continues to evolve, with contact centres using more channels – like messaging apps, live chat and social media – than ever.
However, with the entire basis of the contact centre relying on a single system, many centres are still nervous about taking the leap – especially very large organisations. For them, a rip and replace of existing systems in favour of the cloud is often a complex, restrictive, multi-million pound endeavour. This has led to the emergence of hybrid (omnichannel) cloud contact centres, which will likely now lead the cloud "take-over".
With hybrid cloud offerings, businesses can start breathing new life into existing on-premises systems without a full system migration. For example, organisations can leverage existing investments while adding emerging technologies such as artificial intelligence to create new customer experiences without having to make a major shift to the cloud.
According to Call Centre Helper research, cloud adoption will soon change.
In the report "What Contact Centres Are Doing Right Now – How Do You Compare? (2017 Edition)", it was found that only 21.0% of contact centres have so far moved to the cloud. Yet more than double this percentage are already either "in-process" or "in-planning" to make the transition.
Part of the reason could be because companies like Genesys are now offering a subscription-based model for on-premises customers, giving them a migration path to the cloud. The new subscription model enables companies to "lease" with more flexibility and come with a lower up-front cost.
For more information on each of these three technologies, visit: www.genesys.com