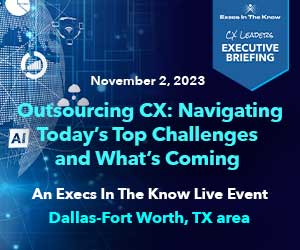 Over the past ten years we have seen many technologies hyped as the "next best thing since sliced bread".  However, we have seen many of them fall flat on their face.
Keith Pearce reveals the five biggest flops.
There is always a "next big thing" in the contact centre industry. Of the many that we have seen in the past ten years or so, some have gone on to be very big – such as workforce management, analytics and skills-based routing. Others have completely flopped.
1. Video Calling
Five years ago, many customer service commentators and futurists predicted that our interaction preference would be for video calling. Video technology became highly touted as a contact centre revolution. With the ability to see the agent, customers would develop a stronger bond with the organisation. The benefits would pass the other way as well: if agents can see the customer, the visual interaction could help direct minor product repairs or make a better judgement of whether to dispatch an engineer to the customer, for example.
Has anyone successfully implemented video technology? Yes, there are examples of successful deployments, but they are not widespread. Customers often do not have the capability to conduct video calls and many simply do not want to – giving a stranger a window into your home doesn't appeal to a large number of customers. In addition, instructional videos are often available on a company's website and supplant the need for video in the contact centre.
However, the innovation of adding a visual element to customer contact has not disappeared – it has simply changed focus and is now quickly becoming a highly useful and well-utilised tool in the realm of Visual IVRs. Interaction from a Mobile 3G device, also referred to as the 'Visual IVR', enables customers to take visual prompts, instead of voice prompts (in a traditional Interactive Voice Response), which makes the experience quicker and more user friendly.
Visual IVR is already proving to be popular in some countries – most notably where 3G calls are the same price as standard telephone conversations.
2. Click-To-Call
Click-to-call is a technology first founded to escalate sales enquiries to a contact centre to be converted by an agent. As it turns out, most consumers prefer to stay within the channel they chose from the outset, so forcing customers into other channels – for example through compulsory click-to-call – derails them from the service channel they opted for, and results in higher abandonment rates.
Most contact centres solved the problem by clearly displaying their phone number on every page of their web site.
Click-to-call now provides a service-enhancing tool, for those that choose to use it. It is not a proactive sales tool, but rather a service option that provides an avenue for a customer to go down instead of facing a dead-end. Click-to-call places the customer from the web into a universal, virtual queue in the contact centre and the transaction history is popped up onto the agent desktop.
3. Homeworking
Agents working from their own living rooms were at one time set to revolutionise the effectiveness of the workforce. Many potential employees need highly flexible schedules – for example to fit around the school run – and the homeworking revolution was set to bring these people into the business so that their expertise could be used while still enabling them to work the hours that they wanted to.
IP technology was the enabler, allowing these employees – wherever they were based – to easily log in and out of the central system. However, more complex administrative and managerial issues surrounding employees working from home full-time have meant that homeworking did not become the phenomenon that many thought it would.
But that same IP technology that drove the hype around homeworking has, in fact, enabled a dramatic shift in the nature of contact centre operations. It has allowed companies to integrate all of their different business units into a single customer service operation. This opens up the expertise of branch and back-office employees to the customer service team.
4. Outsourcing Customer Service
Technology developments in the area of IP enabled companies to seek out cheaper options for their contact centre in the far corners of the globe. Going offshore was the thing to do as recently as five years ago because it provided a low-cost service for the business.
However, a number of high-profile incidents involving offshore sites have turned public opinion against foreign agents. With customers threatening to churn if they cannot be provided with a more localised service, the cost benefits of offshoring suddenly became irrelevant. The emphasis has now shifted back to customer service being fundamental to the business, especially in times of economic crisis.
5. IVR and Speech Self Service
Neither of these technologies has flopped particularly – though both have received some negative press because of poor design and deployment. And both technologies do a similar job to that originally intended – so why do they have a place in this list?
The reason is that they were both individually touted as the solution to resourcing problems and as a simple one-stop shop for automating customer service. This clearly hasn't happened. Both systems have their own benefits, but also their drawbacks and the modern solution for automated service is combining the available solutions into a single, well-designed and personal approach.
Many companies are starting to use the web as their self-service channel and others are looking to improve their caller experience by taking out their touchtone menus.
There have been countless new developments in automated services. Every one brings something new to the customer service table, but still there is no "one-size-fits-all" solution.   Many customers do need to be taught how to use them and if accuracy is low, they can be highly frustrating for customers.
Learning from these lessons
All of these perceived failures should be lessons to us all that in fact no single technology "silver bullet" exists anywhere. There is a wide range of systems and technology innovations available to all companies right now, but they have to be deployed in the right ways to fit individual service goals and customer profiles.
---
An eleven-year veteran of the high-tech industry, Keith Pearce has worked extensively in new and emerging technology markets for contact centre technologies. At Siemens, he helped orchestrate the migration strategy from legacy to new telephony products, in both the Sales and Marketing divisions. At Nuance, he helped build the market for speech recognition software.  As Director of EMEA Marketing at Genesys, Keith leads all marketing activities in the region (www.genesys.com).