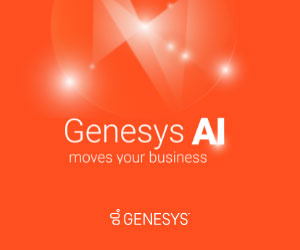 In this article we explore the key contact centre technologies, from our call centre research findings, to ask what our panel of experts see as the top call centre technology.

What Is Contact Centre Technology?
Before we begin, it's worth defining what we mean when we talk about contact centre technology.  Put simply, the term contact centre technology refers to the systems contact centres use to support business processes, enhance operational efficiencies, and deliver the customer experience.
Contact Centre Technology Trends – Survey Results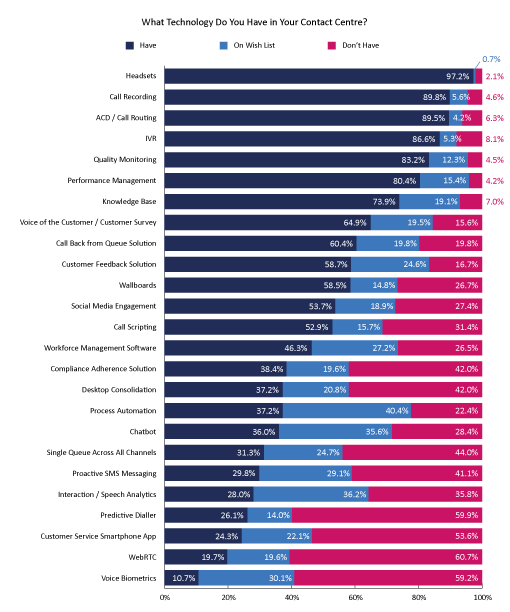 In our survey report, "What Contact Centres Are Doing Right Now 2022 Edition", we asked our audience 'What Technology Do You Have in Your Contact Centre?'
The respondents rated the types of call centre technology so we could discover the most and least common contact centre technology.
The results, shown in the graph, outline which technologies contact centres have, want, and don't have.
Headsets, ACD, and call recording are unsurprisingly the most wanted call centre technology.
When compared to results from previous years we can draw the following conclusions about the key call centre technologies:
Steps Being Taken to Improve Call Queues
The Continued Rise of Self-Service
Customer Analytics on the Rise
Contact Centres Look to Employees
Read our research article What Technology Is Being Used in Contact Centres? for more detailed information about the most and least common contact centre technology.
Top Contact Call Centre Technologies
Headsets – 97.20%
Call Recording – 89.80%
ACD / Call Routing – 89.50%
IVR – 86.60%
Quality Monitoring – 83.20%
Performance Management – 80.40%
Knowledge Base – 73.90%
Voice of the Customer / Customer Survey – 64.90%
Call Back from Queue Solution – 60.40%
Customer Feedback Solution – 58.70%
Wallboards – 58.50%
Social Media Engagement – 53.70%
Call Scripting – 52.90%
Workforce Management Software – 46.30%
Compliance Adherence Solution – 38.40%
Desktop Consolidation – 37.20%
Process Automation – 37.20%
Chatbot – 36.00%
Single Queue across All Channels – 31.30%
Proactive SMS Messaging – 29.80%
Interaction / Speech Analytics – 28.00%
Predictive Dialler – 26.10%
Customer Service Smartphone App – 24.30%
WebRTC – 19.70%
Voice Biometrics – 10.70%
What Are the Key Call Centre Technologies?
With this in mind, we asked our panel of experts what they think is the key contact centre technology, and have put together eight call centre technologies you need:
1. AI Technology to Support Hybrid Work
In today's hybrid working world, agents and supervisors may not find themselves in the same physical space at the same time. For example, while an agent might be working from the call centre, the supervisor could be working from home.
While this provides a level of flexibility that was unexperienced by many pre-COVID, it also means that agents can be left without the immediate physical support of supervisors as offered in previous workplace models.
Thankfully, AI technology is supporting agents with hybrid work. For example, real-time interaction guidance empowers supervisors and agents to deliver a consistent service experience on every conversation despite being in separate locations.
Agents receive in-the-moment coaching with embedded desktop tips based on phrases spoken, customer satisfaction and soft skill behaviours, all powered by AI. On the other hand, while remote, supervisors have instant visibility into which agents are performing well, who requires coaching and what that coaching should focus on.
What's more, AI accelerates onboarding for new agents with personalized coaching. This is pertinent for supervisors in 2022, amid the Great Resignation. AI provides supervisors with peace of mind, knowing that agents are being offered quality training based on their personal strengths and weaknesses from day one.
Thanks to Andy Traba at NICE
2. Biometric Solutions
As consumers increasing look to interact with brands online, call centres around the world are having to adapt their strategies to keep up. This is where modern technologies, such as biometric solutions, come in.
Voice Biometrics
For example, voice biometrics can use sophisticated algorithms to analyse many different voice characteristics – from pronunciation to size and shape of the nasal passage – to authenticate a user.
Behavioural Biometrics
Meanwhile, behavioral biometrics can measure the most minute details – such as how an individual holds their phone, how they type and even whether they pause once they finish a task.
Both technologies can be used to validate whether someone is who they say they are immediately based on how they sound. This means that any interaction can be personalized from the offset, enabling individuals to feel as though they are a priority and are being understood.
And that's not all… Call centre agents can use these technologies to boost the customer experience, without compromising on security. Customers don't need to remember something specific and worry about that information being stolen.
There is no longer even a need to be authenticated using a specific passphrase such as 'my voice is my password'. Instead, biometric technologies are enabling call centre operators to validate a person's identity through natural utterances.
For customer experience, this has opened up a new door, championing convenience for the caller whilst protecting them from fraudsters.
Why Are Biometric Technologies Key?
These technologies are key because, whilst many of today's post-pandemic consumers prefer online communication, we cannot disregard the importance of the 'human touch' when it comes to customer experience.
As individuals, when we have a problem or even just a question, we all want to feel as if there is somebody listening to and helping us.
During face-to-face interactions this is a given. However, when the interaction becomes digital it can be very easy to feel as if you are on your own.
By making authentication almost immediate, biometric technologies overcome this challenge, enabling agents to maintain personalized services and provide a frictionless, human-like interaction whether a customer chooses to communicate in-person or online.
The Benefits of Biometric Technology Solutions?
There are numerous benefits to using voice and behavioural biometric technology in call centres.
For example, the ability to successfully authenticate an individual just through the sound of their voice can help agents to identify and protect their most vulnerable customers.
Take Telefonica, for instance; the team there were able to use these technologies to identify callers over the age of 65 during the peak of the pandemic. This meant that customers belonging to an age group traditionally more 'at risk' when it comes to fraud were able to be seen quickly and effectively.
More generally, these technologies can also drastically boost both employee and customer satisfaction. Less time spent authenticating means less customer time wasted on the phone. Meanwhile, by automating this part of the interaction, agents are able to focus on and put their energy into the most important job, providing the best customer support.
Thanks to Brett Beranek at Nuance
3. High-Quality Audio and Video-Conferencing Solutions
In a fast-paced working environment, high-quality audio and video-conferencing solutions are fundamental to enabling workers to engage with customers and deliver the best customer experience.
Certified professional headsets with active noise cancellation and advanced microphone technology can suppress surrounding noise and eliminate the distractions of busy environments on calls.
As many call centres continue to support remote and hybrid working for staff, video will play an important role in engagement and communication between agents and customers.
Intelligent video-conferencing solutions that are compact, portable and easy to use are ideal for connecting workers with colleagues and customers quickly and reliably, wherever they are working from.
Why Are High-Quality Audio and Video-Conferencing Solutions Key?
Professional and high-quality headsets elevate the experience for both the call centre worker and customer.
Poor-quality audio and noisy environments create a bad customer experience. For call centre staff themselves, disruptions and noise can impact concentration and increase stress levels.
With professional headsets the benefits are clear. They provide significant noise reduction, ensuring the agent and caller can communicate effectively with good sound.
Poor-quality audio and noisy environments create a bad customer experience. For call centre staff themselves, disruptions and noise can impact concentration and increase stress levels.
Advanced microphone technology lets the agent hear themselves as they would in a quiet environment, so they naturally adapt to speak more quietly as opposed to having to raise their voice to talk over loud background noise.
This makes the call feel more personal, improving the experience for both agent and customer.
We expect to see video emerging as a key channel of communication in contact centres. It can play an important role in engagement and communication between agents and customers, making meetings more productive and personal.
As we continue to work across distributed teams and with the uptake in hybrid working, video can also facilitate better inclusivity and teamwork, helping to motivate staff and provide guidance and support from managers.
The Pros and Cons of High-Quality Audio and Video-Conferencing Solutions?
Adopting the right technology will benefit both workers and customers. We are seeing customer experience coming to the fore, and companies will increasingly rely on intelligent software and analytics to manage customer satisfaction and the quality of communications with customers.
Insights into call volumes and capturing data on customer interactions can help tackle issues such as staffing levels at peak time, predicting the level of inbound calls. This way, managers can allocate the right resources.
Managers can also be proactive and identify challenges for staff, such as noisy environments. Changes can then be made to address issues such as background noise or poor-quality audio on customer calls.
The ongoing challenge for call centres is the constant pressure of ensuring staff have the right tools to be their most productive. The potential downside is that not all technology is fit for purpose and many workers will still be grappling with the wrong equipment for the job.
Technology and video collaboration solutions should be combined with the right leadership and understanding of how to effectively manage teams, and to have the right support and working model in place to maintain good customer service and ultimately ensure the well-being of staff.
Thanks to Nigel Dunn at Jabra
4. Customer Engagement Platforms
A customer engagement platform is crucial for any team communicating day-in, day-out with customers, or organizations that need to speak to specific groups of people to achieve an outcome – whether to close a sale or to ask a customer to pay a bill.
A good customer engagement platform makes everything easier for the individuals in customer-facing roles, helping two-way communication happen across channels on which customers want to engage, all in one platform.
This, combined with the ability to create and execute contact strategies to target the right contacts at the right time and in the right way, make more effective use of your team's time.
However, not all platforms are created equal; it can be a minefield navigating the plethora of different software providers and weighing up what's suitable for your business and use case.
Thanks to Ben Booth at MaxContact
5. All-In-One Packages
The key call centre technologies today are all-in-one packages designed to enhance the agent and customer experience by offering integrated workforce management (WFM), analytics, data management, quality management and performance coaching.
Just as consumers expect round-the-clock service combined with the human touch, call centre leaders demand a lot more from their technology with all the tools their frontline staff need to deliver a fast but empathetic customer experience in one place.
Tools driven by artificial intelligence (AI) are now a 'must have' in the complex world of remote or hybrid work and increased customer expectations. Agent empowerment technologies have really come into their own.
Behind the scenes, desktop analytics quickly identify when clunky IT systems or processes are slowing agents down while sentiment analysis and stress predictors nip employee motivation issues in the bud.
AI-powered chatbots facilitate a healthy work/life balance by automating requests and approvals for shift changes and time-off.
Meanwhile, clever interaction analytics that provide a complete view of customer journeys and predictive analytics that anticipate a customer's future needs enable agents to deliver outstanding CX.
Why Are All-in-One Packages Key?
This all-in-one approach is key to addressing the dual complexities that agents face in meeting increased customer demand while adapting to the new world of remote and hybrid work. With agent well-being rapidly climbing to the top of the corporate agenda, the focus is on the frontline.
Solutions that help employees build their own schedules and help them truly understand the needs and wants of customers, now and in the future, are today's heroes.
Call centres used to be simple affairs. With the help of an ACD and an IVR, if you were lucky, the overarching goal was to answer as many enquiries – mainly voice – in as short a space of time as possible.
An increase in communication channels including social media and a global pandemic changed all that. Today, contact centres are strategic business enablers, goldmines of valuable customer intelligence that can be shared with the rest of the organization to boost brand competitiveness.
However, this is only made possible with a totally connected, multi-purpose platform wrapped up with powerful business intelligence.
The Pros and Cons of All-In-One Packages?
The benefits of modern call centre technologies are operational and cost efficiencies, enhanced employee engagement and a complete view of the customer journey that enables agents to hold satisfying conversations and deliver outstanding solutions every time.
However, a pragmatic approach is critical to success. Take a step back to assess what your agents and customers really want and match the right channels and technologies to those needs, saving time and money along the way.
If you don't know, just ask!
Finally, in the rush to embrace exciting new advances, don't underestimate the power of the cloud. Successful call centres invest in cloud-based technologies to scale agents and services quickly and effortlessly meet soaring demand at minimal cost.
Thanks to Magnus Geverts at Calabrio
6. Automated Testing
A recent survey found that nearly 92 percent of consumers believe that customer service needs improvement. They're fed up with broken self-service processes, long hold times to speak to agents, and high call transfer rates.
Automated testing enables contact centre leaders to test from the outside-in, across channels. By doing so, they can identify issues that prevent customers from using AI-driven self-service such as chatbots.
Some 53 percent of consumers are reluctant to use automation because they fear being placed in a never-ending loop. However, 64 percent would be willing to use an AI-powered channel if it worked efficiently.
Happy agents equal happy customers.
Similarly, voice quality issues can lead to higher call abandonment.
Automated testing enables you to achieve the ultimate ROI of customer loyalty: exceptional self-service, attentive and expert service from live agents, and higher revenues.
Happy agents equal happy customers. With automated testing, you can give customers the experience they deserve, leading to longer relationships and lower attrition.
7. Self-Service Channels
Throughout the pandemic, contact centre agents have been handling an extra 7.2 calls per shift and a similar amount of non-call interactions.
As a result, it's a great time for companies to take another look at self-service channels, such as AI-powered interactive voice response (IVR), chatbots, FAQs, and communities.
Designing and testing self-service with automation is comparatively easy to do, both to deploy new journeys and improve them over time.
A Forrester Total Economic Impact Study found that organizations who used automated testing were able to recapture value from 80 percent of call abandonments and accelerate time to market for new features.
8. AI Tools
Agents have had a challenging time of it, as they have navigated higher call volumes over the past two years. Yet help is coming, as companies use artificial intelligence (AI) to transform the contact centre experience.
AI can serve up insights across multiple applications and knowledge bases, power chatbots, enhance digital workspaces, provide coaching during calls, and more.
It's estimated that efficiency features such as AI-based ticket classification and automatic routing of incoming customer contacts to the right agent can save agents up to 1.2 hours a day.
As your company plans its AI investments this year, consider focusing them on technologies that improve the agent and customer experience. For example, automated testing of customer journeys can eliminate problems before they're ever deployed, reducing agent headaches.
It also can improve self-service tools such as chatbots and interactive voice response (IVR). Customers get to try self-service before calling contact centres, and agents get to focus on higher-priority calls.
Thanks to Holly Larson at Cyara
---
Key Considerations for Call Centre Technology
There is a wide range of technologies supported on a wide range of platforms (CCaaS, CRM, UCaaS), the best of which are designed to be open. Organizations can customise their systems with the functionalities most needed by their customers and agents.
This is amazing news for customer experience, especially when the integration is achieved via a single interface so information and workflow is unified without switching.
Here are six things you need to consider when choosing contact centre technology:
1. Open Architecture
In a sense, technology with open architecture is a key technology as it allows customization to industry sectors as well as specific customer bases.
2. Omnichannel
Omnichannel technology that facilitates channel-less interactions takes individual touchpoints and weaves them into a unified customer journey so the frustration of repetition is minimized.
3. Conversational AI
Advanced conversational AI helps to move past a stage where interacting with AI requires a level of customer concentration and their best phone voice.
By utilizing natural language processing (NLP), natural language understanding (a subset of NLP) and sentiment analysis, more accurate and nuanced interpretation of customer speech and text is possible.
4. Machine Learning
Machine learning is crucial to continued improvements in AI systems. It is not really a standalone technology but is integral to progress and development post-deployment. This capability means ROI will increase over time, provided the process is supervised and reviewed for accuracy.
5. Automation
Automation on both sides of the CX equation offers multiple benefits. Customers benefit from easy-to-use automation and can bypass call queues.
Businesses benefit from lower-cost services. Agents benefit from automated working processes to help make sure no important regulatory steps are skipped in an interaction. For simple logical repetitive workflows, this is both accurate and efficient.
6. Voice Technology
Voice technology is perhaps one of the most important but overlooked. With many simpler interactions going through automation and self-service, it is to be expected and accepted that Average Handling Time (AHT) will increase.
So, embedding advanced technology into the call process is the only way to mitigate this to some extent. As there is a lot of current focus on human connection, simply trying to force agents to deal with customers more efficiently will not convey the right message to anyone.
Qualification, routing, and agent assist functions utilizing conversational AI, automation and transcription capabilities maximize the efficiency of what is still the most popular customer service channel.
Three Questions to Ask Before Buying Technology
Ultimately, it is not what tech you have but how you use it that matters. Below are three key questions to ask yourself which reflect the various ways that things can go wrong:
1. What Will the Customer Experience Be?
A hodgepodge of services that don't connect or flow on from each other, no matter how advanced the AI supporting it is, will not provide good service.
2. What Is the Benefit for the Business?
Having every channel under the sun can simply be chaotic if they are not implemented properly. Furthermore, it may not actually bring any additional value to customers or businesses. What is the business goal and what technology can be used to support that? Long call queues? A Twitter business profile is unlikely to come to the rescue in a significant way.
3. How Does This Make Life Easier for Agents?
A new capability may sound great, but if it does not integrate well with the existing capabilities and information needs to be copied and pasted between systems or, worse, manually entered twice, agents are unlikely to be thankful!
Thanks to Steven Owens at Odigo
If you want to find out more about contact centre technology, read these articles next: