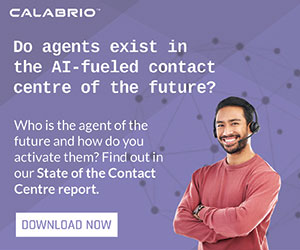 With the IDC currently predicting that by the end of 2018 more than half of all enterprise IT workloads will be based in the cloud, Calabrio CEO Tom Goodmanson explains why former doubters should consider this approach for their contact centre platform.
As customer expectations increase, brands must deliver a great experience with every interaction.
For brands to better serve their customers, many contact centres are migrating to the cloud.
According to the CCIQ Executive Report on Cloud Contact Center Technology, in 2016, 80 percent of contact centre solutions were deployed in-house. However, that number is changing dramatically and, by 2018, that number will drop to approximately 44 percent.
Perceptions of cloud-based solutions have changed, opening the door for rapid adoption. As more contact centres find freedom in the flexibility, scalability and security of the cloud, smart brands are rethinking their technology strategies and modernising with the cloud.
A barrier turned benefit
One of the primary barriers to cloud adoption has consistently been data security.
In the midst of cyberattacks and hacking, brands have been hesitant to place private customer data into the hands of cloud service providers. However, the perception that the cloud is unsafe is a result of a rise in cyber-threats and data breaches that started about ten years ago, the same time cloud-based solutions were becoming available. The reaction from most businesses was to double down on the more traditional approach to security, such as securing the perimeter via physical and logical access controls, and focusing on retaining users and data within firewalls. As a result, the stigma surrounding the cloud was that its security offerings were inferior to on-site methods.
However, brands are now finding that cloud infrastructure offers increased security compared to on-premises architecture. Cloud-based contact centre solutions entrust their data with highly experienced cloud providers including Amazon Web Services, Microsoft Azure and Google Cloud.
In fact, research shows 64 percent of IT professionals say the cloud is more secure than legacy systems.
Eliminating legacy gaps
Another benefit for contact centres that move to the cloud is plugging legacy gaps. The typical contact centre IT infrastructure is a patchwork built over time and, because not all legacy technologies were designed to enable modern digital productivity or protect against sophisticated cyber-threats, they become vulnerable when data moves between different applications and systems.
While perimeter security is the essential first layer, once a firewall is breached, these legacy tech gaps are open to exploitation and data violation. In contrast, cloud infrastructure is specifically designed to optimise and secure data exchanges, including advanced and comprehensive encryption. Application-level security enables more 'granular' control that, in turn, provides better visibility and monitoring to track data and users, and therefore identify threats.
Scalability
Many contact centres have seasonal spikes where they hire temporary agents to help handle the influx of calls. Given that they don't need extra staff most of the time, they need a solution that will accommodate those variances. Some on-premises licensing agreements are inflexible, resulting in contact centres paying for more than they actually need. With the cloud, contact centres can scale up or down to accommodate customer demand, so they no longer need to worry about overpaying for licensing the rest of the year. The result is shorter wait times and more people on the other end of the line, which rolls up to a better customer experience.
Ultimate flexibility
Contact centres must deliver a globalised, multichannel experience, and they need a flexible platform to meet the needs of the modern customer. Customers want to communicate with brands anywhere and at any time, and contact centres must be equipped to answer, regardless of location and time zones. This includes web, chat, phone, email, text, social media or any other channel of choice. With cloud solutions, agents can access technology from anywhere and are readily equipped with the right tools to communicate with customers across channels. This "always on" approach is a modern, fresh take on the contact centre, and it gives agents ultimate flexibility to create a great customer experience every time.
The cloud offers contact centres new and compelling choices for how they want to best serve their customers. The benefits far outweigh the fears, and the cloud's security, scalability and flexibility can transform contact centres into modern hubs for customer engagement. Now that consumers are craving a better customer experience, contact centres have never been more important, and smart brands are looking to the cloud to deliver.