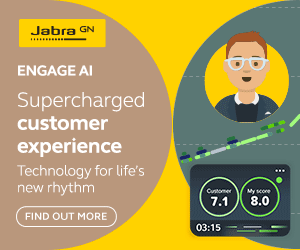 Want to know what it takes to win Contact Centre of the Year (Outsourcer) at the South West Contact Centre Awards?
See some of the great things WeAnswer do to deliver a great experience for their clients, whilst also driving a great company culture.
Our Editor, Megan Jones, shares 15 ideas we heard at WeAnswer in Chippenham, Wiltshire.
1. Give Your Agents Products to Touch, Feel, and Familiarize Themselves With
As part of the technical training on specific products, WeAnswer and some of their clients make sure there are products on site for agents to familiarize themselves with and understand how to fix.
WeAnswer Fact File
Contact Volumes
Annual Inbound Calls 
867,550
Annual Outbound Calls 
74,275
Annual Emails 
35,600
Other Channels?
550
Contact Centre Size
Number of Seats
150
Number of Full-Time Agents
39 FTE (56 agents in total)
Technology
ACD
MaxContact
CRM
Multiple, client dependent, internally use Hub Spot
Headsets
Jabra Biz
Wallboards
MaxContact individual screens – not used in the centre
Call Recording
Within MaxContact
Call Scoring
Independent Call Listening Sheets – client specific
Scripting
Built into MaxContact
Any other tech
Own developed secure payment app, multiple systems used (client specific), call back feature
This hands-on experience helps them better handle customer queries, so they can visualize what the customer is seeing and better describe the next steps involved.
This mindset also extends to having hard copies of clients' catalogues to hand so customers can talk about item 5 on page 26 (for example) and the agent can quickly find the same page and continue the conversation.
2. Put Photos of Pets on the Wall in the Breakout Room
A fun way to add some colour to the breakout room is to start a 'Pet Directory' of photos up on the wall.
Invite everyone to add photos of their favourite pets! This will help to put a smile on people's faces when they enter the room, as well as create a great talking point.
3. Talk About the Good and Bad During the Interview
The WeAnswer team believe it's important to manage people's expectations of a role during the interview phase.
That's why they make sure to be clear and transparent about any known downsides to the role (for example, potentially high-stress conversations with particularly sensitive or stressed customers on certain projects), as well as talking about the benefits.
They've found this helps to manage overall expectations and that there's little to be gained by sugar-coating it all – instead it helps to be transparent and realistic about what a role is like from day one.
4. Have a 'Meet the Client' Noticeboard
As an outsourcer, a great way to promote a new client is to set up a 'Meet the Client' board with key information and stats about the client, including:
About the company and it is based
Pictures of the company products (if applicable)
How many people work at the company
How many colleagues will be trained to support that client
You could also invite the client to send in sample products and materials to help bring the display to life.
5. Enjoy Mindfulness Colouring
Why not encourage agents to do some mindfulness colouring? Not only will it help as a short-term stress-busting exercise, but the resulting pictures can be displayed on the wall to help brighten up the office.
Spotlight on MaxContact
"MaxContact's virtual queue feature works well for us, as some customers have a very low tolerance for waiting.
It helps us massively during busy times – as the customer can keep their place in the queue and get a call back from an agent when they reach the front of the queue, instead of having to listen to 'on hold' music.
We find that 20-30% of customers opt for this virtual queue option, and that they are also typically much happier when they do come through to an agent this way too, so it makes life better for our customers, our end clients, and our agents."
Nick Jenkins, Operations Manager at WeAnswer
6. Start a 'You Are Awesome' Whiteboard
To help boost morale, why not start a 'You Are Awesome' whiteboard?
This is a fun place to capture the highlights of the week, including sections for:
'Made me laugh' moments
'Thank you for being you' moments
'Helped me with a work task' moments
All of which can be wiped down at the end of the week for a fresh start on Monday.
7. Think About the Timing of Your Annual Party to Maximize Attendance
If you typically have a Christmas party at the end of the year but don't always get 100% turnout, perhaps it's time to do things differently.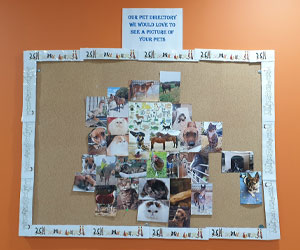 At WeAnswer, they've found that the annual Christmas party typically competes with a lot of other events on the social calendar and not everyone can make it.
Also, an evening do isn't always everyone's cup of tea, and others may struggle to find babysitters.
Taking this on board, they've changed the timing of the event, sometimes to a January party – when the social diary is clearer – or other times to the spring, with more of a daytime family event to be more inclusive.
This has helped to improve attendance and celebrate all staff.
8. Send Out Company Newsletters in Different Formats
WeAnswer send out a regular newsletters across the company to share good news and updates. To maximize reader numbers, they publish it in different formats – on email and via Teams, as well as printed copies handed out around the office and put on the back of the toilet doors.
However, the WeAnswer leadership team have also found that some people prefer not to appear in the regular newsletter, and so make sure to accept and respect this, acknowledging that different things motivate different people.
9. Manage Holiday Working Hours as Fairly and Transparently as Possible
One of the biggest challenges in running a 24/7, 365-day operation is the Christmas period.
To make this fairer for everyone involved, they take the following approach:
Firstly, Christmas hours are always discussed during the interview to check that the candidate will be available and is willing to work over that time period – taking a very open and transparent approach from day one.
When scheduling for the Christmas period, the Team always leads with 'What you can do?' to work with individuals' preferences, instead of making the decision for everyone in advance.
On Christmas Day, every gets allocated micro-shifts of 1-2 hours, so they all cover the core hours, but also get to enjoy most of Christmas Day with their friends and family.
This approach also extends to their peak periods across Christmas, Black Friday, and Cyber Monday, where they have a reduced holiday policy in place. To counter this, they also actively encourage their teams to book in as much of their holiday earlier in the year as possible.
10. Have a Daily Checklist for Team Leaders
When there's lots of team leaders in post, a great way to create consistency is to create a team leaders; checklist of agreed tasks, so everyone is doing the same thing and nothing gets missed – no matter who is on shift.
It can also help your teams to display a rota of which team leaders are on which shifts for added visibility – both on whiteboards in the office and on Teams, so agents know who to reach out to for support and when.
Spotlight on Jabra
"This headset is brilliant! I love the noise cancelling and how comfy the earpads are."
Wayne at WeAnswer
11. Make Use of Government Apprenticeship Funding
Bringing together on-the-job learning (and earning), as well as work-based projects and assessments, apprenticeships offer ample opportunities for upskilling new agents, as well as enhancing the skills of more experienced members of the team.

Toby Palmer-White (19), who has almost achieved his Customer Service Specialist Level 3 certificate, comments:
"I've really enjoyed my apprenticeship so far. It's helped improve my level of knowledge of the industry, better understand my internal and external customers, as well as develop my maturity.
"It's also given me the opportunity to move across the business and 'buddy up' with people to gain insight into different job roles."

Sarah Ambler, Site Director at WeAnswer, adds:
"The Government funding available for apprenticeships is amazing, and it makes good business sense to trial the different programmes out there – benefiting both individuals and the wider contact centre at very little upfront cost to the business."
12. Work Closely With Your IT Team to Innovate
The Customer Services Team work very closely with their IT team to adapt to customer needs and create in-house solutions to challenges as and when they arise. This close partnership also helps everyone to work together to get a new client set up quickly.
Their team even developed a PCI-DSS solution that descoped the agent from seeing or hearing any customer card details and allowed them to continue working from home during Covid, whilst remaining compliant.
Thanks to regular communication, trust, and a can-do attitude, the IT is an asset to the contact centre – allowing for ideas, and quick execution to rule the roost. With the added benefit that any trouble-shooting can be handled quickly in-house.
13. Don't Rota on Night Shifts… Have a Dedicated Team Instead!
WeAnswer successfully manage a 24/7 operation thanks to the creation of a dedicated out-of-hours team who only do the evening and night shifts – which take place between 6pm and 8am.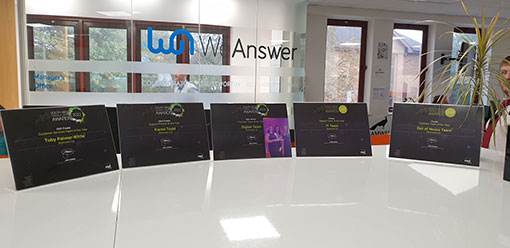 Post-Covid, this team also works permanently from home too – eliminating the need to commute during unsociable hours.
As it's quite a niche role to work these hours, alongside the variety that outsourcing work brings overnight from various clients, the people who suit this role tend to stay for a long time.
So far, their longest-serving team member has been with them for 10 years.
14. Involve the Wider Team in Creating Award Entry Material
When doing their entry for Contact Centre of the Year, they were asked for a video that captured the culture of their contact centre.
When they reached out to the wider team, a volunteer took the opportunity to show off her creative side and recorded and edited the video for the entry.
15. Work Towards Being 'Disability Confident'
WeAnswer are proud to be signed up to 'Disability Confident', as found on the Government website.
As an inclusive employer, they interview people without discrimination and will make adjustments where needed – including finding an interpreter for an interview or sourcing a special headset to help someone who is hard of hearing.
As Sarah Ambler comments:
"It's about making sure teams feel confident to handle any differences and that there's a culture where everyone is confident to speak out if they need additional support and adjustments.
"Equally, it's about fitting the right people to the right role and working with people's individual strengths and weaknesses to make the job work for them."
For more best practices and other fun tips from other contact centres that we have visited, read our articles: