We recently visited Alan Mullen, Customer Service Manager, and the team at Superdry HQ in Cheltenham to find out what happens behind the scenes of this global omnichannel retailer.
Here are 10 ideas for you to try on for size:
1. Switch Your Phone Lines Off……….. Yes, Really!
Superdry made the controversial decision back in June 2022 to turn their phone lines off and instead push their customers to use live chat, self-service, and emails instead.
Here are some key influencing factors in making the decision:
The team felt they were spreading themselves too thinly across multiple channels to deliver excellent customer service on each.
They anticipated that customers wouldn't really mind how they get their problem resolved, as long as it was done quickly.
Live chats typically have a shorter handle time than a phone call – and advisors can also handle more than one chat concurrently.
Live chat and email channels are better suited to retail, as customers can easily share receipts and photos of faulty items.
Superdry Fact File
Contact Volumes
Annual Customer Contacts
466,000
Direct Customer Contacts
311,000
Retails Support Contacts
31,000
Partner Contacts
124,000
Contact Centre Size
Number of Seats
8
Number of Full-Time Agents
Currently 24 FTE increasing to 48 FTE October to January
Technology
ACD
Samsung SCC – Retail support calls only
CRM
IBM
Headsets
Logitech
WFM
Currently manual. Coming in when they move to Genesys Cloud later this year.
Call Recording
Samsung SCC
Intranet
Workplace
Other – Digital Contact
Genesys Bold360 for FAQ's, Chatbot, Live chat, Messaging and Emails
Other – Social and Channel Management
Xsellco Edesk for Channel Messaging and Social
It's been an overall success and helped them to deliver a far better service, as Alan Mullen, Customer Service Manager, comments:
"We turned off the phones in Q1 of last (financial) year, and then compared our customer insight reports vs Q4 of the previous year. In Q1 we saw a 65% reduction in negative comments from customers about customer service availability despite us turning off the phones.
"Whilst we did still see a handful of customers comment on the lack of phones, we could see that the majority of customers put more value in quicker response times and improved level of service via our digital channels."
Think it might suit your customer base? The advice from the Superdry team is to be brave and just do it, as all the data in the world won't predict what will happen. Plus, if it doesn't work for your customers, you can just revert after the trial period.
2. Introduce a 'Where's The Fault?' Channel
Making use of Workplace, the team have a dedicated channel called 'Where's The Fault' to help them log, track, and resolve issues that arise.
How does it work? After a member of the team raises an issue – in the form of a post on the channel – everyone else across the team can comment on the post to share their own examples each time they encounter this same problem (including screenshots).
This approach helps to keep everything all in one place, as well as to track a tally of just how widespread the issue is – by the number of comments added to it.
These comments are then reviewed on a weekly basis, where managers can ask for additional examples or more information, as well as update the team as and when a solution is found.
This helps to keep everyone in the loop of how the situation is progressing and nurtures a culture of openness and continuous improvement.
3. Have a Weekly Shutdown for a Team Meeting
Every Wednesday, they close all of their contact channels between 3:00 and 4:00 PM for training. They make this clear on the website – as seen in the screenshot below: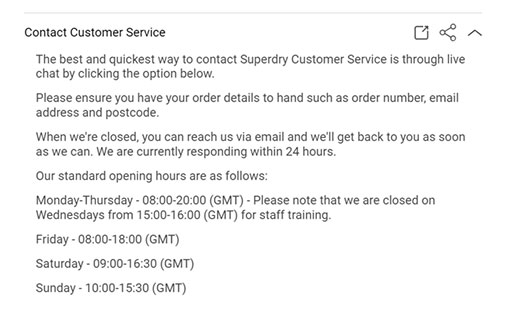 This ring-fenced time provides a great, regular opportunity to get everyone together.
Typically, the first half an hour is for learning and development, whilst the second half hour is for a team huddle where they discuss everything from department performance to upcoming social events.
Whilst the benefits for the team are obvious, it's also interesting to note that there have been no complaints from customers about this either.
4. Make It Quick and Easy for Customers to Switch From Self-Service to an Advisor
Superdry make it quick and easy for customers to switch straight from a chatbot to a live advisor whenever they like, firmly believing that customers will only get more frustrated if any delays or barriers are put in their way.
This approach is supported by Genesys Bold360, as Tom Joseph, Assistant Team Leader, comments:
"It's great to see all of our chatbot, live chat, and email interactions all in one place. This is especially useful where customers fall out of the loop of the AI conversation, as a live advisor can easily continue the conversation that the AI chatbot has started.
"Not only that, but there is also the option for me (as a team leader) to 'Join the Chat' in the event of an escalation.
"The general visibility of the chatbot activity is also useful, as we can see how many conversations are currently being handled by the chatbots, so we get a rough idea of how many might be due to come through to our customer service team.
"The system also serves up insights on what questions our customers are asking the chatbot, so we can continuously improve the responses in the system. All of this has helped ensure that over 95% of queries are successfully handled via our AI chatbot."
5. Break Down Your Career Paths Into Smaller Steps to Improve Staff Retention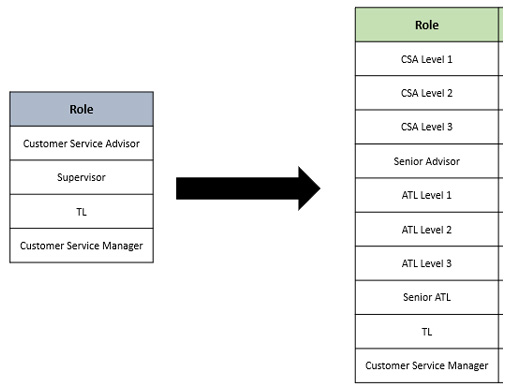 The Superdry leadership team wanted to put better career paths in place, feeling that there was a level of unfairness in an experienced advisor earning the same as one just joining the business.
They wanted a system where if you learn more, you earn more.
That's why one of the biggest changes they made in recent years was to break their career path down from 4 levels to 10 different levels – as seen in the tables here – making sure to accompany each step up with a pay rise.
This approach has supported longer-term succession planning, as well as improved their attrition rates, which have dropped from 26% to around 12% in the last two years.
6. Get More Involved With E-Commerce and Marketing
The contact centre works closely alongside e-commerce and marketing to share customer insight.
The Customer Service Manager even has a seat at the Exec trading meeting to be the voice of the customer, so as a department, they have a lot of influence on how things get done.
This not only helps keep lines of communication open, but makes it easier to coordinate customer-focused activities such as feedback surveys on product launches.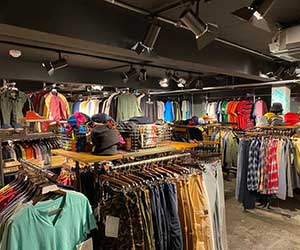 7. Watch Out for Quieter Members of the Team
When people are working remotely, team leaders have learned to look out for signs of people going quiet and make a conscious effort to check in and make sure they are ok.
8. Give Everyone Flexibility to Work Wherever They Want
Superdry recently won a silver award in the category of 'Best Hybrid Contact Centre' at the UK National Contact Centre Awards.
What was behind this success? They have a hybrid working programme called 'work your way', which allows everyone to choose the balance that's right for them – whether that's working 100% remotely or splitting their time between home and the office.
The only requirements are that they need a good place to work and decent Wi-Fi.
Why? The Superdry team have found that hybrid working really works for them and that there's no significant variance in their performance statistics when comparing home and remote workers. They also feel hybrid working success comes down to leadership – not where you work.
They've also had positive feedback from their advisors that working from home has helped amid the cost-of-living crisis, as it cuts down on travel costs.
9. Celebrate Those Who Go the Extra Mile
Through their Going the Extra Mile 'GEM' awards, the Superdry customer service team celebrate people monthly.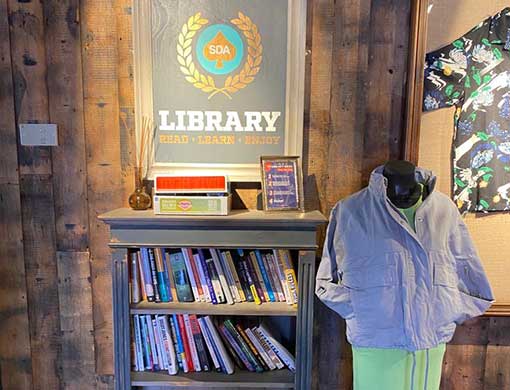 To get involved, advisors just have to email a dedicated email address to make their nomination – for example, if they want to thank someone for going above and beyond to help out while they were on annual leave.
Advisors who receive an 'above and beyond' quality score for helping a customer are also automatically nominated for a GEM award that month.
At the end of each month, the nominations are voted on and the person who wins gets half a day back as additional annual leave.
10. Good Communication Is the Key to Hybrid Working
With people working in different locations, you have to go the extra mile to keep people informed.
That's why the Superdry Customer Service Team are always talking…
Using internal live messaging, the team start the day with a "good morning" and discuss their various activities from the weekend or the previous evening. They then get busy supporting customers, whilst using the messaging function to get guidance and support throughout the day.
Using humour and GIFs, the internal chat is a mix of social and serious chat, much the same as you would find in any physical contact centre. A shift leader is always present to coordinate contact channels, support with complex queries, and keep people informed throughout the day. One of the most popular conversations is always food and what people are having for lunch.
…And when the shift comes to an end, the chat turns to "goodbyes", "see you laters", and "thank yous" for a good day's work.
Given that Superdry Customer Service scored 100% positive for communication in their 2022 Colleague Survey, it's definitely a formula that works.
For more best practices and other fun tips from other contact centres that we have visited, read our articles: