Paul Pember identifies 7 key drivers that impact employee engagement and sets out practical steps that your organization can implement.
What Does Employee Engagement Mean?
Employee engagement describes how people feel about their organization and role, and it may even impact how they feel about themselves. It's often measured and tracked through organization-wide surveys, and engagement levels can vary across the organization.
Employee engagement can be impacted by a wide range of factors, both macro (organization and sector) and micro (direct team and wider department).
So, Why Is Employee Engagement Important and How Does It Link to Customer Experience?
Organizations that continually focus on employee engagement reap the benefits of higher customer satisfaction and lower attrition rates, which translate into lower costs. Employee engagement goes deeper and wider than a table tennis able in the office, bonuses, and early finishes on a Friday.
Employee engagement is as much a business fundamental as it is a social responsibility.
There aren't many activities that deliver lower cost, increase customer satisfaction, and enhance revenue, and make your people more satisfied with their working life.
The key benefits of employee engagement are:
Lower attrition rate, which reduces costs (recruitment and training)
Enhanced talent management
Improved innovation, which enhances competitive advantage and improves revenue
Reduced likelihood of employees doing 'just enough'
Lower sickness rate
These benefits will all translate to improvements in customer satisfaction and profitability. Organizations have the responsibility and power to intentionally create an environment that allows everyone to flourish, grow and gain interest in what they do.
Low employee engagement, no doubt, impacts how people feel about themselves and life. Employee engagement is as much a business fundamental as it is a social responsibility.
7 Drivers of Employee Engagement
1. Voice of the Employee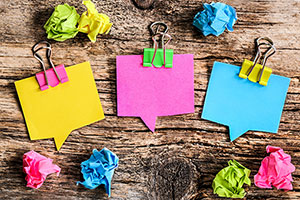 This is about ensuring that everyone within customer services, no matter the role, has a voice and that that voice is really and truly heard. Customer service teams come in all shapes and sizes. Advisors in larger teams can easily lose their identity and voice.
Giving everyone a platform for their voice to be heard shows care and interest and empowers them to share what they are thinking.
There are multiple examples that demonstrate what the 'voice of the employee' can be in practice. Some examples are:
Employee engagement pulse surveys
In-depth personalized team surveys to understand more detailed insights around coaching, leadership, technology, tools, and communication
Developing working groups for specific initiatives
Continuous improvement culture and mechanisms, ensuring ideas from front-line teams focus on improved well-being, role effectiveness and improving customer experience
Leadership & management teams spending time with advisors, understanding the role and barriers that prevent advisors from delivering for customers
Read our article The Importance of Call Centre Culture and How to Improve It for information on how you can develop the culture within your organization.
2. Being Part of Change
Listening and ensuring advisors have a voice is important, but don't stop there. Another driver for engagement is giving trust and empowerment for teams to have ownership of the improvement.
Ensuring employees are part of change and improvements enables them to develop and learn new skills, gain new experiences, expand their network, and see customer services from a more birds-eye view.
This all equates to giving control and ownership back to front-line teams and really helps bridge the gap between advisors and management teams, which supports momentum towards a 'one team' culture.
An example of how to implement this in practice:
A customer services team has recently launched a virtual 'idea' box, enabling everyone within customer services to submit improvement ideas focused on improving well-being and customer experience.
Rather than this being passed to 'management' level roles, they have launched an 'improvement working group' made up of one improvement champion from each team, with a manager sponsor within the group to support.
These ideas are reviewed monthly by the working group and viable ideas are taken forward. The employee who submitted the idea gets the opportunity to own and lead the delivery of it.
If they need support and coaching, then they will be assigned a management buddy or another team member who has previously delivered an idea improvement change.
3. Having the Right Tools for the Job
This is one of the most critical drivers of employee engagement. Without the right tools, employees can't effectively serve customers and perform their role, which drives down engagement as it causes frustration and anxiety and a feeling that the organization doesn't value them, as otherwise they would be investing in the appropriate tools.
This covers training, coaching, policies, processes, technology and working environment, which should all be focused on enabling and supporting advisors to effectively deliver for customers.
Practical tip
Ask the following two questions on a regular basis: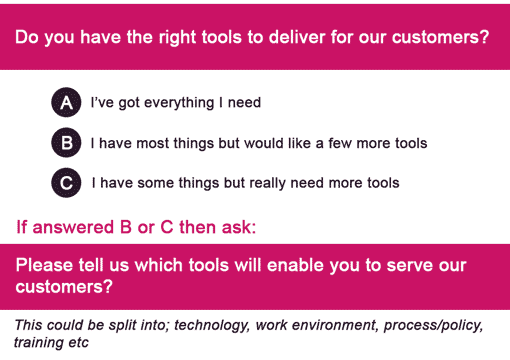 4. Equality and Inclusive Agenda
This is a growing driver that organizations must take seriously and be authentic about. This driver is particularly important for the 'Gen Z' demographic, who see this as a non-negotiable and want to see organizations taking proactive steps in delivering on anti-racism and the equality agenda.
Not only does this impact levels of engagement but it will also help to attract and retain a diverse and young workforce.
Practical tips:
Be proactive with trying to understand what is happening on an organizational level on equality and inclusiveness
Take steps as a service, no matter how small, to role-model equality within the contact centre (examples: religious holiday rota not just focused on Christmas, recruitment practices that reduce unconscious biases, flexible shift patterns and anti-racism policies for colleagues and customers)
5. Recognition for High Performance
The timing and the type of recognition are critical to maximize the impact.
Thank you. Two simple words, when said at the right moment and with genuine meaning behind them, can go a long way.
Hopefully, we can all remember a time when someone gave us a proper thank you – it's something that can connect with us on a much deeper personal level than many of the other drivers. The timing and the type of recognition are critical to maximize the impact.
Here are examples of different types of recognition:
Financial rewards
A thank you (verbally or written) – this can be even more powerful when colleagues within the team or even senior leadership say or write the thank you
Development opportunities – this can include being given extra responsibilities or learning opportunities
For more ideas on how to recognize and reward staff, read our article: How to Improve Your Employee Reward Schemes – With Examples
6. Connecting to the Wider Organization
This is all about employees being part of something greater than themselves and their direct team. It's about understanding the 'bigger picture', which is what the organization is up to, where it is going and how the sector is developing.
It can sometimes be challenging for advisors to understand how their role and customer services fits into the organization and how their roles have a direct link to delivering organizational goals.
Invite guest speakers from different parts of the organization to attend your team sessions.
The first 12 weeks can set employees up to succeed in achieving this wider engagement and understanding. The new starters' onboarding programme is the perfect opportunity to design and deliver wider learning about the organization, sector, and customers.
Practical tips:
Include activities, information and learning within a new starters' onboarding programme to enhance their connection and understanding of the organization
Utilize team meetings and other communications to pick out key things happening across the organization
Invite guest speakers from different part of the organization to attend your team sessions
Schedule time within the contact centre to enable advisors to read organization emails and intranet information
In our article Going From Induction to Onboarding, Paul Pember explains how companies can bridge the gap to successfully engage new starters and improve customer experience.
7. Coaching and Career Pathways
This is particularly critical in customer services, as many roles are 'entry-level', with people often starting off their career. Setting clear career pathways not only engages the current workforce but supports the contact centre and organization to attract talent.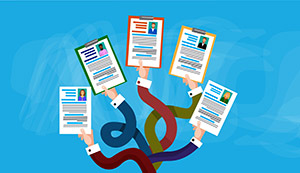 Talking about your career can be a difficult thing for people to do, especially if you're just starting out. Therefore, it's important to create a safe and open culture, encouraging regular career and development conversations.
This can be achieved through proactive career planning and talent management strategies, with learning pathways and capability milestones on key areas such as leadership, training, data and insight, improvement, project management and other specialisms.
This shows that the organization is committed to investing and developing advisors, which in turn creates highly capable and engaged people.
Practical tips:
Develop a visual career pathways framework which details the skills/experience each role needs
Create a culture of openness where career conversations are a regular part of how you lead people
Showcase career stories of people who started in the contact centre and moved into different roles. This could then develop into a mentoring programme matching people up based on career interests and learning needs
For more tips on how to explore career paths with your employees, read our article: 10 Career Progression Opportunities to Offer Your Team
So, how does organization perform on these 7 drivers? Which drivers does your organization do well on and which do they need to work on?
To find out more about how to engage your team, read our articles: