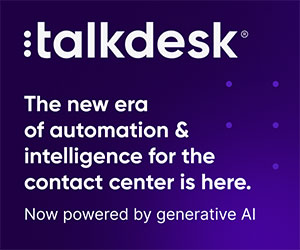 Talkdesk and Alorica have announced a strategic partnership to deliver innovative customer experience (CX) solutions.
The partnership brings together Talkdesk's cloud-based contact centre platform with Alorica's operational execution and workforce, providing clients with a complete solution to build customer satisfaction, loyalty and long-term value through a scalable, cost-efficient and secure implementation
"Talkdesk is passionate about driving the contact centre industry forward with innovative solutions, providing companies with the solutions and flexible consumption-based pricing options they need to set themselves apart from their competition," said Tiago Paiva, chief executive officer, Talkdesk.
"The customer-first philosophy shared by Alorica and Talkdesk helps enterprises around the world build brand trust and loyalty by delivering exceptional customer interactions."
Talkdesk and Alorica are joining forces to achieve these goals, enabling a more comprehensive understanding of client needs and the ability to quickly provide tailored offerings.
Through their combined capabilities, clients will benefit from an integrated operating model for hiring, training, analytics, knowledge management, quality assurance, call routing and automation.
"Many businesses are facing the challenge of needing to invest and scale more robust customer service and experience requirements amidst uncertain economic outlooks," added Greg Haller, chief operating officer, Alorica.
"With a deep understanding of the customer and how digital platforms are redefining our industry, Alorica is investing in the right technology and partners that will help our clients navigate their CX transformation successfully."
"The combined, complementary capabilities of Alorica and Talkdesk give clients a differentiated pathway to cost-effectively elevate the customer experience. Ultimately, this leads to brand loyalty, revenue growth and operational efficiencies."
Modern consumer expectations have advanced beyond voice-only support to include web, messaging, mobile applications and social platforms as part of the customer journey.
In response, service models must deliver fast and easy customer engagement, across all channels, in a way that is both personalized and contextual at every customer touchpoint.
However, companies are challenged to activate new technology, high-quality talent and world-class operational models at an accelerated pace while simultaneously reducing risk and improving efficiency.
Talkdesk's native cloud platform complements Alorica's embedded systems and empowers a skilled workforce, giving clients an industry-leading and strategic executional partner to efficiently establish and scale the latest CX solutions through a single interface at a fraction of the cost of building standalone operations.
By leveraging Talkdesk CX Cloud, Alorica enhances its enterprise performance at scale on behalf of clients around the world, resulting in increased productivity, customer satisfaction and cost savings.
Through this partnership, Talkdesk and Alorica are setting a new benchmark for the contact centre solutions market with scalability, security and reliability.
This is backed not only by Talkdesk's 100% uptime Service Level Agreement, but also implemented through one of the largest customer experience providers in the world—Alorica.