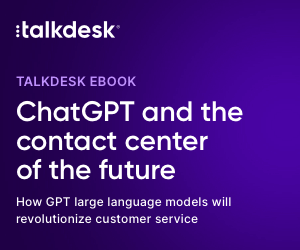 Talkdesk has unveiled the Talkdesk CX Strategy Value Framework, a customizable blueprint to help organizations define and then execute on their contact centre customer experience (CX) strategies.
The CX Strategy Value Framework is designed to provide a seamless Talkdesk customer journey and allow businesses to focus on the initiatives that will deliver the greatest impact on their CX success.
Leveraging the value framework, customers work with Talkdesk to identify the highest priority initiatives within their contact centre. These typically fall under the business value streams of revenue generation, customer experience, operational efficiency, and operational agility.
The Talkdesk CX Strategy team then maps out a vision that is true to the customer's business goals and aligned to the value framework, and builds an actionable business plan with an investment analysis to deliver better CX performance that results in tangible business outcomes.
With deep domain expertise, the Talkdesk CX Strategy consultants support customers in defining their specific business needs and ideal future state. Working in lockstep, they assist customers in defining key performance indicators, and give a better understanding of processes and pain points.
The Talkdesk CX Strategy engagement model and framework are unique within the contact centre industry, offering a customized approach based on each organization's business objectives and use cases.
All engagements with the Talkdesk team are available on a complimentary basis in advance of contract signings to allow customers to make more informed decisions around their CX strategy, unlike competitor services which are offered post-sale and at a cost.
Customers can also access the services during both renewals and expansions, as they re-evaluate and recalibrate their strategy in light of any changing business requirements or market shifts.
"Exceptional customer experiences have become a strategic weapon for companies," said Rob Peterson, global head of CX strategy, Talkdesk.
"The Talkdesk CX Strategy Value Framework helps them sharpen that weapon by devising a CX strategy that delivers optimal outcomes. By gaining consensus and alignment across stakeholders and vendor resources, we can point everyone in the same direction and drive towards success together."
For more information about Talkdesk - visit the
Talkdesk Website