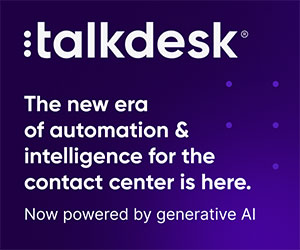 Talkdesk have announced Talkdesk Remote and Talkdesk On The Go, designed to increase contact centre efficiency and operational flexibility.
The COVID-19 pandemic has ushered in a new era of work-from-home (WFH) needs for both employer and employee.
The agility of Talkdesk cloud solutions make the shift to at-home agents a fast and seamless transition aided by new offerings: Talkdesk Remote and Talkdesk On The Go.
Companies worldwide faced a quick pivot to remote contact centre operations in order to maintain business continuity and ensure the safety of agents and other staff due to the coronavirus pandemic.
Many organizations continue to see significant business benefits to maintaining a partially or fully remote contact centre workforce.
These benefits include real estate cost-savings, greater staffing and scheduling flexibility, lower absenteeism and lower turnover due to a better employee experience, increased employee engagement and ultimately, higher customer satisfaction.
According to an internal study of Talkdesk customers, 85% have agents working from home and more than 60% plan to continue operating a remote contact centre even after it's safe to return to physical offices.
With Talkdesk Remote, organizations can easily manage remote agents and ensure security in a remote environment while giving agents the tools they need to create engaging moments with every customer touchpoint.
Talkdesk Remote offers customer service providers easy, remote access to Talkdesk resources including AI-driven Workforce engagement tools, industry-leading data security from Talkdesk Guardian, access to a pool of certified agents and staff available through Talkdesk CXTalent, and an intuitive platform with an agent-centric experience backed by superior call quality and reliability.
"The coronavirus pandemic put the concept of remote and mobile workforces at the forefront of customer service operations and the benefits are undeniable," said Tiago Paiva, chief executive officer, Talkdesk.
"The staying power of remote contact centres is strong with the right cloud technology to secure and manage remote and on-the-go operations more effectively and empower agents to deliver an exceptional customer experience."
As the trend towards WFH agents continues, customer service organizations will play a significant role in the movement away from brick-and-mortar offices.
In the era of the connected customer, businesses must provide differentiated, consistent, personalized and fast customer experience that is always accessible — no matter where the customer is served — online, on the phone or on-site.
The need to meet customers on their terms is especially relevant for organizations that deploy a mobile workforce.
In addition to traditional, contact centre support, a comprehensive approach to customer service coverage including remote teleworkers and on-the-go support specialists such as field technicians or outside sales enables brands to provide a complete customer journey.
In response to the growing mobile workforce, Talkdesk announces Talkdesk On The Go, an intelligent, intuitive mobile solution to help businesses support customers anytime, anywhere.
Talkdesk On The Go puts mobile communication tools in the hands of field teams, location-based workers, outside sales and remote employees to provide consistent, real-time customer experiences from a smartphone, tablet or watch, through a unified device experience, and seamless integration with popular CRM systems.
With Talkdesk On The Go, organizations can leverage powerful capabilities, including automation and voice-activated personal assistants, to empower a mobile workforce with more tools and control over the delivery of high-quality customer experiences.
Employees can move easily between a traditional desktop and mobile devices as Talkdesk On The Go remains in sync, bringing unparalleled flexibility.
Talkdesk On The Go is downloadable and deployed on any mobile device, making it quick to implement and adopt for a mobile workforce.