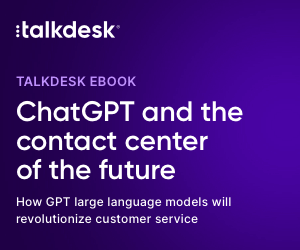 Anya Kuvshinova of Talkdesk identifies current trends within the mobile workforce and highlights their benefits.
Several years ago, I was doing a research project for a leading telecommunications company. The company was seeking insight into low net promoter scores (NPS) and brand loyalty. Customers loved the quality of their internet services, but still wouldn't recommend them to anyone.
One of the factors influencing low recommendation rates was how ungroomed field technicians looked when they visited customers to install hardware.
The telco company was surprised that the attire of a fieldworker could outweigh a great product with a high customer satisfaction (CSAT) rate. The point is: Do not overlook the experience your customers are getting from your field employees.
By 2024, the mobile workforce will account for 60% of the total United States workforce, and the customer-facing front line — including field service workers, outside sales and location-based workers such as store associates and nurses — will represent a big share of this mobile workforce.
Yet less than half of these professionals are equipped with mobile-ready tools, which significantly limits their ability to connect with the people, systems and information they need to work efficiently and effectively. These limitations create silos in teams and data and can adversely impact an organization's customer experience (CX) goals.
Customers now expect a differentiated, consistent, personalized and fast CX that is always accessible — whether they're interacting with a customer service representative, a sales associate, a service technician or any other employee at your company.
Moreover, they want problems solved in a single interaction. This can be overwhelming for organizations that have a diverse mobile workforce.
Businesses with a mobile workforce must find alternative ways and tools to engage with customers outside traditional call centres, seamlessly connecting all their customer-interacting teams.
Consider the following trends and benefits when choosing a mobile workforce software vendor to maximize team productivity and set the stage for excellent CX.
1. Mobile-First Real-Time Communication Tools
Today's customer service complexity is a pressing challenge for organizations. Many businesses have intricate customer journeys that require sales representatives, field teams, local branches or stores, and on-site agents to interact with customers.
On-the-go workers rarely have the right tools to provide the same level of service as if they were working from a call centre. They may not have remote access to customer data or the ability to respond to questions in real time. This results in disjointed and often inconsistent CX.
When employees don't have mobile-ready tools, you lose visibility and control over CX. Every customer interaction matters and today's businesses can't afford to stay in the dark as to why they are losing valued customers.
Your on-the-go workforce will consistently deliver better CX if they perform these same essential actions as your contact centre agents:
Call from a company number instead of using their personal numbers
Access company information like customers' contacts and see missed calls
Log call details using disposition and notes
Record calls
Manage availability to receive customers' calls.
A mobile workforce solution that combines these features with multi-device support is the perfect real-time communication tool for your on-the-go teams.
2. Access to Critical Customer Information and CRM Integration
Imagine an insurance agent is running to a meeting with a potential customer when another customer calls the insurance agent's mobile phone to complain. When the device rings, all the insurance agent sees is an unregistered number.
Now imagine this same scenario, but with the incoming call coming through a mobile application that's connected to customer data.
The insurance agent would be able to see exactly who is calling and would have quick access to drill down into additional customer context, uncovering critical details about recent customer interactions and potentially unresolved issues.
With this added insight, the insurance agent has a better ability to understand the full context and adjust the conversation accordingly.
When a mobile workforce solution integrates with your current workflows and CRM system, your field agents always have the most up-to-date information and can solve customer issues faster.
They can also save interaction details (e.g. a call recording or specific notes) automatically in a CRM, making for an end-to-end mobile workforce solution that helps all employees deliver more personalized CX.
3. Enhanced Features for Mobile Workforce Productivity
There are now more than 950 solutions in the sales tech landscape, so chances are your sales team spends more time juggling with technology than focusing on meaningful interactions.
Streamlining these solutions with integrations, as discussed earlier, is one way to ease the employee experience. Another consideration is how well the mobile workforce solution leverages the mobile technologies available in any given iOS or Android device to provide advanced flexibility and controls.
The mobile workforce is often managing calls while driving, which can create an uncomfortable, distracting, and unsafe environment!
That's why it's essential to choose an all-in-one mobile workforce solution that taps into the power of the mobile device with features like voice-activated personal assistance and automation of routine actions, which enables hands-free control and can help employees be more productive.
4. Ease of Implementation and Use
Despite the undeniable flexibility mobile devices like smartphones, tablets and smartwatches bring, businesses often choose traditional digital enhanced cordless technology (DECT) phones for location-based workers.
DECT phones are not only cumbersome to install and expensive to maintain but also limit on-the-go ways of working. Modern mobile-ready tools are simply click-to-install — from any app store — right on a mobile device.
Mobile apps are always accessible, so your employees won't be limited as to where and how they work. It's important that a mobile solution also be intuitive, providing a positive experience that promotes adoption.
Look for software that is fast to implement and allows for a seamless transition.
An intelligent and intuitive mobile workforce application that simplifies customer assistance while on the go caters to a fluid workforce and a more demanding customer base. By arming your teams with the right mobility tools to interact with customers, you can stay ahead of the competition.
This blog post has been re-published by kind permission of Talkdesk – View the
Original Article
For more information about Talkdesk - visit the
Talkdesk Website