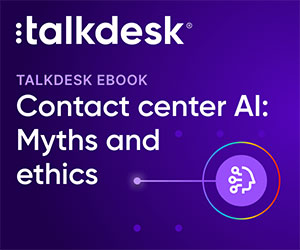 Talkdesk won two UC Awards 2020: Best Contact Centre Platform for Talkdesk CX Cloud, and CX Leader of the Year for Talkdesk chief product officer (CPO), Charanya "CK" Kannan.
Talkdesk won Best Contact Centre Platform in 2019, making it the first repeat winner in this category. Kannan is the inaugural winner of the CX Leader of the Year award, new for 2020.
"We are thrilled to be back-to-back winners of the UC Award for Best Contact Centre Platform and very proud to see CK's incredible dedication to excellence and innovation rewarded with the CX Leader of the Year," said Tiago Paiva, chief executive officer, Talkdesk.
"Talkdesk is dedicated to pushing the contact centre industry forward and committed to providing enterprises the tools they need to set themselves apart through superior customer experience."
UC Awards recognizes vendors and service providers in unified communications (UC), collaboration and customer experience (CX) technology. The Best Contact Centre Platform award is open to on-premises and cloud-based contact centre as a service (CCaaS) software vendors.
As the winner, Talkdesk topped its finalist competitors by best demonstrating platform innovation and improvement to customer experience.
"A massive congratulations to Talkdesk, who continues to disrupt the marketplace with their CX cloud solutions," said Rob Scott, publisher, UC Today.
"Talkdesk recently embarked on an ambitious product strategy in 2020, launching 20 fantastic products in 20 weeks."
"Notably, Talkdesk patented its AI technology, Talkdesk iQ, which mines billions of interactions revealing customer insights and trends that solve real contact centre challenges."
Talkdesk CX Cloud provides businesses with the most comprehensive, cloud-native suite of end-to-end contact centre solutions. Complete omnichannel support through customer engagement applications enables organizations to intelligently interact with customers on the channel of their choice.
This powerful customer experience platform, powered by artificial intelligence (AI), offers a white-glove approach to comprehensive business services and simple, seamless integration capabilities with more than 60 business tools, including the deepest Salesforce integration.
Built-in workforce engagement tools, featuring integrated agent desktop, mobile agent, workforce management, quality management and call recording, ensure teams are engaged, empowered and productive.
Talkdesk CX Cloud sets a new benchmark for the contact centre solutions market with an end-to-end platform that delivers enterprise scalability and security backed by the industry's only 100% Uptime Service Level Agreement.
Debuting in 2020, UC Today People Awards recognizes industry success, leadership, strategic influence and the overall individual contribution to the winner's company.
Kannan joined Talkdesk in May 2018 as vice president of Product. In less than two years, she was promoted to chief product officer in March 2020.
Kannan is Talkdesk's first CPO and is responsible for leading the company's 20-in-2020 initiative; a bold move by Talkdesk to introduce 20 new products in the first 20 weeks of 2020.
As CPO, Kannan leads a global team and is responsible for product strategy, product management, product design, product partnerships, engineering, technology, operations and marketplace.
She has been instrumental in scaling the Product team to support an aggressive roadmap and helping to define and execute the Talkdesk corporate strategy.
Kannan exemplifies the "do whatever it takes" value, working tirelessly to ensure her team and colleagues have what they need to meet and exceed Talkdesk's aggressive goals.
Following its product launch activity to revolutionize the contact centre industry in 2020, Talkdesk recently announced $143 million in Series C funding, increasing the company's valuation to more than $3 billion.
This new round of funding reflects both investor confidence in Talkdesk's business and the strategic role that superior customer experience plays among top global brands.