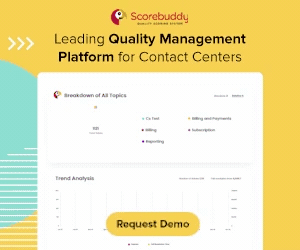 Scorebuddy Coaching is a comprehensive coaching module designed to turn every customer interaction into a learning experience.
Designed to seamlessly integrate into a business' existing Quality Assurance (QA) system, Scorebuddy Coaching enables coaching conversations to be directly linked to customer interactions, allowing for the creation of personalised development plans.
Coaching is integral to the success of any business. Not just enhancing customer service, but supporting compliance and standards, and reducing employee churn through increased engagement.
However, it can also lead to wasted time and expense when inappropriate or unnecessary training is provided on a team level because individual coaching is too complicated or expensive for a business to manage.
Scorebuddy Coaching addresses these issues by building coaching into an organisation's workflows, based on performance data and real-life interactions.
Automatically providing training materials and follow-up tasks, linked to an individual's performance, Scorebuddy Coaching can help ensure that all team members are working at the same level, enhancing customer service and employee job satisfaction and templates are included so it can be set up quickly without manual configuration.
The coaching system ensures that appropriate, targeted training materials are always available to those who need them while enabling managers to easily monitor each team member's progress.
Through this targeted coaching, businesses can gain better control of their QA scores, improving Quality Control by rapidly addressing the areas that may be causing problems.
While Scorebuddy Coaching is suitable for integration with Scorebuddy BI, the brand's QA business intelligence solution, it can also work with other QA systems.
Supporting the analysis of employee performance, and delivering relevant coaching. Working alongside the brand's existing AI, business intelligence, and learning products, the platform makes a highly useful addition to Scorebuddy's existing enterprise solution.
Derek Corcoran, founder and CEO of Scorebuddy, comments: 'We are really excited to announce the launch of Scorebuddy Coaching.
'Working in tandem with a business' QA system, it streamlines and simplifies the coaching process, ensuring that every team member is always up to speed with a business' standards and customer service requirements.
In providing targeting training solutions, Scorebuddy Coaching removes the tedium of established coaching models, enhancing team engagement by ensuring that each individual only receives the training they need and helping each individual to perform at their best through every single customer interaction.
'Scorebuddy Coaching will change the way that businesses manage employee training and development. We're excited to see what our new and existing customers think of the platform.'
For more information about Scorebuddy - visit the
Scorebuddy Website