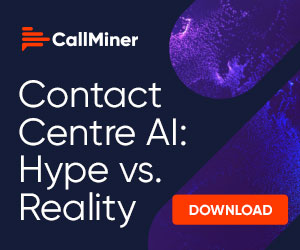 Understanding customer satisfaction (CSAT) is critical for organizations – it helps drive insights into how happy (or not) your customers feel about your products, services, brand or more, and how you can make improvements.
Within a contact centre environment, this can be done through simple post-interaction CSAT surveys (i.e. asking customers to take short survey after a conversation has ended) or through tools like conversation analytics, which make it possible to gather unsolicited insight into CSAT based on the words a customer says and how they say them.
These insights can help guide development decisions and fuel new growth avenues. However, improving your CSAT scores can sometimes seem like an uphill battle fraught with unknowns and dire consequences.
The tips covered below can help you to overcome many of the challenges that surround CSAT, improving your organization's ability to please its customers in the process.
Don't Botch Your Omnichannel Strategy
Many contact centres get their omnichannel rollout all wrong. Instead of focusing on meeting customers where they are and eliminating redundancies for busy agents, they unintentionally obscure the path to problem resolution.
Customers are passed from channel to channel and guided to the ones they are expected to use rather than the ones they would prefer far too often.
Get your omnichannel approach ironed out by incorporating thoughtful automation where appropriate and empowering customers to solve their problems using channels they are most comfortable with.
Improve the Employee Experience
Often enough, improving customer satisfaction boils down to delivering a better employee experience behind the scenes.
Your agents are on the front lines actually interacting with customers each and every day. Helping them handle their responsibilities with enthusiasm through strategic engagement and encouragement can make a major difference in the way your customers perceive your brand in no time.
Clarity and open communication power this process. Share details on the importance of each agent's actions in interacting with customers and you are sure to get better results.
Boost Your First Call Resolution Rate
Improving the rate at which your agents are able to immediately resolve customer inquiries and concerns is a surefire way to boost your CSAT score. However, there is a bit of a trick to making this happen. You need to focus on your agents and the tools that they have at hand.
This may mean equipping them with AI assistance or providing additional training and some added leeway to take more immediate action when issues that would commonly cause escalations arise.
Communicate With Customers More Often
Another great way to satisfy your customers is to simply keep lines of communication open with them longer. This is especially important during unprecedented delays and unexpected complications.
CSAT scores can quickly suffer due to radio silence between your team and your customers when they are waiting for a resolution of some sort. By simply keeping the conversation going and maintaining its context, you can make a major difference in this area and improve your CSAT at the same time.
Perform Better Surveys
Merely sending out surveys after interactions with your customers is not enough to get the most out of them. CSAT surveys, in particular, depend on your team getting all the question details just right as well as asking for feedback at precisely the right time.
Interestingly enough, the right time might mean most of the time. CSAT surveys can be incredibly simple, making them easy to embed into any part of the communication process you wish to assess at a deeper level. This can increase the accuracy of your metrics and make a positive impact on your score.
Measure and Assess the Right KPIs
KPIs used for more specific aspects of your contact centre's operations can prove to be excellent auxiliary indicators of your CSAT success and potential for improvement.
Factors that affect service quality, speed and efficiency have a notable effect on your CSAT score and any improvements to the former are likely to translate to improvements for the latter as well.
A few key performance indicators worth keeping an eye on to help manage your CSAT score are:
AHT or average hold time
Total calls abandoned
Total calls answered
In addition to these KPIs, call centres can leverage conversation analytics to fill in the gaps and make up for the shortcomings of CSAT surveys. Applying analytics to every form of customer engagement from phone calls to emails, live chat, and even social media posts, your organization can gain deeper insights into customer satisfaction.
Remember to Act
It is no use accumulating information on whether or not customers are satisfied with your service as a whole or individual parts of it if you fail to act on what you have learned. Once you know your general CSAT score, you should look into ways of improving it (like reading this article).
If customers have provided more detailed feedback, pay close attention to it and then endeavor to make changes where appropriate to highlight your commitment to your customers' success. As you begin to take deliberate action to improve at the things your customers report to be lacking, you should see signs of improvement in your CSAT score as well.
Creating a Comprehensive CSAT View
Conversation analytics offers comprehensive data beyond what CSAT surveys can glean – combining these two sources of customer feedback into a single view of customer satisfaction is the key to gaining accurate and useful insights.
Mastering CSAT at your contact centre involves listening, learning and looking for new opportunities to improve along the way.
This blog post has been re-published by kind permission of CallMiner – View the
Original Article
For more information about CallMiner - visit the
CallMiner Website