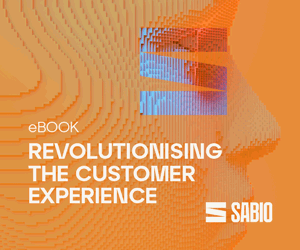 Angela Clarkson at Sabio explains how to unlock additional value from your customer service technology stack.
One of the key issues discussed at our recent Disrupt 2023 conference in the UK was the cost-of-living crisis and its likely impact on customer service provision.
UK inflation hit a 41-year high of 11.1% in October last year and remains high at the time of writing. And it's not just the UK that's impacted, with prices still rising in France, Germany, Netherlands and Spain.
Not surprisingly, this is having a major impact on living standards. Indeed, the Resolution Foundation predict that UK households will likely face a fall in after-housing-cost incomes of 7% for the 2022-24 period.
While expected reductions in energy prices should see an easing in this figure, the impact of the crisis is significant, with 76% of adults reporting a cut-back in their overall spending.
Clearly there's a direct link between reductions in consumer spending and the performance of B2C brands.
The reality is that all of us will have to fight harder to win the hearts and minds of our customers over the coming few years, and that of course means a renewed focus on the people and technologies that drive your service delivery.
Doing More With What You Have
For many brands this will translate directly into doing more with what they have. And just as consumers are being more selective about what they spend and who they spend it with, brands need to make sure that their customer experience (CX) technology stack and contact centre workforce are running as efficiently as they can.
At a minimum this should involve optimising the performance of any investments already made – and squeezing the most value from existing technology before embarking on further incremental spend.
Organisations are looking more closely at their costs but, for many, the reality is that they are currently only using a fraction of the capabilities currently available to them.
In the current environment, where you need to be optimising the value available from the resources that you have, that simply doesn't make sense.
Understand What You've Got and How to Use It
To avoid this you need a thorough understanding of what you have, how you are currently using it, and what your business will need to deliver in the future. From that you will be able to identify any genuine gaps in your technical capability.
To help in establishing where CX teams can unlock further value in their customer engagement, we've identified four key areas:
1. Extracting Value From Technology
Enabling organisations to make the most of the investment made in their existing technology stack, capitalising on the power of the technology they have purchased – and realising the full potential of the solution
2. Removing Negative Friction
Enabling organisations to reduce customer effort by focusing on the delivery of a frictionless customer journey. This requires an emphasis on seamless end-to-end journey design, rather than just the technologies chosen to deliver it. And where friction is inevitable, offer proactive messages or alternative service options to reduce frustration. This will help in creating a more positive experience – and contribute directly towards increasing propensity to stay
3. Deflecting Transactional Interactions
Enabling organisations to focus their advisors on handling higher-value and/or more complex interactions.
Simpler transactional queries can be served by alternative mechanisms such as intelligent messaging, automation and self-service applications. However, there will always need to be options available for customers to speak to advisors should they run into difficulty
4. Optimising the Workforce
Enabling organisations to employ strategies and practices which improve employee and organisational efficiency.
Optimising advisor productivity can obviously help in terms of decreasing operational costs in the contact centre, but initiatives such as an increased focus on data to help challenge demand, or on improving advisor wellbeing to reduce attrition can also have a significant impact here.
Each of these four areas can help CX and contact centre teams to unlock further value from their existing technology stack and customer service workforce.
For more information about Sabio - visit the
Sabio Website