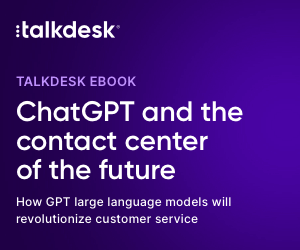 Lídia Dias questions if your contact centre is ready for the 2021 holiday season.
Remember those crazy Black Fridays when hordes of people waited in line for hours before department stores opened doors? And acted as if running for their lives to grab the last coat on the rack? We've surely come a long way.
Many tech-savvy customers stopped waiting in lines and now shop online; however, the shopping frenzy has not diminished. In fact, in 2020, the number of Black Friday online sales reached $14.13 billion.
All would be good with this number if it were not for the increase in returns that jeopardizes the expected revenue. How can retailers optimize the returns process and provide customers with the best service to keep returns as low as possible?
The holiday season is a crucial time of the year for retailers. It starts with Black Friday and ends with the traditional last-minute shopping for the holidays. While the measure of success for this season is often placed on sales, how a company's contact center responds to the call rush is also critical.
Navigating this busy time while supporting a positive experience for customers is a challenge for many retailers. Shipping delays, out-of-stock products, inaccurate product descriptions on the website—it is really easy for the madness to descend on the contact centre.
In 2020, Digital Sales Hit a New Record
2020 was an extraordinary year for retailers. COVID-19 has accelerated the channel shift from in-store purchases to eCommerce. Last year's holiday season took eCommerce to new records:
In the U.S., holiday season retail sales grew an unexpectedly high 8.3% over the same period in 2019 to $789.4 billion.
Total digital sales reached $270 billion globally and $60 billion in the U.S.
Overall digital commerce was up 36% globally and 29% in the U.S.
Curbside pickup deliveries increased sales, resulting in 95% digital revenue growth for U.S. retailers.
Although online shopping continues to grow rapidly, many people still prefer brick-and-mortar shopping experiences. Even in the midst of pandemic restrictions, in-store sales are still a large part of the business.
In 2021, Customers Are Planning to Spend More
The 2021 holiday shopping season, the most critical time of the year for retailers, comes with great expectations. Big-box retailers like Target and Walmart already got deals rolling in mid-October and plan to separate sales throughout November.
For 2021, predictions are that:
Sales in November and December will grow 7% compared with 2020, reaching over $800 billion globally.
Over a third of early U.S. holiday shoppers will increase their spending.
32% of consumers will shop for the holidays between October and mid-December.
Luxury and apparel will see the most considerable growth in retail sales over the 2021 holiday season.
Greater demand will lead retailers to staff up for the holiday season.
Customers expect personalized, quick, and accurate customer service, either in-store or online, with instant answers to their queries. This ability to respond quickly and accurately can make or break customer relationships, as service experience plays a crucial role in their overall brand perception.
Six Tips to Prepare the Contact Centre for the Black Friday Frenzy
Seasonal spikes are a big challenge for retailers: 50% of retail CX professionals say the top challenge they face is high variability/volatility in the volume of customer support needs, such as holiday or seasonal spikes, off-season dips, and others.
The contact centre is the foundation of customer service and the first point of contact for customers to get help. Therefore, it's no surprise that a peak in sales translates to an increase in the contact centre, often not prepared to handle those peaks. Typical problems that arise from having more calls than agents can handle include:
Long wait and response times.
Disparate information.
Damaged brand reputation.
Poor attention to detail.
Issues in employee retention.
But it doesn't have to be that way. It is possible to reduce the incoming calls, get through the holiday season without burning out the customer service team, and still excel at the provided service.
Keep reading and discover six tips that will take your contact centre to the next level of excellence, even during the holiday sales madness.
1. Break Down Your Call Centre Operations
Identify average wait times and the busiest periods for your contact centre, forecast customer demand, and automate agent scheduling. Assess every agent's performance and provide coaching and training as needed.
2. Mitigate Outbound Calls
Don't wait until your customers dial in frustrated. Proactively communicate shipping cutoff dates, fulfillment alternatives, higher call volumes, or anything that may impact their shopping experience.
3. Consider Automation Tools
Chatbots and virtual agents can deliver human-like experiences to solve simple customer issues without the need for live-agent intervention.
4. Keep the Conversation Going
Use digital channels to keep the conversation going, the customer engaged, and reduce the number of calls to do more with the same number of agents. For example, enable asynchronous communication and other alternative channels, such as text and voice.
5. Ensure Adequate Staffing
Empower agents to work from everywhere, thus enlarging the talent pool. A cloud contact centre solution will allow you to have agents all around the world, thus enhancing the opportunity for 24/7 service.
6. Empower Agents With the Right Tools
Give your agents the tools and training that guarantee fast and accurate customer service. Integrate those tools with the existing systems to avoid wasting time looking for customer data and context.
Our Customers Know How to Play the Game
Mastering customer service during the holiday season is not for everyone. But our customers have the right tools—operational agility, innovative customer service, and a scalable, customized cloud solution to excel at the challenge.
Read about how some of our clients improve their customer service standards and drive business growth during the holiday season.
Balsam Hill Optimizes Customer Service with Flexible Call Routing
Balsam Hill is a leading supplier of artificial Christmas trees, holiday décor products, spring florals, and autumn wreaths. Customer service can make or break the year for a seasonal business, and Balsam Hill knows this too well.
To meet customers' demands during the Christmas sales peak, Balsam scales staff to 15 times its usual size. However, training these agents to be the brand ambassadors and frontline spokespeople during this crucial sales window in such a short time proved to be a challenge, and the company used to rely on outsourcing voice support to handle the seasonal rush.
A flexible routing system was the response for Balsam Hill challenges: multiple queues, callback function, and designated agents to a specific function give the contact centre agility during a potentially hectic time for everyone—agents and customers.
Tuft & Needle Optimizes Agents' Schedules and Obtains a 96% Service Level
Tuft & Needle provides high-quality mattresses at an affordable price while giving customers an amazing experience they rarely receive at traditional stores. They are a proudly "digital-native" company that facilitates operations mainly online, with conversations coming in through email and chat, but also phone calls—making omnichannel support more complex.
The company uses live and real-time reports to improve agent performance and increase service level. Agents are empowered to provide omnichannel support to customers.
With a goal of 95% of calls answered within twenty seconds, Tuft & Needle optimized agents' schedules and has achieved a service level of 96%.
Zumiez Adds New Agents in 15 Seconds or Less
Zumiez has more than 40 years of history and hundreds of stores where they sell clothing, shoes, accessories, and gear for skateboarding. They have a vision of exceptional customer experience and differentiate themselves by serving their niche audience well. This strategy has been rewarded with raving fans as a result.
Zumiez must scale up and down quickly to meet seasonal demands. Their system has enabled them to add a new agent in 15 seconds or less. SLAs improved 15% as a result of real-time dashboards that let agents make workflow decisions on the fly to ensure that customers' needs are met.
Call recording and easy access to reports and contact centre performance metrics free supervisors to tailor coaching to specific agent needs and take customer service to the next level.
Is Your Contact Centre (Really) Ready for the Holiday Season?
Are your customer service representatives ready for the influx of questions about inventory and shipping delays? Is your contact centre ready to scale as needed? Can you ensure quality and consistency in customer care?
This blog post has been re-published by kind permission of Talkdesk – View the
Original Article
For more information about Talkdesk - visit the
Talkdesk Website