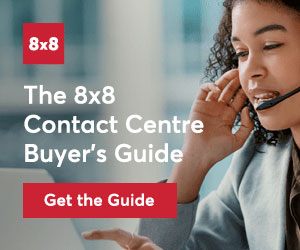 8×8 has announced that it has acquired the Jitsi open source video communications technology and its highly skilled team of open source video technology experts.
The Jitsi technology further extends 8×8's cloud technology platform and adds to the company's video collaboration capabilities. 8×8 acquired Jitsi's technology and engineering team from leading enterprise software company Atlassian.
"The best video communications solutions are so intuitive and reliable that they help employees conduct shorter, more productive meetings," said Dejan Deklich, Chief Product Officer at 8×8.
"8×8 has already developed a world-class meetings solution for enterprises, and we're focused on maintaining leadership in delivering reliable, crystal-clear video and audio conferencing quality across mobile and desktop applications."
"Incorporating Jitsi's open-source technology into our video communications technology platform, and having Jitsi's talented engineering team play a role in leading our development of dedicated conferencing applications and WebRTC, will open new paths for our customers and further enhance our meetings solution."
8×8 is acquiring Jitsi's set of modular open-source projects that allow businesses to easily build and deploy secure video communication solutions.
At the heart of Jitsi is the Jitsi Videobridge conferencing server and Jitsi Meet conferencing and collaboration application. Jitsi is designed to run thousands of video streams from a single server, and it's fully open source, with a community of developers supporting the project, as well as 100 percent standards compliant using technologies like WebRTC.
Jitsi's video communications technology will remain open source, ensuring that Jitsi stays in the forefront of Video Conferencing industry developments, including new application use cases.
"Some of the most innovative WebRTC products and companies use Jitsi to support millions of minutes of daily usage as part of their meetings, messaging and collaboration product ecosystems," commented Bryan Martin, Chairman and Chief Technology Officer at 8×8.
"The open source community has played a critical role in advancing Jitsi's projects by validating its use in a diverse set of environments and complementing the core team's development."
"As part of this acquisition, 8×8 is committed to continuing to support the growing developer community, and we are excited to engage even more."
Jitsi's video communication solutions are intended to be integrated into 8×8 Meetings, which already enables thousands of businesses worldwide to collaborate from anywhere on any device with integrated video and audio conferencing.
8×8 Meetings is a key element of 8×8 X Series, which helps businesses transform their customer and employee experience with one system of engagement across voice, video, collaboration and contact centre, and one system of intelligence on a single cloud platform. With 8×8 X Series, businesses communicate faster and smarter to exceed customer expectations.
"We are excited that 8×8 will continue to support the extensive Jitsi community and help to accelerate our development," said Emil Ivov, Jitsi Founder and Project Lead.
"I have no doubt that Jitsi's advanced capabilities combined with 8×8's comprehensive X Series platform will create a dominant video communications solution that is intuitive and game-changing for enterprises."
This news story has been re-published by kind permission of 8×8– View the original post
Follow the link to find out more about 8×8.