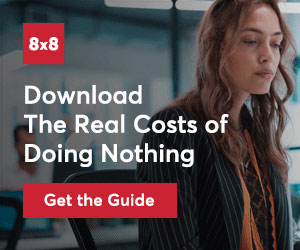 8×8 has announced that 8×8 Contact Center has won TrustRadius 2023 Top Rated Awards in the categories of contact centre and call centre Workforce Optimization.
In addition, 8×8 Work received Top Rated Awards in the VoIP and Unified Communications as a Service (UCaaS) categories.
The TrustRadius Top Rated Awards are the most prestigious prize in technology due to the results being solely based on customer sentiment and reviews.
To win a Top Rated award, products must have ten or more TrustRadius reviews from the past year, have received a score of 7.5 or higher from customers, and earn at least 0.5% of site traffic in their category.
Top Rated awards are based entirely on reviews, with no paid placement or analyst opinion included.
"We pride ourselves on the products and services we provide our customers and the relationships we've built with them along the way, so it is a true honor to win an award based solely on customer feedback," said Walt Weisner, Chief Customer Officer at 8×8, Inc.
"These awards highlight our commitment to being a customer obsessed company. We take pride in providing our customers with the highest level of service as well as helping these organizations deliver excellent customer experiences with 8×8 Contact Center."
This blog post has been re-published by kind permission of 8x8 – View the
Original Article
For more information about 8x8 - visit the
8x8 Website