Are you interested in improving communication in your contact centre? If so, then you will like the idea, which we spotted on a recent site visit, of setting up an internal "Facebook-type" community page.
Building a community page
Centred around a particular topic, community pages and groups bring people who share common interests together.
However, these pages can also function as a helpful communication tool in the contact centre.
If your contact centre advisors and managerial staff embrace an online community, you can share specific questions, comments or content that will reduce email traffic and provide many other benefits.
A Facebook group or a Google community
If you have previously played around with the idea of an online community, your first thought was probably to use a Facebook page. After all, the platform would enable you to share content, questions and comments.
Yet there are many factors that make Google Plus communities a superior option for a contact centre. These factors include:
You can filter all posts by topics or categories. For example, your call centre community page could have a "shift swap" category so advisors can easily find and contact colleagues who are interested in swapping shifts.
Company events from inside the community are fully integrated within their own personal Google Calendar.
Google is generally considered more suitable for work than Facebook, and many workplaces will already use Google for company emails.
There will also be advisors who frequently use Facebook to post about their social life, which they may want to keep separate from their work.
Using Google Plus to send images to colleagues is also better than if you were to do so via Facebook. This is because Google keeps the picture's optimum size and resolution, whilst the latter can sometimes compress them.
How to set it up
When you open Google Plus, select "Communities" from the drop-down menu in the top left-hand corner on the screen. After that, click on "Create Community" in the screen's top right-hand corner.
Next, make sure you click on "Private" and "Searchable", so that the moderator of the page can have the final decision on who joins. This way, only employees can view the page's content after the moderator has accepted their request to join.
Then, all that is left to do is to create a name for your community. OVO Energy have rather uniquely named their page "Customer Services Kitchen Sink", because the company was first thought of when its founders were sitting around a kitchen table.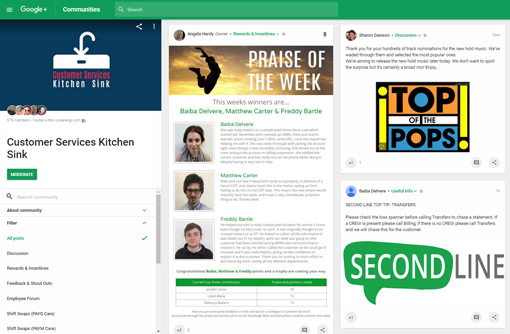 This is an interesting name for the community as it encourages agents and other employees to engage with the company's history and values. It is also innovative and sparks the notion that this is a place for creativity, which should entice interest from the call centre floor.
Increasing employee communication and engagement
Fran Corke, the Colleague Engagement Manager at OVO Energy, is moderator for her company's Google Plus Community Page and asserts that it has "increased engagement" amongst OVO's advisors.
Whilst admitting that ""it was a lot of work at first", once advisors started to be convinced of the community's worth, Fran observed that "it almost started to run itself".
However, the key is said to be keeping the page active and involving advisors whenever possible. To do this, OVO have introduced a number of initiatives to their page that help to bring call centre staff together and boost morale.
Here are two examples of such initiatives that really stood out:
Opinion Polls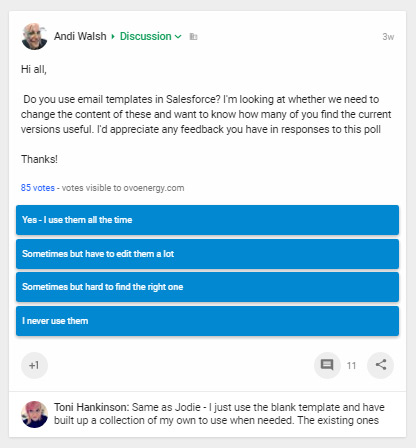 Creating such polls allows advisors to bond over shared interests. OVO noted that one such interest was in "The Great British Bake Off" and have based polls on topics such as "what is the best ever kind of pie?"
These polls can be used to further engage agents with the company. Minor business decisions can be left to the advisors via their responses to a poll, forming a greater connection with the company.
OVO have previously done this by creating a poll on "what music should be played when a call is on hold?", with suitable options for agents to choose from. This example helps to promote a collaborative culture between advisors and managerial staff and demonstrates to the frontline workers that their opinions are valued by the company.
The Daily Goat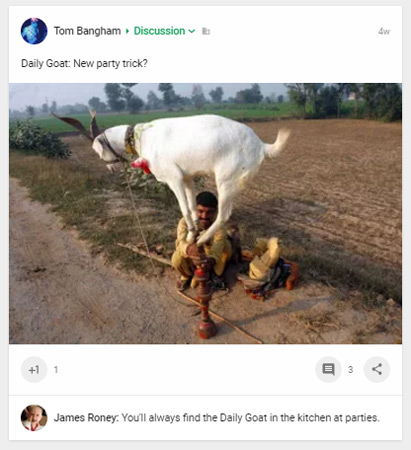 The online community can also help to foster creativity, rejuvenate advisors' minds and boost morale, if used correctly.
One way that OVO do this is through their "The Daily Goat" feature. To keep the community active, "The Daily Goat" was introduced by an employee who was a dab hand at Photoshop and was keen to flaunt their creativity. So now, each working day the goat appears with a new background location.
Whilst this might sound unusual, it is something that Fran says the community "goes mad for", and has helped to boost interest in the online platform, as well as general workplace communication.
Topics for discussion
When OVO first introduced a Google Plus Community page to their call centre, the aim was to reduce the number of emails sent to management and consequently reduce email traffic.
So categories were fashioned in the community to filter content that before would have been emailed to management, who would have had to repeatedly respond to staff requests and queries. Instead, now the greater community can help answer queries, arrange shift swaps, find lost belongings etc., and help to reduce the managerial workload.
Some of the categories that OVO have developed include: Discussion, Rewards and Incentives, Feedback and Shout Outs, Employee Forum, Shift Swaps, Events, and Lost and Found.
A useful tool for crowdsourcing
Rather than investing in expensive internal research, crowdsourcing by using your call centre community page can help you to find solutions to certain problems, with zero financial loss.
Whilst this could include trawling through content that advisors have posted in the community, the response to questions that you post in the community's forum or via opinion polls can provide you with valuable information.
For example, gathering advisors' reactions to a new design of a product using a forum question or an opinion poll can be useful as it is these advisors who are constantly listening to customer feedback. So, if your advisors can instantly spot new design features that customers will not like, you can feed this back to the designers, who can then modify the product on relevant feedback.
Other benefits
As well as aiding advisor engagement, call centre communication and crowdsourcing, an online community can provide a number of other benefits, such as:
It can be a useful reminder tool
With the capability to send alerts to advisors as reminders of events, meetings and other work-related activities, an online community group can be used as a valuable reminder tool.
However, Fran says that OVO have this set up so "it is up to the individual to choose if they want to receive them", meaning that it is not then viewed as a 'nagging' device.
It can be used as a great platform for announcements
When the online community has high usage, you can announce new groups of starter advisors or new managerial staff, so it removes the anonymity factor. This is useful, as advisors are aware of who's who in the call centre and the staff members that they may need to consult with in the future.
It reduces email traffic
If used correctly, a community page can efficiently handle advisor enquiries. This is because management can respond to posts, and then when people have the same query in the future, they can view the response to the original post instead of emailing management again. This way, managerial staff should not have to repeatedly answer the same query.
In addition, advisors can answer one another's queries, meaning that there may be no need for management intervention in the first place.
Having categories like shift swaps and lost and found in the community also helps to lessen email traffic.
For more advice on improving internal communication, read our articles: