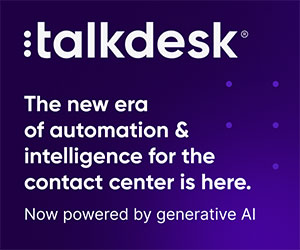 Celia Cerdeira at Talkdesk helps you know more about ACD and how a contact centre solution can improve customer service.
Long hold times, exhausted agents, and angry customers—if this is a common situation in your contact centre, you should consider getting a contact centre solution with an automatic call distribution system (ACD). It won't entirely solve your high call volume problems, but it will surely help a lot.
An ACD answers incoming calls and routes them to a specific agent or department within a company. It typically works with computer telephony integration (CTI) systems and interactive voice response (IVR) to intelligently route incoming calls to the most appropriate agent. It is the backbone of a call centre and streamlines the communications process.
Capabilities of an ACD Contact Centre Solution
All the good contact centre solutions have ACD as one of their core components, as it makes the communication process easier. These are some of the advantages:
Routing of Incoming Calls to Specific Agents Based on Predefined Criteria
Calls can be routed to the specific agent or department that is most qualified to address the customer's needs. For example, callers from Mexico will be routed to Spanish-speaking agents.
Calls can also be routed to agents or departments based on the phone number the caller dialed. For example, if the customer calls the technical support phone number, they will be routed to the technical support department.
Identification and Rapid Response to VIP Callers
ACD allows VIP callers to be routed immediately to the most appropriate agent, or, if none are available, they will be placed at the front of the waiting queue.
Callers are identified as a VIP based on predefined information, tags that they were assigned as well as information from integrated databases or business tools.
The Acquisition of Usage Data
ACDs allow for companies to acquire usage data, such as the number of incoming calls, amount of time an agent spends on the phone with a caller, the total number of calls (incoming and outgoing), length of calls, waiting time before the call was answered, etc.
Call Monitoring, Reporting, and Coaching of Agents
ACDs allow for managers to engage in call monitoring, call conferencing, call barging, and whisper coaching.
These features enhance the coaching process as well as managerial practices. ACDs also allow for the acquisition of data to facilitate real-time and historical reporting.
Integrations with CTI
With CTI integrations, skills-based routing, and ACD agents will have comprehensive information about the caller in their browser, before they answer the call.
Many cloud contact centre solutions integrate with CRM, helpdesk, live chat, social media, and SFA to provide detailed interaction history of the caller. This information enhances the sales and support process so agents are more effective.
Companies That Use PBX Systems From Multiple Carriers to Function as One Virtual Call Centre
Some companies use PBX systems from multiple carriers. These companies can efficiently function as one by integrating their systems into one cloud contact centre solution with an ACD system.
Geographically Dispersed Companies Function as One
ACDs allow for companies that have agents or departments working in different locations to function as one. ACDs can route calls to remote agents, multiple sites, internationally and to mobile phones.
Automatic Call Back
ACDs give callers who would like to avoid the waiting queue the option to have an agent call them back instead.
Multiple Call Queues
ACDs allow companies to have multiple waiting call queues. For instance, there can be different waiting queues for different departments, different teams of agents, or different numbers that the caller dialed.
Integrated Auto-Attendants
For callers who would like to speak to a specific agent, they can dial their extension to be immediately transferred (e.g. "If you know the extension of the party you wish to reach, you can dial it now.").
Call Centre Overflow
When all agents are busy and the queues are full, calls can be automatically directed to voicemail using the ACD.
Delivering a Modern Customer Experience With Cloud-Based Contact Centre Solutions
A Typical ACD Scenario
In a typical ACD scenario, a caller who contacts a company is greeted by the IVR ("Thank you for calling Starworks.") and is asked to choose from a series of prompts ("Press 1 for sales, 2 for support…").
Then, based on the company's routing strategy and information about the customer, the ACD will route them to either the most appropriate agent or to a waiting queue.
The Routing Strategy
The strategy that the ACD uses to route incoming calls is based on an algorithm that determines the best available employee or department to route the caller to.
The routing strategy is customized for each company based on their business needs. The routing algorithm is based on any or all of the following:
The phone number the customer dialed
Caller ID, automatic number identification (ANI), direct inward dialing (DID) or dialed number identification service (DNIS) which identify information about the caller such as their area code, phone number, etc.
Customized parameters based on the IVR configuration (e.g. "Press 1 for sales").
Information the caller entered into the IVR (e.g. account number, credit card, etc.).
Integrated databases, CRM, helpdesk and/or Salesforce.
Customer profile data.
Agent skills, knowledge, or domain expertise.
Agent availability.
Queue statistics.
Time of day.
Incoming Call Distribution Methods in Cloud Contact Centre Solutions
An incoming call can be routed to agents in several different ways. The following are five different types of incoming call distribution methods in cloud contact centre solutions:
Linear call distribution – calls are distributed in order to agents (based on a list or pre-determined configurations) starting with the same agent every time.
Circular call distribution – calls are distributed in order to agents (based on a list or pre-determined configurations), starting with the agent that is after the last agent to receive a call. This process is a continuous loop: after it has reached the bottom of the agent list it will start from the top of the list.
Uniform call distribution – calls are directed to the agent who has been idle the longest.
Simultaneous call distribution – calls alert all available agents at once. The first agent to answer handles the call.
Weighted call distribution – calls are routed to available agents according to a configurable weighting (predetermined percentages assigned to each agent).
ACDs are an invaluable resource for any company, large or small, that interacts with its customers over the phone. An ACD is perfect for teams handling large call volumes, geographically dispersed teams, teams using different telephony systems and teams with specialized agents.
ACDs route calls to the right agent, every time. Customers will benefit from a seamless and consistent experience and agents will benefit from more effective call routing.
ACDs will significantly increase the professional image of a company, customer satisfaction and efficiency. The question is: can you afford NOT to have one?
FAQs
What Is ACD?
ACD is short for automatic call distributor. It is a contact centre solution that helps agents handle customer inquiries more efficiently.
ACD helps contact centres that handle large volumes of calls. It manages customer inquiries by routing inbound calls to the best agent, based on availability, skills, and department.
This process increases call centre efficiency by minimizing the time the customer spends on the phone. It can provide shorter call queues by creating department-specific queues rather than one big call queue for the entire organization.
ACD can also improve efficiency by routing to call centre overflow options or giving callers the ability to avoid a wait by leaving a callback number.
What Does ACD Stand For?
ACD stands for automatic call distributor. This type of technology helps call centre agents manage large volumes of calls by automatically sending customers to an agent who can best answer their specific inquiry. This agent is chosen based on availability, skillset, and department.
What Is the Difference Between IVR and ACD?
Interactive voice response (IVR) is a tool that customers interact with, while ACD (automatic call distributor) is a backend program used by the call centre.
IVR and ACD technologies work together to provide an excellent customer experience. IVR enables the customers to clearly express their reason for calling, through either voice or dial pad selection.
Then, the ACD can take this customer data and use it to direct the caller to the correct agent within the right department.
This blog post has been re-published by kind permission of Talkdesk – View the
Original Article
For more information about Talkdesk - visit the
Talkdesk Website