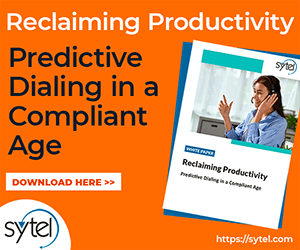 Our panel of experts share their thoughts on the product features that you should keep an eye on when looking to invest in an ACD system.
What Is an ACD System?
An ACD (Automatic Call Distributor) system is a communication system that contact centres employ to distribute contacts to certain individuals or specific groups of advisors.
The technology has been around since the 1980s, with the earliest systems bringing in a new capability to send the longest-waiting call to the longest-waiting advisor. If there were no calls queuing, the system would then uniformly distribute contacts to even out the workload.
However, as the years have gone by, the technology has become increasingly sophisticated, so here are some of the latest ACD system product features that you should be looking out for…
For more of a background into ACD technology, read our article: What Is an ACD and How Is It Used in the Contact Centre?
Easy IVR Integration
By having an IVR and ACD system that are designed to share data with one another, you will be able to route the call based on more than just caller key presses.
Knowing the customer's details allows for more intelligent routing to advisors, as you'll be routing through rules within the ACD system and the customer's selection.
Knowing the customer's details allows for more intelligent routing to advisors, as you'll be routing through rules within the ACD system and the customer's selection.
For example, we may want to route a call to the Business Arrears team because the customer chose option one to "make a payment" and the ACD system tells us that they are a business customer from the customer record.
So, when a call first arrives into the contact centre, the ACD will check the rules as to what happens when we receive a contact from this number. This is then combined with the customer's reason for calling, as found through the IVR process, to pass the contact on to the most suited advisor.
Skill-Based Routing
In an ideal world, all advisors will be equally skilled and all will brilliantly handle all call levels. This is rarely the case, as some advisors will be more experienced and will have received more training.
Then there will be contact centres that handle very complex queries, making it difficult to multiskill across every contact reason.
Fortunately, a good ACD system will be able to route calls not only based on the skills that an advisor obtains, but also on the proficiency level that the advisor has in that skill. This will help to build the best possible customer experience.
The technology will hopefully also allow queued calls to be ordered and prioritized based on either the skill required or the nature of the call. This prioritization ordering should be reportable in real time to the customer, for example as the call's position in queue.
Thanks to Atif Javaid at Noble Systems
Support for Digital Channels
While the technology is still called an ACD system, distributing calls is just a part of what your future-proof system should be doing.
A rising number of consumers are starting to look for service using digital channels, and especially social platforms.
Just like in our personal life – where we chat, message or post instead of calling – a rising number of consumers are starting to look for service using digital channels, and especially social platforms.
Supporting email, live chat and messaging apps is a mainstay. For digital interactions on social platforms, focus on broad support because social platform usage varies by geography and age.
The number of consumers that expect customer service on their social platform is on the rise. Make sure your ACD solution offers not just the channels that you currently use, but those that you may want to offer in the near future.
Platform Consolidation
You need to get contacts to the right advisor as quickly as possible, but there's more. You also want to consider these five points in your platform consolidation:
1. Make sure that your supervisors and managers have access to consolidated reporting and business KPIs that enable them to make the right decisions.
2. Ensure your administration is effective and efficient and avoid the need to create and maintain users and resources in multiple point solutions.
3. Install a platform that unifies workforce management and planning for all supported channels for accurate insight into the workload of agents that handle different channels.
4. Provide your advisors with an interface that allows them to focus on the customer, regardless of channel, instead of constantly ALT-TAB-ing between the apps they need.
5. Implement a platform that scales seamlessly and enables you to pay for what you really use and to flexibly adjust to changing business needs.
Alerts for Real-Time Resource Planning
In the past, managing your contact centre to ensure you fulfil your business KPIs used to be a lot of work. Supervisors and managers had to constantly monitor and be at the ready to jump in and change course when a storm came in. Automation within your ACD can now take on these tasks.
Look for an intelligent ACD solution that allows you to create rules based on the metrics you need to monitor and that automatically triggers the response you have defined should things go off kilter.
For example, you could create a rule that will automatically add advisors to a queue when there is a sudden surge in incoming volume and the service level for that queue falls below the acceptable level.
Then you would also want your ACD system to reverse that action once the waters have calmed down and your service level is back where it should be.
By installing an ACD system that has these capabilities, your managers will be grateful for the chance to focus on issues that really require human intervention.
Thanks to Annette Miesbach at NICE inContact
Next Best Action Consideration
Whereas previously it was about using ACD to deal with large volumes of calls, now it's about distributing omnichannel contact and enabling the next best action for the individual.
For example, appointment reminders can be delivered as digital contacts, such as a message to the consumer's phone.
If an appointment needs to be changed, the consumer may want to make a phone call to the contact centre.
As the ACD is aware of all the interactions with the caller, omnichannel ACD routing algorithms can determine the right place to deliver the call, present the agent with relevant information and suggest the next best action.
Profiles and Personalization
Another example of how ACD has moved on is in the ability to personalize contact.
For instance, you might have data on a person that shows that they're a high-value customer. Your technology will be able to tell from their digital engagement that you can provide an extra level of care by giving them a call as part of your VIP service.
A point worth noting is that, while intelligent technology provides skills-based routing, you need to ensure that the agent(s) are ready and able to handle the contact.
So your chosen ACD must be able to process what agents are doing at any one time and serve contacts to appropriate people.
Thanks to Ken Reid at Rostrvm Solutions
Support for Additional Features
You can increase productivity by adding features such as chatbots that can be seen as additional advisors when trained and integrated in your ACD system.
Chatbots can provide a form of self-service capability for customers, improving their experience and removing the need to have advisors perform mundane or repetitive tasks.
In this sense, we can consider chatbots as another channel, which – along with all of the others – we can link together within a universal queue.
A universal queue allows for all contacts to be managed and routed in a similar manner, providing an improved customer and advisor experience.
Thanks to Atiq Rehman at Business Systems
A Cloud Solution
Cloud-based contact centre solutions have ACD at the core. The technology has sophisticated intelligence built in to route customer calls automatically, from a variety of channels, to the best-skilled available advisors, quickly and efficiently.
Linking effortlessly to IVR, a cloud-based contact centre propels self-service to new levels by automating simple transactions such as bank balance look-ups, submitting utility meter readings, ordering popular products or listening to public transport timetables.
In a nutshell, with today's connected cloud-based ACDs, organizations can offer 24-hour customer service, across some contact reasons, without extra staffing or operational costs.
Thanks to Thomas Rødseth at Puzzel
Automated Multi-Media Blending
The multi-media landscape means that fully automated blending and load balancing can be a necessity for an ACD.
Blending (in theory) used to be simply moving agents from outbound projects in order to fulfil inbound demand. In practice, even voice blending isn't that simple when you throw multiple competing SLAs, disparate agent skill sets and outbound compliance in the mix.
Very few automated blending implementations for voice ACD have actually worked, leading to siloed operation being the norm for contact centres.
Very few automated blending implementations for voice ACD have actually worked, leading to siloed operation being the norm for contact centres.
Blending requirements are now far more complex. Text-based media service levels can be on a different timescale to voice, but the same agent pool needs to handle the different session types.
Multi-session advisors add another dimension, as does the need to segregate and account for advisor time across multiple customers in a BPO environment.
The blending will ideally also be intelligent enough to work without a rule set other than queue SLA and priority.
Extensibility Through APIs
Every business has its own unique business intelligence and needs to manage the customer contact experience based on rules that build from this.
This requires ACD vendors to offer up APIs that give granularity of control, right down to agent/session pairing in queue, but do this in a way that does not compromise the ACD doing its load-balancing job.
These APIs are time-critical and the ACD must have a sensible scheme for default behaviours when customer business information fails to yield a timely decision.
Thanks to Michael McKinlay at Sytel
For more from our panel of experts on various contact centre technologies, read our articles:
The Top 10 Emerging Technologies in Contact Centres
13 Ways Technology Can Improve Employee Engagement
What Is Robotic Process Automation (RPA)?