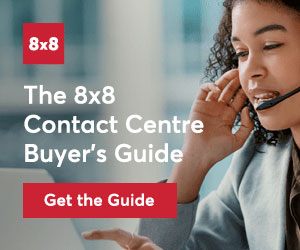 Jeremy Watkin of 8×8 shares his advice for becoming proactive in answering customer queries.
"There's been a change of plans."
I'm not sure there's ever been a more frequently used phrase in contact centres – and it's typically coupled with reasons like:
Our new agents can't begin interacting with customers because we're waiting on IT to skill them in a premise-based contact centre platform.
We cancelled the team-building exercise we've been planning for months because a snowstorm (or another major unexpected event) prevented multiple people from making it to work, putting us in an all-hands-on-deck situation.
We'll have to reschedule our agent training or cease quality assurance activities because a major issue is driving our call volume through the roof.
Notice that each of these statements is reactive. Something seemingly out of our control occurs, requiring us to change our plans to continue to meet customer demands.
And this impacts both agents and customers. How so? Agents miss out on important team-building, coaching, and training and face the stressful task of covering for absent colleagues or handling increased volume — all factors that lead to burnout and increased attrition.
Customers wait longer for a subpar experience with less knowledgeable, rushed agents. It sounds like a recipe for disaster.
While there will always be some level of unpredictability in the contact centre, I fear that sometimes we're more reactive than we need to be.
There are three proactive actions any contact centre leader should consider that will make a world of difference.
1. Switch to a Cloud Contact Centre Platform
I once led a switch from a premise-based to a cloud-based solution and realized many immediate benefits. For example, we reduced reliance on IT.
Gone was the need for server maintenance and the wait for them to add and update agents and skills or make updates to the IVR. Don't go thinking IT was at all disappointed, either.
From their perspective, this was one less system to monitor and maintain.
The second major benefit was the easy access to our contact centre data from anywhere.
Proactive contact centres use metrics to optimize the handling of customer enquiries and accurately understand and forecast their staffing needs. This can be a real challenge when the data can only be accessed from the office, or when it's disjointed, incomplete, or gated by IT.
From my experience, a move to the cloud made it so much easier to run the contact centre.
2. Get Serious About Workforce Management
Step one for a contact centre of any size when it comes to workforce management (WFM) is to understand Erlang C. This is the formula for predicting the staff required to handle the work in the contact centre.
Now you can hire and schedule the correct number of agents based on forecasted customer interaction arrival patterns.
As you build your schedule, it's critical that you take into account historical data, along with anticipated future events and projected customer growth, to predict future volume on all channels.
In addition, be sure to account for breaks, meetings, training, and any other activities where agents are working but not interacting with customers.
Proper WFM means that customers receive more timely support from better trained, more efficient, less stressed, more tenured agents who can count on a supervisor to be available for assistance when they need it.
And as your operation scales, WFM software will do the heavy lifting for you as you build out your schedules.
Having access to the data from your cloud contact centre platform will most certainly help as well.
3. Allow Agents to Work From Home Anywhere
Work from home programs continue to grow in popularity, but there still seems to be a stigma around this in contact centre circles.
It seems to be born out of an "if I can't see them, then they likely aren't working" mindset. This risk is easy to mitigate with proper planning, policies, and technology.
The benefits of allowing contact centre agents to work from home are numerous. These include reduced absenteeism, increased agent retention, a wider talent pool, and a backup option should agents ever be unable to travel to an office. We'll go into more depth on these benefits in a later post.
There are also a number of tools to ensure that agents aren't completely out of sight.
One-to-one and team messaging allows for continued collaboration and connection and the ability to live monitor agent screen and audio allows supervisors to monitor activity.
Real-time and historical reports reflect agent results regardless of where they are located.
As a contact centre leader, have you ever thought or said something to the effect of: "If customers would just stop calling us, we would have time for team-building or training."
I'm a little embarrassed to admit that I have — but guess what? Customers aren't going to stop calling, emailing, chatting, etc. That is unless you go out of business.
Becoming a proactive contact centre requires that we first acknowledge that being busy with customer enquiries is a VERY good thing and then we can take the necessary steps to best handle those enquiries.
Moving your contact centre to the cloud, getting serious about WFM, and allowing agents to work from anywhere are terrific first steps.