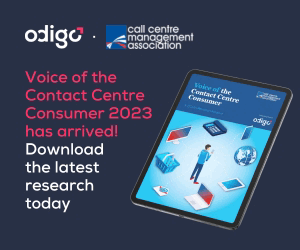 Thibaud Pietri of Odigo discusses how contact centres can provide customers with convenient, effective and personalised customer support.
What is an agile contact centre? Simply put, it is a contact centre whose approach is more flexible and proactive through the combination of disruptive technology and highly-trained professionals.
Agile contact centres leverage a software-centric approach that provides the elasticity and scalability through adaptive planning and flexible responses that can deal with sudden spikes and drops in traffic, whether through seasonal fluctuations or unexpected emergencies.
No longer a cost, but a value-generating centre, the agile contact centre delivers world-class customer service through convenient, channel-less communication.
Read on to discover the three key steps to making a contact centre agile and enjoy enhanced operational efficiency, elevated agent satisfaction and increased customer satisfaction (CSAT).
Step 1: Encourage an Open Organisational Culture
This openness should be reflected in attitudes and processes, especially as regards silos. Whether data or departmental-related, eliminating silos within an organisation and the contact centre itself is crucial to achieving increased efficiency and improved customer experience.
Indeed, if a smooth customer journey is to be achieved, the flow of data and information should permeate through all departments. Agile contact centre managers know that only then can agents provide rewarding customer experience (CX).
According to research conducted by eConsultancy, most UK companies recognise the need for fluent cross-channel collaboration, yet 70% fall short of the mark. 41% of respondents see their organisation's structure as a significant barrier to omnichannel customer experience.
Open communication between departments, agents and channels is what customers expect, as having to repeat information frustrates them and damages a brand's reputation. Agile contact centres integrate experienced experts into customer service teams or have them serve as coaches, even joining interactions if needed.
The result is the formation of cross-functional teams with multiple functions able to resolve more than 95% of customer requests during first contact, as McKinsey points out.
The era of specialisation in contact centres being over, multi-disciplinary agents and teams must be able to handle end-to-end inquiries, which cuts costs and raises Net Promoter Scores (NPS).
Not only are customer satisfaction levels increased, but agents enjoy more autonomy in managing customers' requests, which in turn leads to higher agent engagement and improved agent experience.
Step 2: Commit to Open Technology
According to Zendesk, 42% of customers bought more after a good customer service experience, while 52% didn't buy from that company again. Achieving rewarding CX requires an alignment of organisational strategy, staff and support – often in the form of cutting-edge, disruptive technology.
That's why organisations are increasingly turning to cloud solutions. The inherent scalability, continuous innovation and flexibility empower contact centres by allowing them to design customised strategies that suit their needs and reflect their goals.
Agile contact centres look to the cloud not just for cost-cutting benefits but because it accelerates digital strategies, enables seamless integration and provides reliable security.
Connectivity is essential to this process. Connectivity means being open to collaborative tools like Microsoft Teams, AI engines like IBM Watson and Google Dialogflow and customer relationship management (CRM) providers like Salesforce, Microsoft Dynamics or Pegasystems.
As accessibility facilitates open communication and coordination within internal departments and external, third-party experts, an agile contact centre is open to the entire CX ecosystem.
Finally, Cloud gives agents the ability to carry out their work from anywhere with a reliable Internet connection. Indeed, the fact that cloud-based solutions can be part of a contact centre without being physically in a contact centre is the number one reason why most companies have moved to Contact Centre as a Service solutions during the COVID pandemic.
With web real-time communication WebRTC, agents don't even need a phone line. The increasing demand to work from home, due to unforeseen events, means agile contact centres need remote work capabilities to ensure business continuity and customer care quality.
Step 3: Reinforce the Human Element of Customer Experience
Agile call centre managers understand that CX still needs the human touch.
With the help of AI-backed sentiment analysis that understands a customer's mood and comprehensive agent consoles that provide a 360-degree view of a customer's history, today's agents have unprecedented levels of insight.
Agile contact centre managers adhere to a data-driven approach and ensure it is operationalised to its full effect, meaning data is shared between relevant departments to provide the ultimate customer service.
Contact centre managers are mindful that customers should not be transferred from one agent to another as this frustrates customers and agents alike.
That is why agile contact centres use intelligent routing strategies to streamline resolutions by immediately connecting customers to the right agent, thus resolving their issue quickly.
Intelligent routing increases first call resolution rates, lowers abandonment call rates and adds value to customer and agent experiences.
Contact centre managers should also leverage artificial intelligence (AI). Zendesk reports that AI-enabled conversational agents (bots) are expected to handle 20% of all customer service requests by 2022.
Simple, repetitive tasks can be managed by AI-driven tools, allowing skilled agents to concentrate on more complex, high-value interactions that require empathy and the human touch.
AI-powered tools should not be regarded as a replacement for agents, rather as assistants – actively supporting them in their duties to adopt the right tone and anticipate the best actions to take. The resulting operational efficiency cuts down on costs, elevates agent experience (AX) and achieves higher customer satisfaction and loyalty.
Agile Contact Centres Should Be the Standard, Not the Goal
As legacy systems become increasingly obsolete, contact centre managers are searching for Contact Centre as a Service (CCaaS) solutions that are scalable, flexible and intuitive.
That's why organisations turn to Odigo, a Visionary in the 2020 Gartner Magic Quadrant for Contact Centre as a Service.
To learn more about the present and future of CX, consult the 2020 Gartner Magic Quadrant for Contact Center as a Service report. Download the report here.
This blog post has been re-published by kind permission of Odigo – View the
Original Article
For more information about Odigo - visit the
Odigo Website