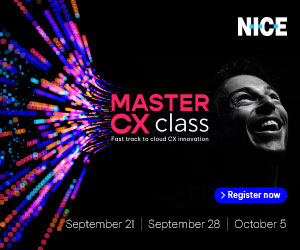 Nick Martin at NICE shares insights on why asynchronous interactions are so complex.
Consumers are increasingly choosing digital channels, like email, SMS and chat, that give them anywhere, anytime access to the businesses they interact with; nearly half of people engage with three to five channels in their customer journey.
Agents today often find themselves handling multiple customer interactions simultaneously as a result.  They're also dealing with a closely related phenomenon – asynchronous interactions.
Asynchronous interactions are customer contacts that are characterized by any or all of the following:
They may occur at different times; they aren't necessarily a real-time exchange between the employee and the customer.
They often experience significant delays (time lapses) between each party's response.
The employee involved in the interaction may change.
The interaction can shift from one channel to another (e.g., from chat to a voice call or phone to email).
As such, they raise interesting questions around how to calculate average handle time (AHT) and the number of interactions. Let's consider how an email exchange between a customer and an employee might unfold.
After the customer sends the email (the first email of the interaction), it takes two minutes for the agent to read it, then another five minutes to compose a reply with some follow-up questions (the second email).
In the meantime, however, the customer has moved on to something else, and it takes him 60 minutes to respond to the email (the third email). It then takes the employee three minutes to read the response and close the transaction.
In this simple example, AHT is clearly open to interpretation. Was this one contact that lasted 10 minutes, one contact that lasted 70 minutes, or three contacts with an AHT of 3:20?  You may need a different approach for different behaviors.
Similar questions related to handling time and number of interactions can also arise when the interaction moves between channels – for example, when a chat moves to a call or a call moves to email.
While it's fairly straightforward to calculate handling time of a call, you need to determine whether to include the handling time of the chat or email as well.
And, regardless of channel, you also need to consider how to account for the elapsed time when an interaction has been interrupted.  Yet another consideration is whether interactions that change channels remain with the same agent or are transferred to another queue.
How you decide to handle these common situations will have a significant impact on staffing and planning.
As you move through the workforce management process – including the key workstreams associated with data integrity and acquisition, staff requirement calculation, schedule optimization and change management – you must consider the complexities inherent in the asynchronous interactions that are so prevalent on digital channels.
Employees won't always be able to immediately answer chats, emails and SMS messages, and some digital channels, such as social media or emails, tend to have significant time lapses between exchanges – in many cases, the interaction can stretch out over a day or more.
To enable contact centres to staff and plan effectively in this type of environment, the WFM process must be able to solve these challenges.
That requires tools that help users appropriately configure and manage the nature of these channels and provide access to KPIs that align with the chosen approach (otherwise, the KPIs won't be meaningful).
To stay competitive, businesses need a WFM solution that is ready for interactions that can go beyond the traditional.
This blog post has been re-published by kind permission of NICE – View the
Original Article
For more information about NICE - visit the
NICE Website