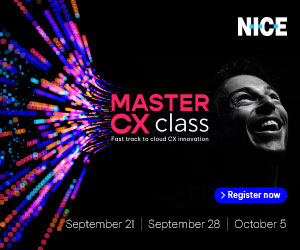 We asked our audience 'Which Barriers Stop You From Running Your Dream Contact Centre?' Read on to find out what is stopping companies from running the contact centre of their dreams.
The results taken from our survey report "What Contact Centres Are Doing Right Now 2021 Edition", suggest the common barriers contact centres are facing, and we have included the responses from previous years in this article: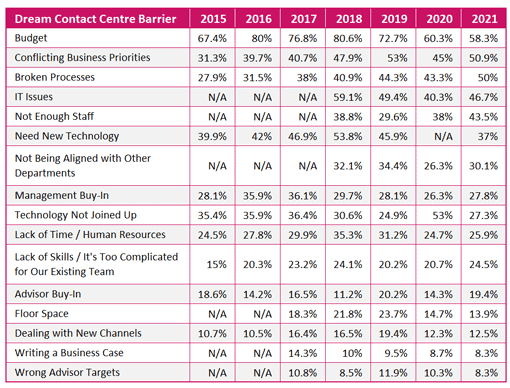 The graph below shows the survey results for 2021:
From this information we can draw several conclusions:
Budget Remains the Biggest Barrier
Unsurprisingly, budget is the biggest stumbling block that's strewn across the path of contact centre leaders, preventing them from running their dream contact centre.
The good news, however, is that a lower percentage of contact centres reported budget as a major issue than in 2020.
Now, fewer than six in every ten operations report that budget is a big barrier, a drop that coincides with the rising perceptions of contact centres within their organizations.
Conflicting Business Priorities Are Impacting Over Half of Contact Centres
The second biggest barrier reported was conflicting business priorities, with 50.9% of contact centres underlining this issue.
As tools such as the balanced scorecard fade into customer experience folklore, many businesses seem to be struggling to align their key focuses.
Other common challenges that contact centres are struggling to overcome include broken processes (50.0%), IT issues (46.7%) and staffing limitations (43.5%).
This last issue is particularly alarming, as 14.5% more contact centres are currently experiencing recruitment problems when compared to 12 months ago.
Technology Integrations Are Reaching Record Levels
On the brighter side, lots more contact centres are seemingly getting to grips with technology integrations to simplify processes and drive efficiency.
Now only 27.3% of contact centres are suffering from disconnected systems, a figure that – just last year – stood at 53.0%.
The switch to cloud technology as a result of remote working may be a reason for this turn of events, pleasing advisors and managers alike.
Latest Survey Report
These findings come from the survey report "What Contact Centres Are Doing Right Now 2021 Edition", featuring over 40 insights into contact centre operations. Download the latest survey report to get more great insights.
The results of the survey were collected in July and August 2021, and we are delighted to publish this report in partnership with Akixi, NICE, Nuance, Odigo, Poly and ProcedureFlow.
Source: Call Centre Helper Survey: What Contact Centres Are Doing Right Now (2021 Edition) Sample size – 224 Date: August 2021