There are now more choices on how to engage, inform, and deliver communications and updates to contact centre teams, and with the increase in remote working, doing this effectively is vitally important to business success.
Raj Dattani asked our LinkedIn Community "What method of communications drives the best engagement from your employees?"
342 professionals gave their opinion, and the results are as follows:
| Communication Method | Response % |
| --- | --- |
| Email / Newsletters | 14% |
| Virtual Meetings | 30% |
| Intranet, Slack, Teams etc. | 28% |
| Video and Townhalls | 28% |
As there was no option for individual face-to-face communication, we can assume that these options are aimed at those with remote employees or larger workforces.
With only 14% of respondents choosing email / newsletters, this is by far the least effective option for engaging communication, potentially because responses are not immediate and conversation-like.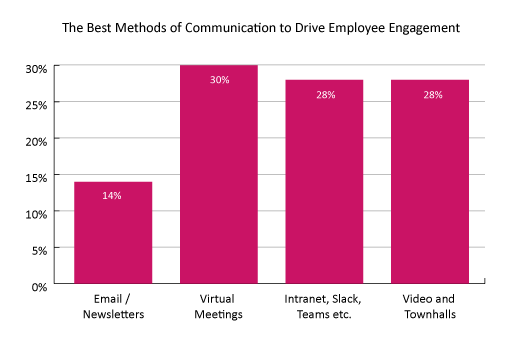 Based on the responses to the individual options, communication that allows for immediate responses appears to be the most effective at driving engagement from employees.
Virtual meetings are the most popular format, with 30% of respondents selecting this, which is not that surprising as this is the most like a face-to-face discussion.
Video and townhalls was selected by 28% of respondents, as was intranet, Slack, teams etc. (28%), totalling 56% of responses.
However, both options contain formats that allow for real-time communication between management and employees, but the grouping of options does not make the breakdown clear, making it impossible to determine exactly the type of communication that companies prefer.
★★★★★
Several professionals also provided some additional information to accompany their responses:
A Mixture of Systems
A mixture of a great knowledge management system, Teams, and Slack
Thanks to Patrick Ready
A Weekly 5-Minute Video
I do a weekly 5-minute video to keep my team up to date. It helps give them important and timely info that is current.
No need to wait to get folks through a quarterly meeting with stale dated info. When I do hold virtual meetings we solicit their info on issues/decision points, leveraging a safe and anonymous way to provide it.
Thanks to Clarke Bellamy
Every Channel of Communication Is Important
Every channel of communication is important. It mostly depends on the information that needs to be communicated.
For example, any info impacting the team directly must be communicated through virtual meetings so that you can ask open-ended questions to engage the team and gather their thoughts as well.
Any info not impacting them but that's good to know, then email can be used for that. Hope this helps.
Thanks to Sarita Nanda
Involve Employees in Decisions and Projects
To engage them, make them involved in each and every decision and project so they feel they own the place, and the organization matters to them as if it's their own company.
Thanks to Seyada Alkilani
Have a Dedicated Person to Drive the Strategy
All channels can be used together, but you need a dedicated person to drive the strategy and organize the content for each one. A company in Prague has employed a Cultural Ambassador to manage internal communications and events to great effect.
Thanks to Chris Hague
Source: Poll conducted in our LinkedIn Community Sample size – 342 Date: 2022