We share the results of our research into contact centre shift patterns.
Little More Than a Third of Contact Centres Now Use Rotational Shifts
Once a staple of the contact centre, rotational shifts now feature in only 36.0% of operations, according to our latest industry report.
These figures come as somewhat of a surprise, as rotational shifts are a reliable method of handling high, volatile contact volumes.
However, the impact of rotational shifts on employee engagement is often a cause for debate, as advisors struggle to establish a work–life balance.
There is also the potential issue of recruitment. Many contact centres find it incredibly tough to hire high-quality advisors to work rotations, as accessing the right talent pool is an unenviable task.
The Demographic for Rotational Shifts
Human beings are creatures of habit. Few people lead rotational lives. Some students, however, will only ever be able to work part-time shifts.
So, where can contact centres find the recruits to work full-time, rotational shifts? It is an uphill struggle – certainly in these times of recruitment challenges.
In fact, Director of RED Recruitment, Katy Forsyth, describes the current hiring environment as: "The most difficult recruitment market that I have seen in my 26 years in contact centre recruitment."
So, perhaps a key reason for the lull in contact centres implementing rotational shifts is because other operations and industries can offer more competitive and steadier working hours.
After all, this is a crucial factor in attracting new employees, as – generally – shift patterns that align well with certain lifestyles foster greater engagement.
Contact centres may then run more streamlined recruitment campaigns, targeting key demographics and advertising in spaces that align well with target groups.
Lower engagement rates amongst those working rotations are not a rarity because of the encroachment on work–life balance.
However, the downturn in rotational shifts may also relate to the underwhelming engagement rates of people who work them. Lower engagement rates amongst those working rotations are not a rarity because of the encroachment on work–life balance. Yet there may be another reason…
Rotational Shift Distribution Is Never Fair
Good planners always try to treat advisors fairly. Yet they must avoid falling into the trap of assuming that the distribution of shifts is fair. With rotational shifts, this is rarely the case.
Take a rotational shift where each advisor works a Saturday every four weeks. From the outside, this seems fair, as everybody is sharing the extra workload. However, Saturday shifts frequently fall on special occasions and clash with popular events. As teams generally consist of younger, more sociable employees, missing out on these celebrations will come as a hammer blow.
The luck of the draw is not a good enough excuse for many advisors. Of course, adding in flexibility levers – such as shift-swaps – helps. Reassess shift options and aim to avoid such discontentment and perceived unfairness.
With the fall in rotational shifts, many contact centres appear to be making this move. These operations will instead target people who want to work on Saturday night and build a separate shift pattern. Lateness and absence are almost guaranteed to plummet.
Good news, especially as dealing with absence and lateness is the biggest scheduling dilemma for 25.4% of contact centre planners – according to our 2021 industry report.
However, before making wholesale changes to schedules, engage with advisors and uncover what their preferences are. Planners must avoid moving forwards with the assumption that they know what fairness looks like.
Is There a Future for Rotational Shifts?
The latest figures are damning in terms of the future of rotational shifts. Yet some contact centres are working hard to evolve the shift pattern and bring it into a reality where employee experience is an integral boardroom focus.
Instead of sticking to one, rigid rotational roster, some planners will plot out schedules that include multiple simultaneous rotational patterns. After all, one size will not fit all.
Take a look at the weekly patterns below. Both provide the same coverage and could work well in tandem.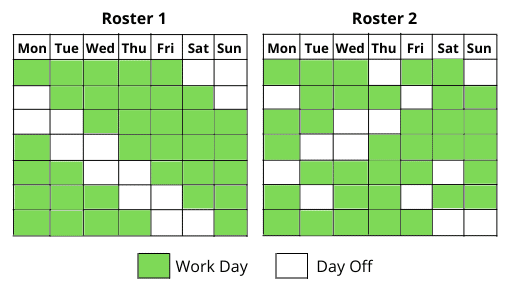 In this example, advisors have a choice between working five days in a row or breaking up their working pattern a little more. As such, the planners offer greater flexibility.
However, before drawing up rosters like these, John Casey, a Resource Planning Expert at CCplanning, recommends: "Find out what the team want from their schedules. Then, try and create two, three or four rosters, which meet key preferences."
"As long as your contact centre is big enough – more than 60 or 70 seats – such a strategy motivates staff and helps them feel more aligned to the business."
So, although sticking with rotational rosters may go against the grain, there are ways to breathe life into the old shift pattern and better accommodate advisors' schedule preferences.
Emerging Shift Patterns
While rotational shifts fall by the wayside, new and exciting shift patterns are emerging. Split-shifts are one example. They now feature in almost a fifth of contact centres (19.6%), according to our study.
Such a shift pattern allows advisors a long break in the middle of their working day, splitting work into two smaller segments.
Having advisors work these shifts often proves beneficial, enabling planners to better meet variations in call volumes. After all, in many contact centres, demand will arrive in two great peaks – typically between 9:30-10:30am and 1-2pm – with a lengthy lull in the middle.
Contact centres may then maximize demand by letting advisors on split-shifts drop off during the quieter period. For many advisors, this extended break is a welcome prospect.
Experimenting with shift types such as this seems to be a growing trend. The homeworking boom has given planners greater flexibility to experiment with new shift patterns – with some also implementing micro-shifts and casual shifts.
To highlight that this is indeed the case, take the split-shift example once again. It is unreasonable to ask an advisor to come into the physical contact centre for two shifts a day. But, if they're working from home, such a shift option becomes much more appealing.
The rise of such innovative thinking may also shed light on the decline of the rotational shift pattern. With homeworking, planners now have many more strings to their bow.
Latest Survey Report
These findings come from the latest survey report "What Contact Centres Are Doing Right Now 2021 Edition". It features over 40 insights into contact centre operations. Click here to download the latest survey report.
The results of the survey were collected in July and August 2021, and we are delighted to publish this report in partnership with Akixi, NICE, Nuance, Odigo, Poly and ProcedureFlow.
Source: Call Centre Helper Survey: What Contact Centres Are Doing Right Now (2021 Edition)  Sample size – 224 Date: August 2021