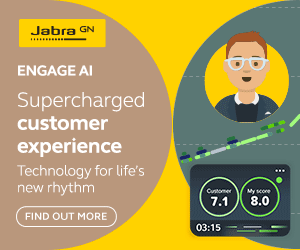 Call centers can get loud. To deal with the background noise, call center employees may opt for noise-cancelling headsets that help them hear and be heard.
What separates a busy call center from a regular office is the amount of calls people handle on a daily basis. It's kind of in the name. Call center staff spend their days talking on the phone, surrounded by a lot of noise from their colleagues.
The job of a call center employee quite literally depends on being able to have clear, noise-free conversations with customers and clients. So it's not too surprising that noise-cancelling headsets are some of the most sought-after tools for a call center. It's as important to make sure the customer hears you clearly as it is to reduce the amount of noise around you.
That's where dedicated noise-cancelling headsets for call centers come in. They help you solve two main call center concerns: "Will they hear me?" and "Will I hear them?"
Will they hear me: Headsets with noise-cancelling microphones
To make sure the customers can hear you well despite the noise, you want to invest in a headset with noise-cancelling microphones. These filter out the noise and make sure that only your voice is transmitted.
The corded Jabra Biz 2300 and wireless Jabra Pro 9400 both offer noise-cancelling microphones. In addition, Jabra's corded call center headsets have microphones with "air shock" protection that prevents unwanted breathing noise from disturbing the conversation.
Will I hear them: Headsets with active noise cancellation
It's equally important for call center employees to be able to focus on the conversation instead of being distracted by loud noise. Noise-cancelling headsets for call centers are specially designed to deliver clear, intelligible audio.
Some of them, like the Jabra Evolve 80, have a feature called active noise cancellation, which actively counters low-frequency background noise. This helps you truly block out all distractions and focus on the call at hand.
Will the headset work with my other devices?
Another common concern is whether the headset will work with your existing equipment. After all, there are different connection types to consider and many different brands of communication platforms.
Fortunately, nowadays it's possible to find the right headset for any device. Most call center headsets offer multiple connection options or come in different versions that work with exactly the type of connection you have – whether it's a standard 3.5mm plug, a USB port on your computer, or a Quick Disconnect (QD) cable. If you prefer a wireless headset, you can find both DECT and Bluetooth versions.
Newer call center headsets are also certified to work with all communication platforms, whether you're using Avaya, Cisco, Microsoft, or something else entirely.
***
Are you thinking of a noise-cancelling headset for your call center? Jabra has a range of both wired and wireless noise-cancelling headsets to choose from.
See our noise-cancelling headsets for call centers >>
For more information about Jabra - visit the
Jabra Website