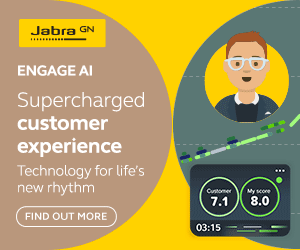 Our panel of experts go back to basics and explain what you should be looking out for the next time you upgrade your contact centre headsets.
Headphones
There are two types of headphones available – 'monaural' and 'binaural'.
It is a matter of personal choice as to which one is the better option.
'Monaural' headphones
'Monaural' headphones have one ear piece and enable a more collaborative experience, as wearers can talk to their colleagues around them without needing to remove their headset.
Monaural headsets tend to be cheaper, so are the most common type of headset found in contact centres in the UK and USA.
'Binaural' headphones
'Binaural' headphones have two ear pieces and offer a more immersive experience, although this can prompt wearers to talk louder or quieter than necessary as they are less aware of their own voice.
This style is preferred in continental Europe.
In a contact centre design, the two headphones usually emit the same replicated sound in each ear – and are not stereo. This is due to the simple nature of a phone conversation.
However, multifunctional 'binaural' headphones do tend to support stereo, so wearers can listen to music on breaks or between conference calls.
Wearing styles
Contact centre headsets are available in 3 different wearing styles:
Over-the-head/ headband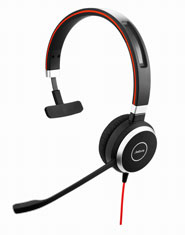 This style sits on top of the wearer's head and is the safest option when rolling out a single style of headset across a large contact centre.
Both 'monaural' and 'binaural' headsets are available in the headband style.
Behind-the-neck
This style has a band or wire that sits on the back of wearer's neck.
This design is mainly adopted by those who are averse to the weight of an over-the-head style, or don't want the headset to mess up their hair.
Only 'binaural' headsets are available in the behind-the-neck style.
In-ear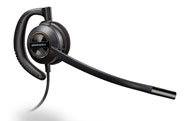 This style of headset is the most discreet of the wearing styles, as it is a small, single device that sits inside the ear – and does not have a headband.
In-ear-style headsets are ideal for video chat agents, as the discreet style helps preserve the illusion of a face-to-face conversation – which can be shattered by the presence of a headband style.
Only 'monaural' headsets are available in the in-ear style.
Microphones
There are a variety of microphones on the market.
SoundTube or omni-directional
SoundTube or omni-directional microphones are equally sensitive to sound from all directions.
It is best to use these in a working environment where background noise is minimal, such as quiet offices or home working environments.
Noise-cancelling
Noise-cancelling technology creates the illusion that the agent is working in a calm and quiet environment instead of a noisy contact centre.
This can support call confidentiality, especially when discussing sensitive matters, as well as ensure less repetition for quicker call wrap-up times and improved customer satisfaction.
In a contact centre headset, mechanical noise-cancelling technology is built into the microphone tip. This can be identified by the 2 small holes on either side of the boom. One hole measures the noise coming directly from the agent's mouth, while the other measures the background noise.
The captured sound pressure goes into a membrane, which brings the two sources of noise into balance, cancelling out the background noise for the customer on the other end of the line.
There are two types of noise-cancelling headsets available:
Standard noise-cancelling headsets
A standard noise-cancelling headset filters most of the background environmental noise, with a reduction of -11dB.
(For every -3dB (decibels), the amount of background noise present on a call is halved.)
They are ideal for medium-sized offices with low to mid sound levels, although they need to be positioned relatively close to the mouth to ensure accurate noise-cancelling.
Ultra noise-cancelling headsets mainly pick up the wearer's voice, removing most background noise – with a reduction of -13dB.
These work well in busy, noisy open-plan offices or where employees are sitting in close proximity to each other and have telephone-intense roles.
The microphone needs to be placed 2 fingers' width from the mouth or the noise-cancelling ability could become voice-cancelling.
In the graph below, the omni-directional microphone is highlighted in orange, the noise-cancelling microphone is highlighted in purple, and the ultra noise-cancelling microphone is highlighted in green.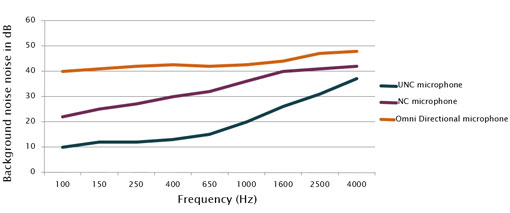 Wireless headsets
There are two types of wireless technologies which can be found in wireless headsets – DECT and Bluetooth.
DECT
DECT wireless technology connects to just one device. It is an older, highly stable and secure technology with good audio quality and roaming of up to 100 metres. It is suitable for business use and is widely used in the contact centre.
An upgraded version of DECT wireless technology is now also available. This features improved security standards, so that additional devices can't "listen in" on the frequency.
Bluetooth
Bluetooth wireless technology is newer and can connect to multiple devices – unlike the DECT wireless technology.
It is better suited to consumer products but can be used in the contact centre.
Wireless headsets can allow agents to move around
Wireless headsets support a reimagined view of the contact centre, where agents are free to move around the floor and talk to their colleagues without being "tied to their desks" by a phone cord.
Investing in wireless headsets sends a strong message to your agents that they are trusted to do a good job. This sense of empowerment can also help to improve employee engagement and have a positive impact on the customer experience too.
What is an amplifier and why do I need one?
An amplifier, more fondly known as an audio processor, is a unit that sits between the phone and the headset.
Its purpose is to standardise the sound coming out of the telephone system, reacting to sudden sounds and generally helping to make conversations more intelligible.
It is common for large contact centres to have a number of different phones in place across the business, each of which will have different wiring, microphones and sound standards.
An amplifier helps to ensure that the headset is matched to the telephone system.
What connectors are available?
Contact centre headsets can be purchased for use with standard desk phones and computer-based telephony.
The term VoIP (Voice over IP) refers to a modern telephony solution where telephony is provided via the company data network.
Several headset manufacturers now offer USB-enabled variants of the contact centre headset solutions for desk phone telephony, allowing companies and agents to enjoy the quality of a dedicated contact centre headset solution for the latest computer-based telephony options. The computer-based telephony enables the option to direct calls to agents based on their real-time availability as part of a unified communications platform.
What core features should I look out for?
Anyone responsible for buying contact centre headsets should focus on the essential ABCs (audio, build and comfort) when making their selection.
Audio
It is important to select a headset that suits the noise levels of your working environment.
Build (and durability)
Build and durability factors are also important, as headsets tend to be used for 4+ hours per day and are sometimes even shared between agents.
Features that support durability include a stretching and twisting headband, and a 360-degree rotatable boom arm.
Comfort
Agents have to use headsets all day long, including on lengthy and complex calls.
They require comfort to work to the best of their ability and deliver a quality customer experience.
Large ear cushions.
High-quality cup material such as soft foam and leather can go a long way in helping workers to feel at ease.
Lightweight designs can support comfort over a prolonged period.
It is also advisable to look for solutions where these features can be easily cleaned or replaced to maintain maximum comfort. For example, wipe-clean boom arms, and replaceable foam (boom) tips.
How can I tell if my agents aren't wearing their headsets properly?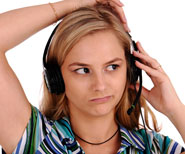 Contact centre headsets are designed for prolonged use, but even the best designs will fail on comfort and sound quality if they aren't being worn correctly.
Here are some typical indicators that your agents aren't wearing their headsets properly:
Constant movement of the headset to try and get it into a comfortable position
The microphone is visibly placed more – or less – than 2cm (about 2 fingers' width) from the mouth
Customers complaints about a particular agent
Customers regularly asking agents to repeat information during a call
What other features should I look out for?
Wideband audio
Wideband audio – only available on a VoIP connection – can enable clear conversations between customers and agents.
This can help to reduce repetition within conversations, as calls can be completed quicker with a more audible hearing experience for the customer.
A visual and touch feedback positioning system
Having a visual and touch feedback positioning system for microphones can allow agents to position microphones in exactly the right place for perfect noise cancelling.
Quick disconnect features can prevent yanking of cords
Quick disconnect features can prevent tangling or yanking of cords by enabling agents to walk away from their desks without having to take off their headsets.
They can also help your agents to take ownership of their own headset, no matter what desk they are sitting at.
Sound protection can help protect agents' hearing over the working day
Headsets can help with staff well-being by providing all-day comfort and helping to reduce or eradicate strains and injuries.
Some headset ranges include sound protection that helps to protect agents' hearing over the working day and ensure compliance to the EU Noise-at-Work Directive (2006).
For example, removing potentially harmful loud sounds before they reach agents' ears, or protecting hearing by maintaining average sound levels throughout the day.
Mistakes to avoid next time you buy headsets
Ignoring the need for spare headsets
'Hospital stock' is an area that the contact centre should consider when investing in new audio devices.
This is where you ensure a small surplus of new and unused headsets that can be kept to replace damaged devices, so as to ensure no downtime whilst waiting for replacements.
Choosing PC headsets instead of contact centre headsets
Some managers waste time and money in the long run by investing in PC headsets instead of products specifically designed for the contact centre.
These headsets tend to be selected with price instead of performance in mind. However, suppliers typically see a high return rate as these headsets aren't as comfortable for prolonged use in a contact centre.
It is the responsibility of contact centre managers to make sure they are buying the right product for their agents.
Not double-checking the warranty on refurbished headsets
You also need to check the quality and warranty of refurbished headsets, if purchasing these.
Manufacturers' warranties aren't always valid on refurbished devices, as they might be older than the warranty period or invalid due to repairs not beingundertaken by the manufacturer themselves.
Try to get a 1-year warranty as minimum or it might not always be that cost effective to purchase this type of headset.
How frequently should I update my headsets?
The typical exchange point for contact centre headsets is 3–4 years. However, some products have been spotted still in mechanical working order after 10 years.
A headset's lifespan tends to depend on 2 key factors:
Updating the non-mechanical features – Updating the non-mechanical features, such as the ear cushions, on your headsets can help them to last much longer.
How well the headset is cared for – How your agents look after their headsets is another critical point in how long a headset product will work for. A personal relationship between the user and the headset tends to work best, as shared ownership in situations such as hot-desking can result in neglect and carelessness.
How much should I budget?
Very inexpensive, short-lifespan headsets will cost anything from £15 to £20 upwards, but may only last for months under the rigours of daily, intensive usage.
Better-quality headsets, more suitable for all-day, every-day contact centre use would feature noise-cancelling microphones, sound protection and are built with more robust materials to provide longer lifespan. These can have an MSRP of approximately £50-£100.
It's also worth speaking to your reseller to check if any cashbacks or trade-in offers are available from headset manufacturers. You should also keep an eye out for deals that provide free connection cords, which will be needed with corded headsets, or availability of any bundles with other equipment you might want to source, to ensure value for money on your purchases.
With thanks to:

Nigel Dunn and Claus Holmbeck-Madsen at Jabra
Richard Kenny at Plantronics