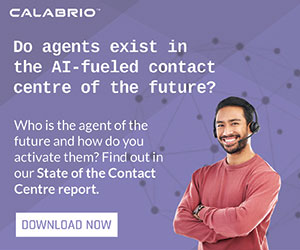 Calabrio has been named a Visionary in the 2020 Gartner Magic Quadrant for Workforce Engagement Management (WEM).
This is the fourth consecutive year Calabrio has been named a Visionary for its ability to execute and completeness of vision.
According to Jim Davies and Jim Robinson, co-authors of the Gartner report: "An emphasis on improving the operational performance of customer service staff persists. Recording and assessing employee performance and forecasting and scheduling optimum staffing levels remain key activities, driven by tight integration and workflow across these functional domains."
"However, a crucial shift in focus toward employee engagement has prompted application leaders for customer service to expect more value from vendors' solutions, due to the correlation between engagement and performance."
"Calabrio employs a human-centric approach in the way we build products and partner with our customers," said Tom Goodmanson, president and CEO at Calabrio.
"Our mission is clear: to enrich human interactions in the contact centre and beyond."
"We believe this recognition by Gartner is strong validation of our global vision, the innovation behind our customer experience and agent engagement solutions, and our relentless commitment to customers."
"Calabrio is leading the charge to innovate within the contact centre space. The Calabrio product leverages leading-edge technology in the contact centre space as it pertains to call recording and speech analytics. The user interfaces are friendly and approachable, and the support for the product line is unparalleled." — Sr. Telecom Engineer, Finance Industry, on Gartner Peer Insights
This news follows a year of recognition, growth and momentum for Calabrio, starting with its launch of Calabrio ONE version 11, which reimagined the WEM user experience.
Designed with humans in mind, the modern layout with embedded analytics allows business users of all backgrounds to intuitively consume and act upon data with less effort and more precision.
The company's June 2019 acquisition of Teleopti expanded Calabrio's international presence, creating a global WEM powerhouse. And Calabrio was named the only 2019 Gartner Peer Insights Customers' Choice for Workforce Engagement Management.