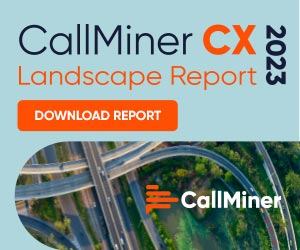 CallMiner has announced the launch of Sales Conversation Analytics (SCA), a new solution within the CallMiner Eureka Platform.
The solution introduces functionality that unlocks intelligence for sales organizations by analysing customer and prospect conversations, delivering the critical insights needed to drive better sales outcomes, revenue and business improvement.
With CallMiner SCA, enterprise and business development sales teams gain real-time and post-interaction intelligence in an easy-to-use, customizable dashboard.
Building on existing capabilities found in CallMiner's Analyze and Coach products, CallMiner SCA enables sales executives, directors and supervisors to identify and scale best practices, uncover and act on coaching opportunities, and gain visibility into pipeline health.
"Enterprise sales executives can struggle in the face of increasing pressure to drive business results. They simply lack the key insights necessary to gain visibility in deal progression, deliver comprehensive training programmes, and drive more effective sales conversations," said Paul Bernard, president and CEO, CallMiner.
"CallMiner analyses every customer and prospect interaction to empower enterprise sales teams with the insights needed to better optimize rep performance, implement best practices across teams, and deeply understand deal outcomes.
"With the Sales Conversation Analytics solution, we're building on CallMiner's industry-leading experience and delivering the comprehensive capabilities needed to truly move the sales needle."
Enhanced capabilities in CallMiner SCA are focused on driving revenue, improving sales cycles and increasing win rates through:
Data-driven coaching: Deconstructing sales conversations by phase makes it easier to analyse rep performance and identify opportunities for coaching. Supervisors can also uncover behaviours that drive successful outcomes, and use those insights to improve training and scale best practices across teams.
Purpose-built insights: CallMiner SCA provides deal outcome analysis, actionable training based on real interactions, and customizable dashboards to measure effectiveness and track pipeline status. These benefits make it easier for sales teams to get up and running with the solution and drive ROI.
Pre-built integrations and data acquisition: Pre-built integrations exist for critical communications platforms, including diallers, video conferencing, mobile phones, email, webchat, and CRM, as well as sales enablement platforms, helping enterprise sales teams gain insight from the conversations they're already having.
"CallMiner has always delivered conversation analytics to help improve outcomes from 'one-and-done' sales interactions, like telesales.
"With Sales Conversation Analytics, we're delivering those same benefits, through enhanced capabilities, to multi-touch sales cycles seen among enterprise and business development sales teams," said Bruce McMahon, Vice President of Product, CallMiner.
"Unlike other solutions on the market, CallMiner's solution was built with every level of the sales organization in mind, from reps to sales executives.
"For the first time, enterprise sales teams can analyse voice and text-based interactions to deliver robust coaching opportunities to improve rep effectiveness, uncover real-time insights that impact conversations as they're happening, and more.
"These capabilities translate to long-term, transformational business impact."
For more information about CallMiner - visit the
CallMiner Website